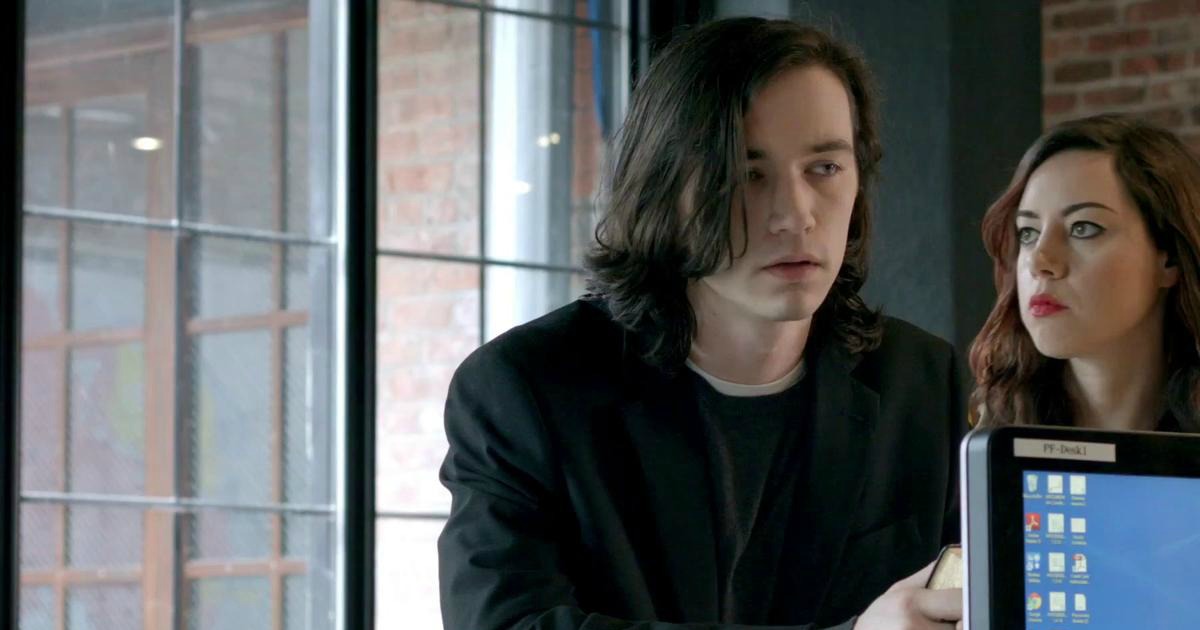 Not all trilogies are created equal.
While the idea of a "trilogy" has become something related far closer with big blockbuster pictures than the universe that an independent auteur like Hal Hartley strolls around inside of, not all franchises involve fast cars, the destruction of entire cities and alien races. Some are funded thanks to devoted fans via outlets like Kickstarter, and some feature dialogue so percussive and fast paced that it would leave any car, be it fast and/or furious, in the dust.
That's the type of trilogy concluding feature Hartley's latest is. Entitled Ned Rifle, this third film in the Grim Family Tales (including Henry Fool and Fay Grim) tells the tale of Henry and Fay's son, Ned, as he leaves his life of devote religious worship behind to hunt down and kill the father he believes led his mother into the life that would ultimately land her in prison. At first we meet the teen on the verge of his 18th birthday, living with a preacher and his beautiful, unassuming family. Upon his formative birthday, he opts out of his life with his adoptive family, and sets out to hunt down his father, with the help of a few intriguing characters. Returning here is James Urbaniak as Ned's Uncle, and making her Hal Hartley debut is Aubrey Plaza, taking on the role of Susan, Ned's right hand lady and someone whose past is a little more connected to his than anyone could ever imagine.
A contemporary of the '90s indie giants, Hartley has never garnered the same critical or cultural praise as a filmmaker like Richard Linklater, but here he proves that he still has more than his fair share of things to discuss. Wonderfully paced and deliciously dense, Hartley's new film is easily one of his best, and without a doubt the best film of this underrated trilogy. With percussive writing that's definitive of Hartley's work, and a script that touches upon everything from a son dealing with the sins of his father to a writer-turned-stand-up deciding that the world needs some empty laughs more than his high minded poetry, this is a delightfully off balance picture that wears its themes on its sleeve.
Liam Aiken stars here as the titular lead, a character he's been taking on since he was just seven years old, (take that Boyhood) and is fantastic. There's a lot to be mined here for those familiar with the trilogy, but not only is Aiken's performance engaging enough for new viewers to truly dig their teeth into, but the script isn't afraid to dig directly into its mythology. Plaza's turn as Susan is fantastically anarchic, harnessing her dry energy in a way that may feel cartoonish at the outset, but is without a doubt one of her most entertaining turns. Then there's the real star of the picture, Urbaniak, who has a way with this script that has the viewer thinking its simply coming off the top of the fantastic actor's head. Rounding out the cast are Parker Posey and Thomas Jay Ryan, both of whom cap off the trilogy they started with an absolute bang.
Hartley isn't pulling any punches here aesthetically either. Muted and static, Harltey's film doesn't take to many flights of aesthetic fancy but it allows for this fantastic script to truly thrive. Very much in the mode of Hartley's previous pictures, and in many ways the early days of the 90's American Indie Cinema boom, Henry Fool is a tragicomic third and final chapter in the auteur's epic novel. It's an angry film full of angst from both his lead character, and seemingly the filmmaker himself, a director who, through the voice of Urbaniak's Simon Grim, skewers the modern state of art. It's a brooding comedy, and even that's putting it lightly.
Overall, while new viewers may not be accustomed to the aesthetic of a Hal Hartley film, particularly this underrated trilogy, this is both a perfect manifestation and conclusion of the series, while also playing well enough on its own, owning the sins-of-the-father narrative and thriving. With fantastic performances, the film itself may feel a tad slight and twee to the uninitiated, but for those who go along for this engaging ride will find a lot to chew on.