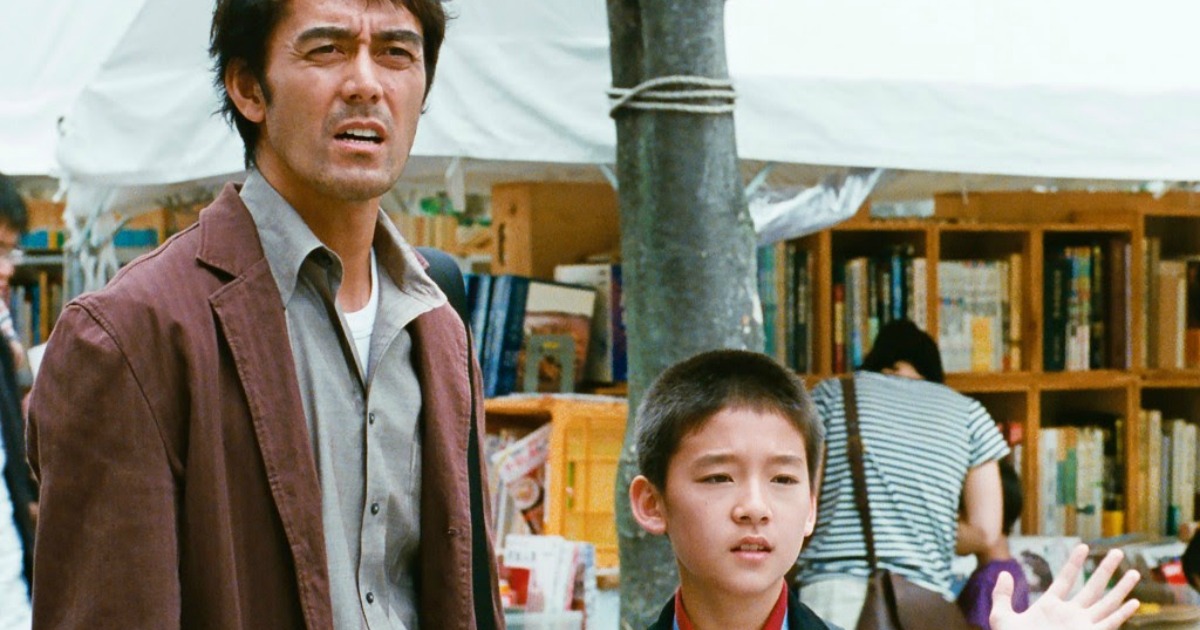 Since the early 1990's, director Hirokazu Kore-eda has churned out films at not only a shockingly consistent pace but also of a shockingly consistent quality. Going from documentarian to one of world cinema's modern juggernauts, Kore-eda's unassuming and yet emotionally poignant style has helped fill his filmography with masterpiece after masterpiece after masterpiece.
And yet his newest may very well be a new high water mark for the Japanese master.
Entitled After The Storm, Kore-eda's newest film is deeply rooted in his quiet, humane aesthetic, and tells the story of a bumbling loser trying to make the most of his lot in life. The picture stars Hiroshi Abe as Ryota, a gambling addict who moonlights as a private detective. Following the death of his father, Ryota spends time tending to his mother Yoshiko (played by the iconic Kirin Kiki) and trying to do as right by his ex wife and son as he can, while trying to shake the vices that have left him scrounging for work and money. Himself a former award-winning author, Ryota uses his new job as a P.I. to do "research" for a new book, and he gets a chance to reconnect with those close to him when an intense storm locks them in his mother's home.
The first thing one notices when engaging the work of director Kore-eda is his unassuming yet deeply intimate style. After The Storm is a human-level story of the small moments that define lives, and the director's style fits this bill perfectly. Told almost entirely in static shots, the camera is deeply connected to each character, and allows each performance to properly breathe. Ryota's introduction, as he tries to find anything in his mother's home worth enough cash to get him a chance to win big at the horse track, is as nuanced as anything we see in the film's final, profound, act, and it's in this humane nuance that the real beauty of Kore-eda's film, and his canon writ large, truly thrives.
There's something decidedly matter of fact about Kore-eda's films, particularly this feature, that allows his narratives to transcend genre or narrative tropes. Not at all a film about a man suffering a midlife crisis and yet not a story of redemption in the face of said crisis, Storm is a profoundly layered and textured meditation on the brief moments that define human lives. Humanity, to Kore-eda, is built of ordinary people and the ordinary moments that define their ordinary lives, and the deeply profound truths each one speaks to the human experience universally. There's a tenderness given to this tale of a man defined by his failures and his attempt to do anything right that turns Storm into something more than a drama or a dry comedy. It's truly a sight to behold.
Performances in Kore-eda pictures are equally as natural and equally as textured, with Storm getting some of his best acting to date. Abe is maybe career-best here, giving such a deep sense of empathy to his hard lucked lead that he goes from laughable loser to a profoundly relatable leading man. While a viewer may not have experienced these specific failures or vices, it's not rare to see the world, the "universe" if you will, as a villain constantly laughing in the face of one's attempt to grow their lives and make good by their loved ones. In Abe's performance we see this experience in manifest, a deeply moving and textured performance that is as wry as it is lived in and humanely rendered. Taiyo Yoshizawa plays Shingo, Ryota's son, and is yet another example of Kore-eda's superlative direction of younger actors. Kiki is as great as one would expect, and rounding out the cast is Yoko Maki whose ex-wife character is just as transcendent and nuanced as one would expect. It's a film of small moments, of small gestures, and the quiet power behind the eyes of each performer really add a sense of naturalism to the picture.
A film of human observation, After The Storm is one of the great films from one of cinema's great film artists. A director, seemingly, of quiet masterpieces, this is a motion picture that will be hard to shake walking out of the theater. Chock full of humor and profound human revelations, Storm is a crowning achievement that makes it 2017's first real masterpiece.