What does it mean to be a father? What does the word 'family' truly mean? Webster defines the word 'father' in a handful of ways. Be it as just a 'male parent' or as a male who has sired a child, the definition of being a father is often times seen, at least here in the states, as the paternal member of a nuclear family.
However, what happens if that family is called into question? What truly makes a man a father? That, and so very much more, is at the very core of the newest film from Hirokazu Kore-eda, a picture entitled Like Father, Like Son.
Kore-eda's film, which was the winner of the Jury Award at last year's Cannes Film Festival and also a player at various other festivals later in 2013, tells the tale of an architect in Tokyo who tries to work his hardest to provide for a wife and a young boy. However, after a blood test is taken, the results reveal that not only is his six-year-old son, Keita, not actually he and his wife's child, but that their actual son was switched at birth with the boy from another couple. With a lawsuit pending, the two families become close and when he is tasked with making the hardest decision a human being could possibly imagine having to make, Ryota must look deep within himself and has his journey of self-discovery told by Kore-eda in one of the most moving and personal films we have seen in ages.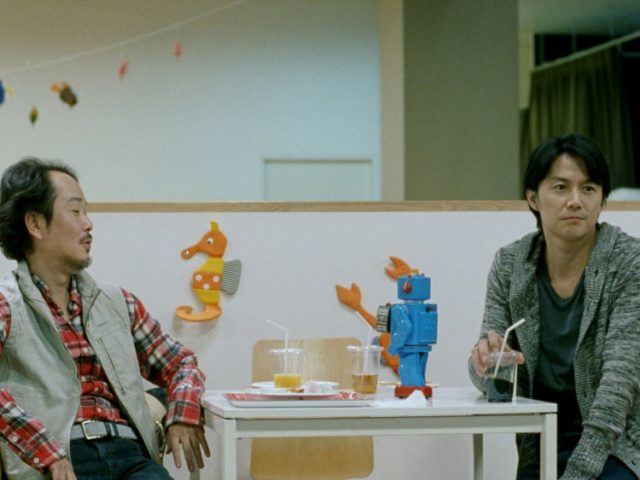 Very much in step with classic Japanese pictures looking at the role of family and exploring what that word truly means, Kore-eda's film is a deeply personal and unflinching familial drama. Exploring themes ranging from responsibility to the role of a father in the household, the film is quaint and quiet, but is better off being described as tender and lyrically shot meditation on the familial experience.  It's also, oddly enough, as much about class and class structure as it is about what family means. The pair of central couples come from entirely different backgrounds, and some of the most intriguing and entrancing thematic beats involve the discovery of class-based difference not only in the way the parents parent, but the way the families love one another.
And it all stems from Kore-eda's camera. Structurally, the film isn't all that intriguing. The narrative itself is a complete slow burn of a drama, taking the oddly melodramatic premise and turning it into a far more placid aesthetic experience. Think a Douglas Sirk melodrama in logline, an Ozu picture in craft. Intensely minimal in its aesthetic, this sparse, yet lusciously shot drama is a nuanced picture in both performance and direction. Kore-eda is often described as a very controlled filmmaker, and this is a definitive bit of proof supporting that fact. As seemingly mundane as life can often times itself be, Like Father, Like Son moves at what should feel like a snail's pace but is ramped up just ever so slightly by the skill with which Kore-eda crafts this lyrical drama.
Oh, and the performances are decidedly superb as well, which is always a bonus.
The film is led by Masaharu Fukuyama taking on the lead role here, and it is his performance that really drives the film. Layered and deliciously rich, Fukuyama is in rare form here as the wealthy but icy cold patriarch of our primary central family. Machiko Ono stars opposite him as his wife, and their chemistry seems to be frigid, but not without purpose. Ryota (Fukuyama) is a workaholic and becomes more and more distant as the hours pass, and the relationship he shares with his wife Midori becomes strained. It's a real narrative thread that is fleshed out and feels as personal and raw as anything we've seen cinematically in quite some time. Names like Lily Franky and Yoko Maki are great as the second couple, but the show is really stolen by the hyper cute central child, played by Keita Ninomiya. It's a rich performance and one that really becomes something special when taken in the grand scheme of the picture.
Overall, while the quiet aesthetic and stayed performances may turn off those looking for something a bit more expressive, this universally relatable drama features brilliant performances and some of the most thoughtful meditations on family and class that you're bound to see. Beautiful and unforgettable, Kore-eda once again proves he's one of today's greatest filmmakers with this unflinching familial drama.