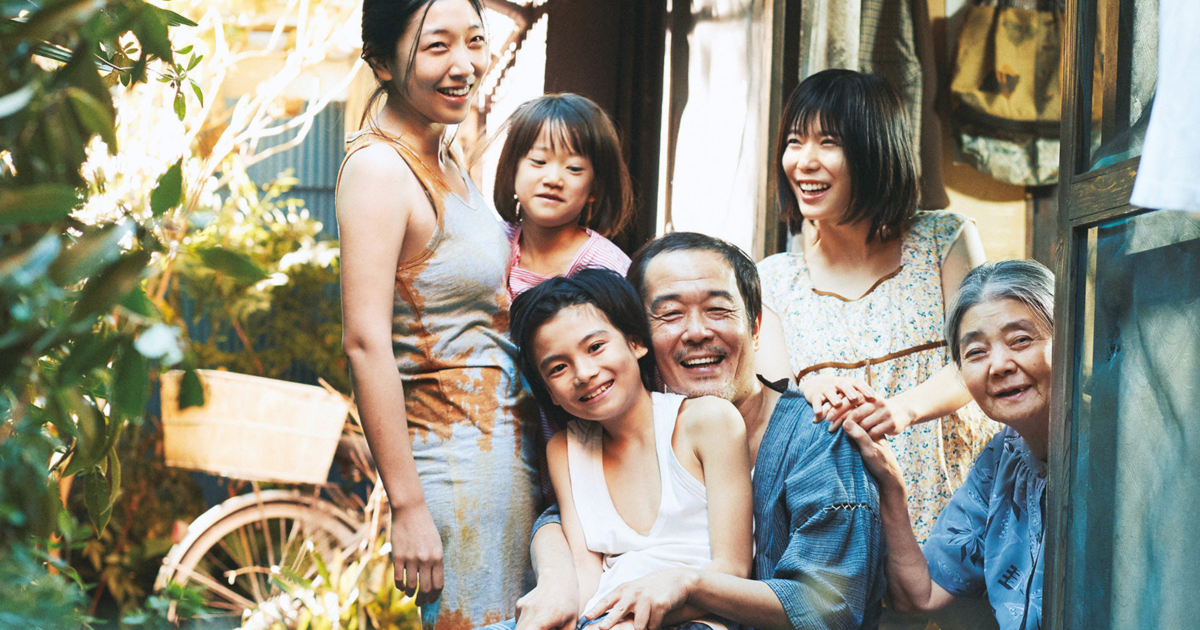 For some unforeseen reason, the last handful of years have not been too kind to the winner of their respective Palme d'Or. Each year the Cannes Film Festival bestows upon its top film arguably the biggest prize in all of world cinema, the Palme, an award that has one of the greatest legacies of any truly top-tier festival's main prize. Films like The Square, Dheepan and particularly I, Daniel Blake have all earned this award over the last few years and went on to be more or less forgotten following their release months after the fact. However, this trend will hopefully be changing as one of the year's best films has arrived in theaters, and proves that sometimes awards are actually given out to films that more than deserve them.
Entitled Shoplifters, the 2018 Palme d'Or went to the newest film from beloved Japanese filmmaker Hirokazu Kore-eda, one of the latest in a lengthy line of masterpieces from the Still Walking director. A relatively simple premise, the film introduces viewers to Osamu, a father to a young boy and a construction worker who moonlights as a crack shoplifter. A patriarch of a shoplifting family actually, Osamu and his son encounter a young girl named Yuri who is in need of a loving home as she's found all but frozen and starving. After chatting with his wife and family about the situation, the team decides to keep the young girl to raise as their own, and the viewer becomes privy to the ups and downs of this growing, makeshift, family of underdogs and rejects.
As one of world cinema's great humanists, this story of a family caught on the periphery of society is something of a masterpiece. Rooted heavily in the idea of the truest family is the one you choose, Shoplifters finds Kore-eda at his most human and humane, painting a tender yet unflinching look at the life of a family society has more or less forgotten. Very much about the relationships and dynamics within a family unit, we watch as this "family" of sorts deals with yet another mouth to feed despite their destitute financial state, all the while trying to find a steady source of honest(ish) income in what is ostensibly a kitchen sink drama about the daily happenings of a down on their luck family of misfits.
What makes Shoplifters endlessly moving and indispensable is Kore-eda's constant focus on the humanity within his frame. Clocking in at two hours, in other hands this type of "hang out" picture could feel a bit aimless or shapeless, instead we see Kore-eda keenly tune his filmmaking to the ebbs and flows of a family in need of some serious breaks, no matter the type or legality. Told through lengthy, almost episodic sequences, Shoplifters is a profoundly intimate experience that almost feels off-putting in its director's sharpness with his familial insights. I say off-putting not out of disdain, quite the opposite. I say that to point out that Kore-eda's character work here feels almost documentary-like, mining profound universal truths out of the plight of a family more flesh and blood than just about any you've seen on screen this year.
It also helps that Kore-eda's a true master artist as well. Again, told through lengthy sequences, Shoplifters is a film of gestures and glances, a film fueled by the mundane moments that make life truly worth living, no matter the harshness of one's reality. Shot by Ryuto Kondo, this film has an incredibly naturalistic atmosphere to it, yet Kore-eda's direction pairs so well with the brisk and lively photography that it becomes something truly special. Performances here are uniformly good-to-great, particularly names like Lily Franky, Sakura Ando and Mayu Matsuoka, who are just three examples of a top-tier cast that understands their director's voice more than most ensembles this year. Each of their relationships feels different in true and lived in ways, with each collection of family members having different chemistry, different connections, with one another without ever feeling false or as if these interactions were part of some larger statement. Instead what we see is a director focusing his powers onto one family's story, and a cast of characters each of whom understanding their role within this power structure. Culminating in an emotionally shattering final act, Shoplifters is a deeply moving, intellectually thrilling rumination on what truly makes a family. One of the year's best, this film.