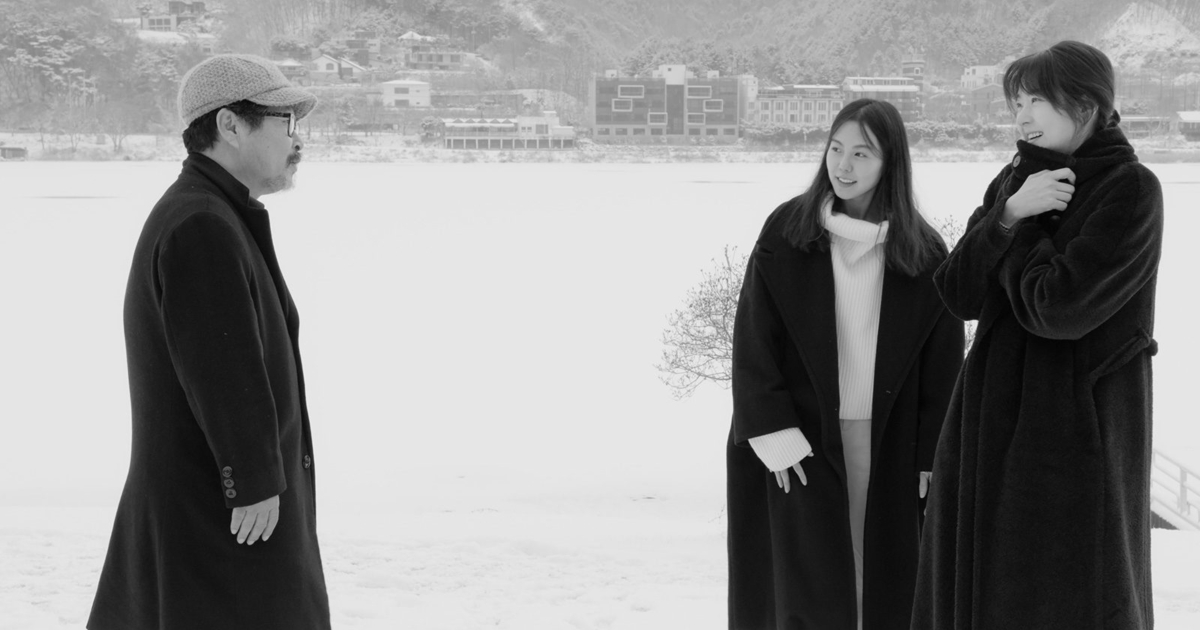 Usually, when a filmmaker reaches the rate of output that someone like beloved director Hong Sang-soo has (to the point where festivals across the world have been running not one but two new features from him), there should theoretically be a quality dip. No director can release two, three or four new films within a calendar year and all of them remain the high quality of earlier works. Right?
Apparently, that's the wrong line of thinking, as with Hotel By The River Hong has made what may be his most entrancing work to date.
A relative change of pace from either the lighter fare of Claire's Camera or the formally experimental works like Right Now, Wrong Then, Hotel is a character study par excellence. Young-hwan (Ki Joobong) is a poet on his last legs, who due to the fact of his souring health beckons his two sons to his lonely hotel room. As he awaits their arrival, he encounters two women played wonderfully by Kim Minhee and Song Seonmi, as they go on a winter walk.
This may not seem like the makings of a captivating film, but coming from a master of on-screen relationships like Hong Sangsoo, it's a staggering achievement. The Korean writer-director has spent his entire career chronicling the relationships between men and women, fathers and sons, and this is just that career-long aspiration distilled down into a film just a pinch under 100 minutes long. As Young-hwan makes his way through the lives of his two estranged sons and two new female acquaintances, deep-seated issues come to the fore in profound ways. His eldest son, Kyung-soo, is a divorced middle-aged man opposite his younger brother, who couldn't be more afraid of commitment if he tried. Despite the pending arrival of his sons, Young-hwan becomes infatuated with Sang-hee (Min-hee) and Yeon-ju (Seon-mi) who he initially meets after telling them he thought they looked like angels in the snow. This connection brings out the poet in Young-hwan, and it also brings out the frustration in him, the frustration at his inability to have control over his own line and at his impending demise.
Continuing in Hong's recent run of black and white pictures (see his other 2019 release Grass for another example of his love for this stock), Hotel By The River is one of the director's most lush and vital pieces of work aesthetically. The snowy setting drenches much of the film in a white light that feels more otherworldly than naturalistic, and his camera work is typically free and fluid. He allows his camera to linger on the reactions of the men and women caught in, frequently drunken, conversations, yet when something catches his eye be it a person's delivery, a gesture or even something deep in the background, the camera rightly stops to take a look. There's a looseness to his camerawork that feels rightly fitting the brisk and more or less off the cuff script work, yet for films that feel like they could easily be seen on the theatrical stage, his direction becomes sometimes haunting and deeply powerful. This doesn't have the same surreal touches as something like On The Beach Alone At Night, yet all of Hong's classic touches are here be it the lengthy takes, focus on artists and their relationship to fame or the often gasp-inducing zooms.
All of the performances are, as in most Hong films, uniformly fantastic. A filmmaker of miscommunication and discomfort, his troupe of five actors are all top-notch, particularly Ki Joo-bong as the lead character. A typical Hong lead character, Young-hwan is a spacey artist in desperate need of a real connection yet deeply uneasy by his own fame. Compliments turn him off, and the deep-seated frustration that makes this character tick is seen in every brief encounter, every slight glance or unnoticeable gesture. Hae-hyo and Jun-sang are also quite great as his sons and their relationships are absolutely compelling, making for the film's cornerstone setpiece, a lengthy booze-soaked conversation between the three men. Seon-mi is good, but Min-hee steals the show as one-half of the young women our lead encounters. She's becoming one of today's most exciting actresses despite more or less making her stock in the world of Hong's films. She's so clearly beautiful and yet also so distant and ethereal that just looking at her can bring one to tears. Her on-screen presence is profound and it's clear that Hong has a deep love for her and never loses sight of what makes her such a compelling performer.
While one of his longer recent works, Hotel By The River is one of director Hong Sang-soo's most mature and emotionally rich films, a black and white drama as intellectually rich as it is visually jaw-dropping.