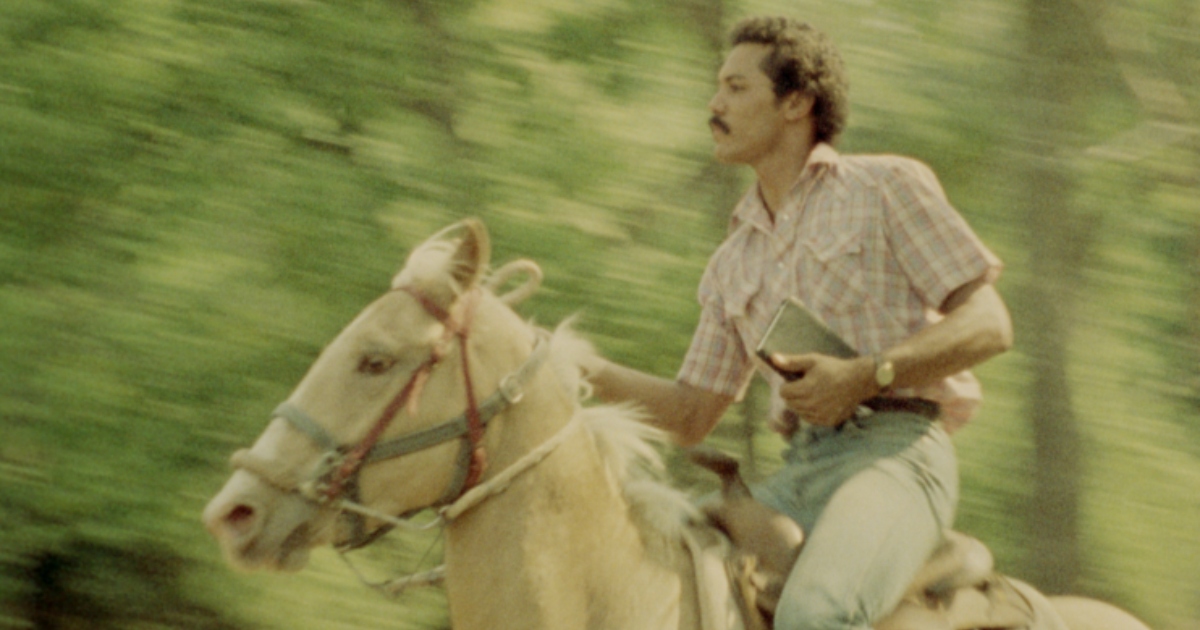 Over the last handful of years, various restoration houses and film distributors have given new life to classic motion pictures created by artists of color, that were seemingly lost to history. Be it Kino Lorber and their work on both the Pioneers of African American Cinema DVD/Blu-ray release and the brilliant restoration of Bill Gunn's Personal Problems, or even Milestone's incredible restoration of Kathleen Collins' Losing Ground, filmmakers of color, particularly African-American filmmakers, have seen their work rediscovered by an entirely new generation of cinephiles taken with the idea of recontextualizing their view of film history through a more inclusive lens.
One film that is getting the same treatment on February 7 is also one that is an absolute necessity for anyone with an interest in expanding their view not just of what black cinema was in the early 1980s but also just what the romance genre has the ability to be.
From director Horace B. Jenkins comes Cane River, a deceptively simple will they, won't they type romance of two star-crossed lovers who, instead of being Montagues or Capulets, find their familial histories at odds in a way that feels incredibly incisive. The film introduces viewers to Peter Metoyer (Richard Romain), an almost laughably handsome athlete-turned-poet (with a mustache that will make anyone swoon) who after starting a tour of a local historical estate, encounters Maria Mathis (Tommye Myrick), an equally beautiful and headstrong young woman set to head off to college in the coming weeks, and aspirations of taking in "the world" at every chance she gets. The two spark a conversation that drips with flirtation and genuine intrigue on the behalf of both parties, and ultimately embark on a relationship of sorts.
However, their family histories become a problem almost from the beginning of what amounts to one of the more mature and thoughtful portrayals of adult romance you'll ever see. See, the estate Peter was visiting when they ran into one another is one previously owned by a distant relative of his, a relative who, despite being an enslaved African woman herself, owned slaves. On top of that, his Creole heritage sparks some conflict as his ancestors also work alongside the Confederacy during the Civil War. Even his lighter skin tone comes into play as it remains a reminder of this very conflicted heritage that, to the viewers own enlightenment, is handled with a deft, mature and genuinely thought-provoking humanity.
While this may sound a bit intellectual and stuffy, don't let that worry you, as what makes Cane River a genuine masterpiece is the energy with which each of these scenes play out. The film is, without a doubt, a political work, with race, gender and even religion worn squarely on its sleeves. However, Jekins and cinematographer Gideon Manasseh team to make a film that's built on the backs of gorgeously (and simply) framed conversations brought to life by richly textured production design and warm photography. The film comes truly to life in the numerous outdoors sequences, sequences that are shot with an intimacy and a warmth that really brings the Southern landscapes to life. Very much drawing inspiration from the type of poetry Richard desperately hopes to craft, the film is a lyrical one, a sun-soaked romance set on the backs of knotty shared histories that to this day have resonance within the black community.
Jenkins, who died shortly after this film's initial release, was an Emmy-award winning documentarian, and he brings that type of filmmaking over to what is a quietly naturalistic piece of fiction. The framing here is often simple, allowing the gorgeous locations to play as another layer of shared history between the two lovebirds. Interior shots are often claustrophobic and tense, literalizing the ghosts of each character's distance past in ways that feel fitting of this type of melodrama. Simply put, it has the socio-political focus of a neo-realist picture, yet the lyricism of something far more theatrical, and it's in this blend that places it in more of a conversation with the films of, say, Spike Lee.
That said, the film would in many ways fall to pieces if the lead performances weren't up to the task of handling this textured screenplay. Thankfully they are, and then some. Myrick is particularly great as Maria, a self-made woman with plans of leaving this community and never looking back. She has heart-breaking chemistry with Richard, and watching the pair grow not just on their own but as a unit is captivating, particularly as they navigate pressures both familial and existential. Maria primarily sees her family pressure her in one direction, as her mother (played brilliantly by Carol Sutton) finds her interest in a Creole man to be nothing short of a betrayal. The pressure begins getting to Maria until ultimately she makes a very specific decision, leading to what may very well be one of cinema's great final scenes. It's a rapturous finale that is, well, find out for yourself.
Romain is also quite good here, particularly when taken in conversation with other male romantic leads. Structurally your prototypical male lead for this type of film, Romain plays a gorgeous, charismatic and self-assured man, whose background is almost too dreamy. A potentially pro-bound football star turned Earth, Wind, and Fire-inspired poet, Peter also wears his emotions on his sleeves, and as he discovers more and more about his heritage his disinterest in allowing that to speak for him turns each proclamation of his love into something almost resembling an act of political rebellion. Jenkins and Manasseh shoot the two in these moments of growth with a lyrical eye, an eye that finds the beauty not in two people's physical intimacy, but in something almost cosmic. The two are fighting against centuries of conflict and each moment they share carries with it a vitality unlike anything you've ever seen. It's a film that really needs to be seen to be believed.

Cane River opens at BAM in New York City on Friday, February 7