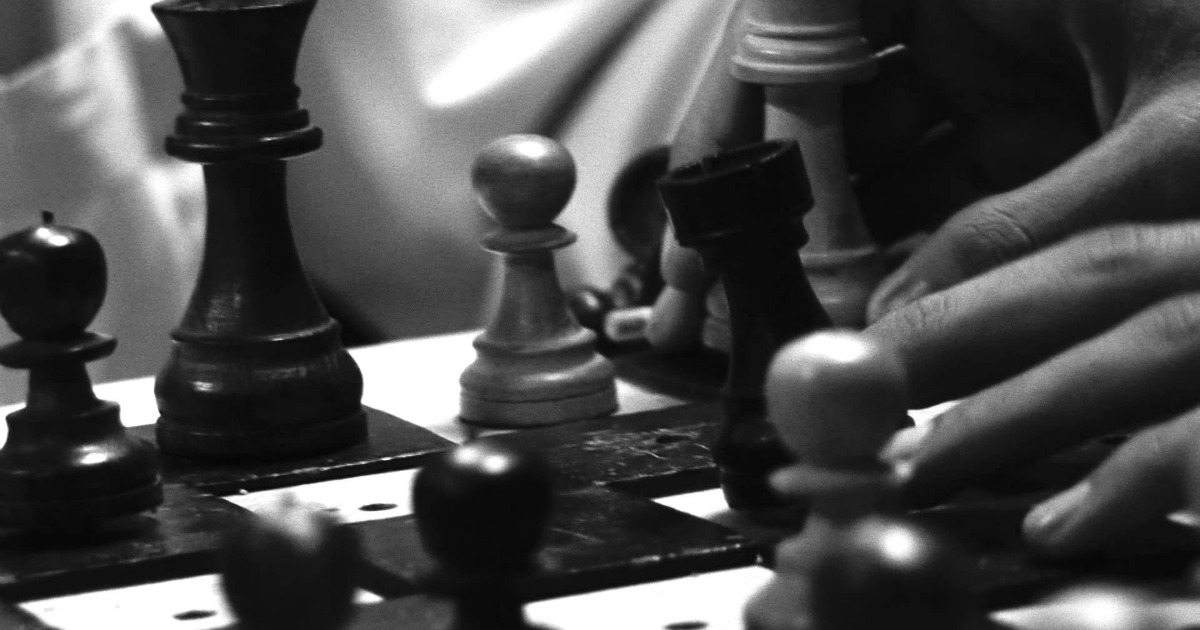 Documentary cinema is truly a beautiful thing. While the best known non-fiction features take to hot button issues either politically or culturally, the brilliance of documentary filmmaking is its ability to shine the brightest and most clear of light upon even the smallest, most esoteric or niche of worlds. Be it a film like Paris is Burning and its chronicle of the New York ball scene or a film like this year's Manakamana which is as intimate narratively as it is broad intellectually, non-fiction filmmakers have the ability to bring to life the most singular of stories.
Take director Ian McDonald's latest film, for example.  Entitled Algorithms, the film may seem to have the most niche of target audiences. A black and white documentary, the film follows the story of a group of chess players in India, who just so happen to suffer from blindness. With the dream of becoming Grandmasters squarely in their hearts, these chess aficionados (three young men and one older champion) travel the world competing in tournaments including the World Junior Blind Chess Championship. The elder of the collective here is Charudatta Jadhav, an IT professional who has become a pioneer in the world of chess for his strive to make it playable for those with blindness. After he went blind himself as a teen, he took up the game only to become a massive player in the world of international chess.
Then there are the youngsters. We meet three youths in the midst of rising chess careers, including Baroda's Darpan Inani, Chennai's SaiKrishna S.T. and Bhubaneshwar's Anant Kumar Nayak. Darpan is the most experienced of the bunch, the highest ranked and most well known of the trio. SaiKrishna and Anant are stars on the rise, all with their own distinct lives back at home, outside of the throes of a chess tournament.
And in these four stories come a narrative that, at face value sounds like the most esoteric of documentaries, becomes shockingly relatable. Take the character of Anant for example. A sweet young man with a personality all his own, his character comes to real life when we see him at home, attempting to balance his ever growing chess career with that of a student. This hectic balance is something that can be seen in students across the world, be it here in the states or across the globe in India. Darpan's story is also one of pure human drive as he hopes to lead the way for blind entrepreneurs in India, a dream that may seem completely his own, but when taken at its very base level, is a strive for excellence that everyone his age can relate to.
---
---
Beautifully shot by director McDonald (a sociologist as well as a documentarian), there is an energy and vitality to his use of the camera here that really adds a lot of life to an otherwise plaintive picture. His debut film, McDonald proves to be an interesting voice in the world of non-fiction filmmaking, taking this story and turning it into a truly compelling piece of work. Ultimately undone by its rather tedious runtime (the 90+ minute runtime could have stood a good trimming of 10-15 minutes to make it really sing), the film is a beautiful meditation on a group of people on the outskirts of society that speaks to a shocking level of universal truths about passion, dreams and hope.
Overall, while the runtime is admittedly troublesome, McDonald's debut feature is a love letter to a marginalized group of people hell bent on changing their world. A moving and rousing piece of filmmaking, this may seem like a niche documentary, but it is so very much more.
---