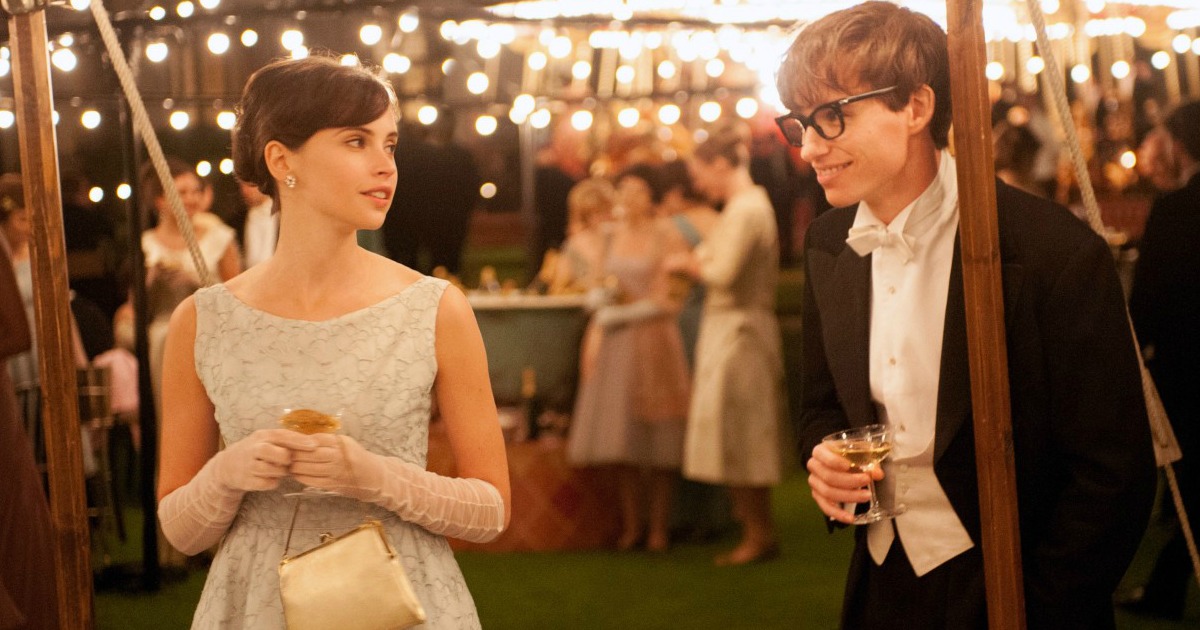 During the fall, awards-filled film season, the biopic is about as common as a film about men and women in tights fighting CGI aliens is during the summer or left-for-dead romantic comedies are during the spring. With millions of people flocking to theaters during the season to catch up on various awards hopefuls, there is one biopic in particular that has not only had crowds buzzing, but has left critics and awards prognosticators at an absolute loss for words.
From director James Marsh comes The Theory Of Everything, a film that is so very much more than what one believes it to be at first glance. Billed as a biopic looking at the life of the legendary Stephen Hawking, Marsh's picture is truly something far greater. Introducing us to Hawking while going through his shooling at Cambridge, we are privy to a man who is driven by an unquenchable thirst for knowledge. However, when he meets a fellow student by the name of Jane Wilde, his life is never the same again. Falling head over heels in love with Wilde almost at first glance, the two spark a beautiful relationship that is as singular as the two parties themselves. However, it isn't one without ups and downs. When Hawking is diagnosed with ALS at the age of 21, Wilde stands firmly by his side despite warnings from everyone around her (including Stephen's own father), and they go on to, together, break ground in science and medicine, becoming one of the most influential pairs in history. Based on Wilde's own memoir, Marsh's film is a truly superb picture that gets at the very root of this decade-spanning relationship and one that looks as intently on the valleys the two went through as a couple, as it does the peaks they reached.
---
---
Starring Eddie Redmayne, the film is led by not only a superb director at the height directorial powers, but two of the best lead performances of 2014. Redmayne stars here as Stephen Hawking, and it's a star making turn. Not only holding with it a great sense of physicality, a physicality that continually shifts as the film progresses and his character's illness grows, but the performance feels completely lived in and palpable. Redmayne carries with him Hawking's charm and sense of humor that is heady and self depricating, a charm that makes it easy to see why a beautiful woman like Jane Wilde would have fallen instantly for the then young Cambridge student. It's a beautiful performance that stands as one of the year's best male leading performances. However, it may not even be the film's strongest turn. Stealing the show here is Felicity Jones as Jane Wilde, Hawking's first wife and the woman with whom he would share some of his greatest highs and toughest lows. Jones is thrown into the upper echelon of actresses with this performance, a turn that holds within its DNA so much uncertainty and yet blind faith that it is a sure fire contender for awards season later this year. A layered performance, Jones' Wilde is a strong willed woman who won't let the man of her dreams crumble under the weight of the pressure that built in his life, and yet there is something in her eyes that hints that even she may not be as certain as she comes off. It's a performance of bewildering depth and one that steals every scene.
And yet director James Marsh isn't willing to let his presence go without acknowledgement. Best known for his work in documentary filmmaking, Marsh returns to fiction cinema after 2012's Shadow Dancer with what may be his best film to date. Based on Wilde's 2007 memoir, Marsh's film is a sensitive portrait of a couple that propels itself with raw and tactile energy from the very first frame. While the man at the center of the picture has his mind focused on the loftiest of ideas, the film is a human-level meditation on a relationship and the power of love. Not afraid to shine a light on his character's flaws (temptation is shown throughout the film on both sides of this relationship), Marsh gets gorgeous photography out of cinematographer Benoit Delhomme, a photographer who doesn't get enough respect. Best known for films like Lawless and The Proposition, Delhomme is an unsung hero here, giving the film a beautiful sense of warmth and vitality that really envelopes the viewer. It's a triumphant piece of work and Marsh's direction is equally as engrossing. Hinting at Hawking's eventual illness from almost the opening frame, Marsh's film is an ever moving feast for the eyes, a romantic drama that is effortlessly sexy, gorgeously crafted and emotionally raw and rapturous.
---
---
Despite being a film about two entirely singular people, the beats here feel decidedly conventional. The soft and warm photography is gorgeous but a standard feature of this type of biopic, and the beats here would feel exclusively stale and cliche-ridden if it weren't for the magnetic and breathtaking performances at the film's center. Never slight or bland, the film is ultimately a rousing bit of drama despite its structural cliches, with Marsh and his actors being the biggest reasons as to why that is the case.
Overall, while the narrative may itself feel like something you've seen numerous times before, this tale of a romance and all the bumps and bruises it comes with is a performance-driven stunner of a film. James Marsh's latest feature gets two star making turns out of youngsters Eddie Redmayne and Felicity Jones, both of whom should hopefully be getting a lot of publicity come awards time later this year and going into early 2015. Rounded out by some gorgeous cinematography and an unforgettable score, The Theory Of Everything is a layered character study in the body of a relatively conventional biopic.