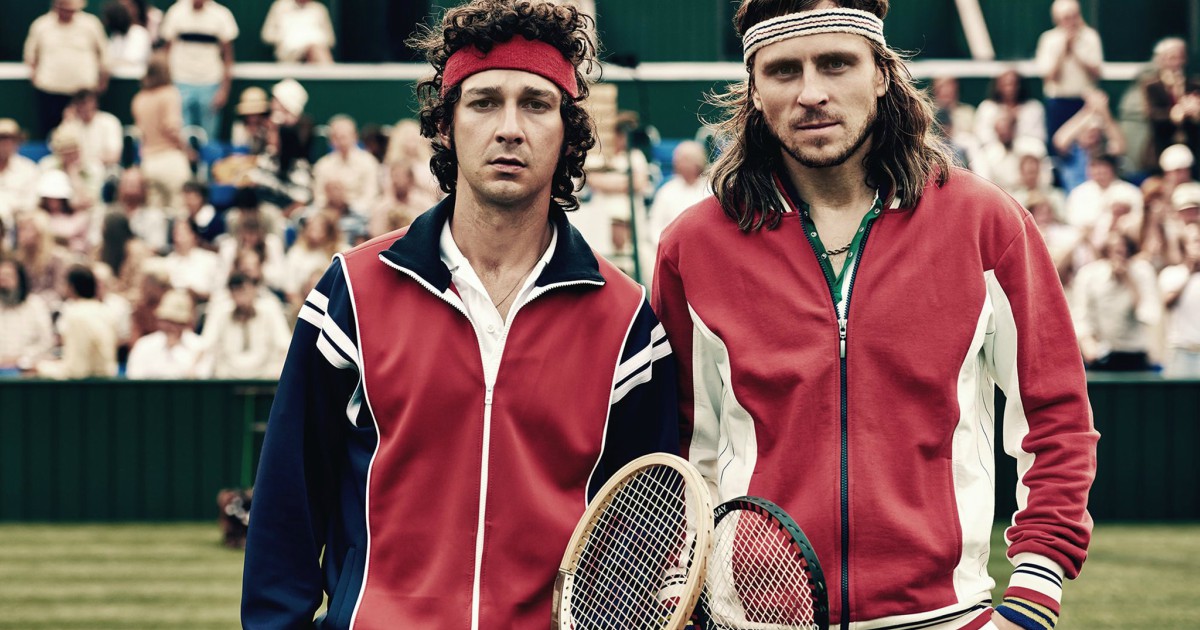 Celtics and The Lakers. Yankees and The Red Sox. Packers and Bears. In sports writ large, some rivalries transcend the specific sport they are fought in, becoming proverbial battles between entire cities and something of a cultural touchstone. In singles competitions this becomes a bit more rare. Of the few great one-on-one rivalries, the battles between tennis icons John McEnroe and Bjorn Borg are some of the most influential and hotly contested. What would be the spark of a lifelong friendship between the two superstars, their battles on the court are the stuff of sports legend.
And also a new, relatively forgettable motion picture.
Directed by Janus Metz, the dully titled Borg vs. McEnroe stars Shia LaBeouf as the iconoclastic John McEnroe opposite Sverrir Gudnason's Bjorn Borg, as the two all-time greats are set on a collision course in the 1980 Wimbledon Championship tournament. One of tennis' most historic performances, the pair would meet in that tournament's final sets, deciding not only who would become that year's Wimbledon Champion, but also who would have bragging rights as the greatest tennis player of his generation.
Now, the two men couldn't have been more different, as Metz's film will not let you walk out of the theater forgetting. McEnroe was a Club 54 frequent flyer, if you will, a consummate partier and "bad boy" whose run-ins with everyone from tennis officials to journalists would help cement him as the enfant terible of tennis for an entire generation. Then there's Bjorn Borg, a man who could very well be mistaken for a robot or a mall mannequin if it weren't for his talent for tennis. As superstitious and put together as McEnroe was loose and seemingly unhinged, Borg's precision and preparation would turn him into arguably the greatest player of tennis the sport had, or has since, ever seen. Strings in his rackets had to be tightened to the right musical tone when struck. Socks had to be packed the same way every time when traveling to an event. To Borg, minutia is not only what won him matches, but drove his entire life.
This dichotomy is at its most interesting when it's being acted on. The viewer becomes privy to many people dissecting this division, particularly in the straightforward final act, but Borg vs. McEnroe is at its very best when it allows its actors room to breathe. It's more than a little inspired seeing LaBeouf here as McEnroe, a man who he shares quite a bit of artistic DNA with. Not only does the actor channel a great deal of that same manic energy that made McEnroe and makes himself such interesting people, but LaBeouf is able to harness it and help bring much needed layers to a man easily caricatured. McEnroe could be not much more than an almost Apatowian (maybe a word?) man in suspended adolescence (think Will Ferrell's figure skater in Blades of Glory), but LaBeouf gives real humanity to the man, particularly near the film's conclusion. There's an underlying humility and humanity to his performance that is really quite captivating. Gudnason is also very good here, himself given more of the film's narrative thrust, particularly with regards to his backstory. Borg is a bit more fleshed out here than McEnroe, arguably taking the film's lead role, but seeing the two men and these two performances juxtaposed is quite thrilling, particularly when the film slyly portrays each man as the other, taken to its polar opposite conclusion. Both men have demons, pain, and in their opposite manifestations of that damaged history, they ultimately become all the more close. It's really a beautiful story that's both touching and thrilling.
What's less thrilling is the actual film making. Metz's film is well crafted, confidently shot and the final act is indeed quite thrilling, but as inspired the performances are, the direction simply hits every beat a sports movie is told to. The photography is fine, but unremarkable the way most modern indie dramas are, in all of its crisp contrast and superficial period design. Designed within an inch of its life, everything feels so close to the real thing that it turns over on itself, playing out aesthetically like an SNL Digital Short. It's an unflashy film, with cinematographer Niels Thastum turning in fine work, but lacks the same manic energy as one half of its central duo, or the precision and rigidness of the other. But maybe that's for the film's benefit. If it were a flashier film, we'd have something like Battle of the Sexes which is a fine achievement, but leaves much of the characterization to the side. Instead, what Metz has made here is a film that's almost lifeless aesthetically, yet so focused on these two characters that, as a piece of filmed performance, it's quite solid. Too bad by the end of the film it's almost instantly forgotten.