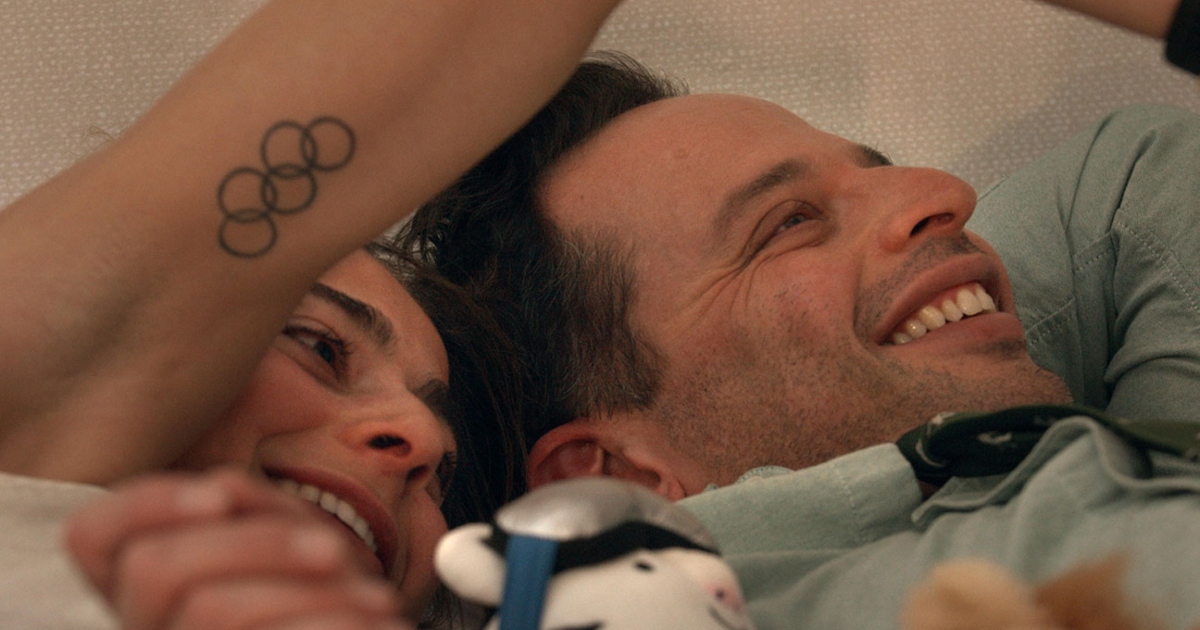 Over the last half decade or so, the romantic comedy (thanks to the expansion of streaming services looking for more and more original content) has seemingly come back into favor, at least with those looking for something a bit more fitting for the type of "Netflix and Chill" world that we live in these days. However, few of them truly make much of a splash outside of introducing us to some new actor or actress that will be a teen heartthrob for roughly one or two news cycles, than return to some form of obscurity.

Olympic Dreams is a different beast entirely.
Billed as the first film to ever be shot at the Olympics and within the Athletes Village, Olympic Dreams very much has a logline fitting for a modern rom-com. Starring Nick Kroll and Olympic long distance runner Alexi Pappas, Dreams tells the story of Penelope (Pappas), a first timer at the Olympics who hopes to make a splash as a cross-country skier. As a performer in one of the earlier events of the games, Penelope finds herself with much free time, which leads her to encounter and spark a relationship with volunteer dentist Ezra (Kroll). Both seem to be open to new connections within the Village, yet neither feel quite comfortable with a relatively unknown future outside of those walls. Finding in one another both connection and frustration, Olympic Dreams is a fun, often funny and even more often heartbreakingly tender portrait of romance in its earliest, most raw states.
After a lengthy festival run in 2019 that saw the film garner rather great notices out of SXSW and BamCinemaFest, Olympic Dreams is a shockingly accomplished romantic comedy, driven by director (and Pappas' husband) Jeremy Teicher's assured hand behind the camera. Co-written by he and his two stars, the film has a startling sense of intimacy given the hustle and bustle of its setting, finding within this narrative a tenderness and humanity that could easily be lost surrounded by all the Olympic pomp and circumstance. Very much a character study, the direction is subtle and screenplay naturalistic, playing into what appear to be the very strengths of its two leads.
Pappas is an absolute show stealer here. Playing the introverted Penelope, Pappas never has a false moment here, turning in a performance that feels relatable and engaging despite being that of a one-in-a-million, world-class athlete. Her performance is one that feels tender and raw, without ever diving into cliche or becoming too broad. Similar to the film she's in, her take on Penelope is one of little artifice and feels rightly textured in a way few rom-coms ever seem to allow. Kroll shows a different side of himself here, playing the equally unsure of himself Ezra, a man on the wrong side of a collapsing relationship, unsure about his future outside of the walls of the Athletes Village. The pair have incredible chemistry together, and while much of the film was improvised (the shot the film over two weeks with the original intention of shooting shorts for the Olympics), there's a shocking feeling of truth and humanity to the lead relationship.
Unlike most romantic comedies, the beauty of Olympic Dreams doesn't come from the will they/won't they aspect of the narrative. Instead, as is the case with any worthwhile modern romance, the beauty from the central connection comes from both parties willingness to push and be pushed by their other half, embracing qualities within them they never knew they had. This push and pull is potently handled here, allowing for the film to feel fresh and engaging despite relatively classical narrative structures surrounding it. Gorgeously shot and led by two ace performances, Olympic Dreams is the type of adult romantic comedy that simply does not get produced these days.