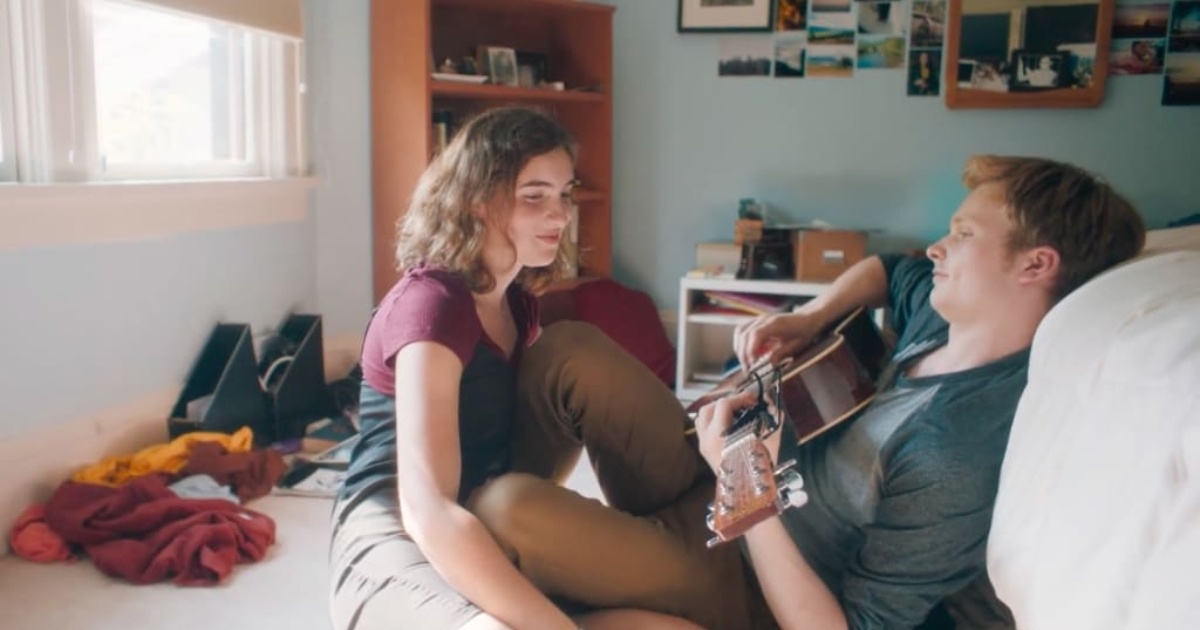 There are few things more beautiful in life than when one can make art with family.
That's more or less the case with the wonderful new independent drama Sophie Jones, which sees director Jessie Barr tapping cousin Jessica Barr with not just co-writing the film's beautiful screenplay but also for what is hopefully a star-making lead performance.
Jessica Barr stars as the titular Sophie Jones, a seemingly proto-autobiographical riff on personal experiences with grief and loss at a truly formative moment in one's life (both lost parents at the age of 16). Sophie's on the brink of adulthood and, with the loss of her mother still very much weighing on her mind and heart, doesn't so much lash out as try to find some way to fill that void left by that loss. Be that a hot and cold connection with family and friends or even trying to find some semblance of romantic connection with various people in her life, Sophie's at a fork moment in her life, and during the film viewers become privy to what direction she ultimately goes.
As one would expect with a film of this ilk, the atmosphere is incredibly personal and intimate. Jessie Barr's direction isn't so much claustrophobic as it is simply deeply experiential, with even exterior shots carrying with them a tight scope. The camera appears to be focused quite clearly on the textures and nuances of conversations, even if the people within them aren't, focusing more on highlighting the startlingly sensitive performances more than any flashy directorial flourish. That's not to say the film isn't a testament to Barr's artistic eye, quite the contrary. There's a natural energy to the film that is crackling, particularly with a focus largely on teenage boys and girls. Conversations feel energetic, choices are made and through all of it an endless, boundless heart screams from every scene, every interaction.
And therein lies the absolute beauty of the film. Jessica Barr's performance is a gorgeous, nuanced deconstruction of a timeless fiction trope, the young woman and the cusp of adulthood faced with a world that will either send her to the moon or eat her alive. Through every choice one may think is poor there's an atmosphere of optimism and hope coursing through the film's veins, even as the spanning of time feels more elliptical and disjointed than one may expect. This almost vignette nature gives the film a distinct vitality, with the viewer less made to focus less on any real resolution than they are made to simply live in these moments with a young woman tossed into chaos by an absolutely unfathomable loss.
Grounded by Jessica Barr's performance, Sophie Jones is also an incredibly charming film. Pain and grief is clearly on the film's mind throughout, but so is the occasional moment of levity, be it a tender montage of a moment of intimacy between two friends in love or a brief mention of a young lothario's use of Reservoir Dogs as background noise during a sexual encounter. The grief and pain felt by Sophie is never play for maudlin drama, instead given genuine heart and humanity while never quite allowing the viewer in completely. An incredibly subtle film, particularly when one looks at the "coming of age" picture writ large, Sophie Jones relies on the briefest of gestures and glances, or even a simple sudden shift in conversational mood to get right at the core of what this young woman, in all of her tragedy, is truly feeling. A beautiful film driven by a beautiful lead performance.