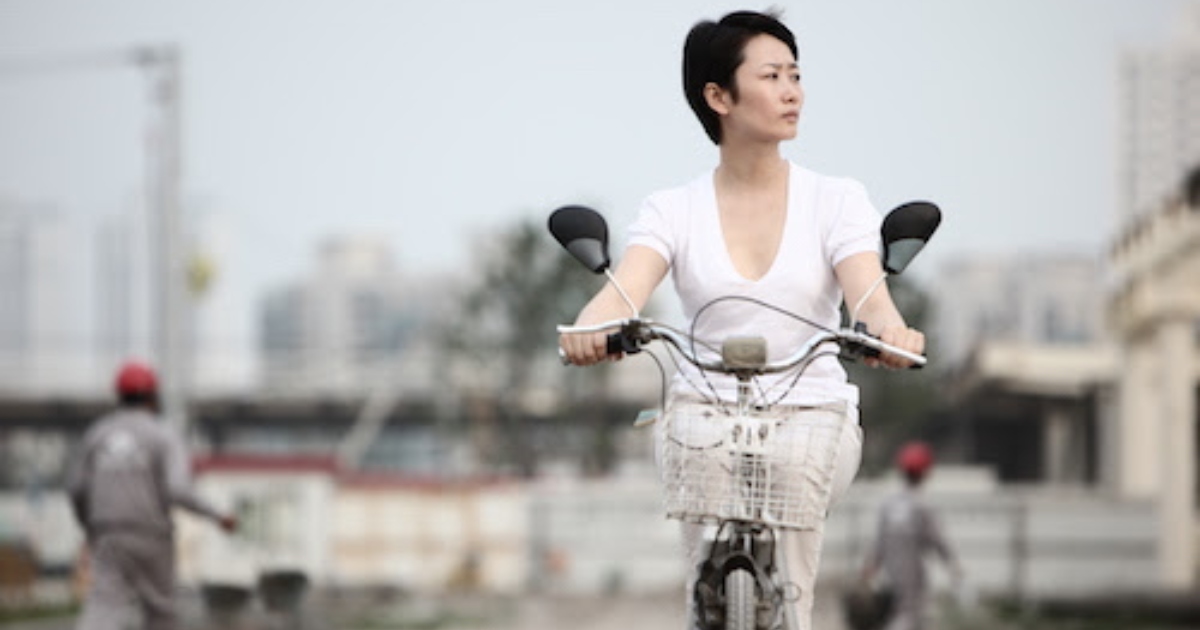 Over the last ten years or so, director Jia Zhangke has become something of a household name among those cinephiles with a keen eye towards world cinema. Considered by many to be one of, if not the, very great filmmakers of the 2010s, Jia Zhangke has, along with his muse and partner Zhao Tao, made some of the most important and influential Chinese films of this century.
And yet, even for him sometimes a film can take a couple years to get released here in these United States.
Well, in the case of I Wish I Knew, those "couple of years" turn out to be ten.

I Wish I Knew is hitting theaters in the US for the first time on beginning on January 24, and in a rarely seen director's cut, for that matter. The film, itself a commission by the Shanghai World Expo Park (which is also where some of the film's interludes take place), tells the story of Shanghai, both past and present. Blending together archival materials, new interviews with everyone from ex-soldiers to his contemporaries like Hou Hsiao-hsien, and some gorgeously composed interludes staring the aforementioned Zhao Tao, the film is Jia's attempt at recontextualizing the larger history of 20th Century China as seen through the lens of this ever-evolving port.
Feeling very much in conversation with Jia's seminal 24 City, I Wish I Knew sees a much different Jia than those familiar with his recent offerings would recognize, finding the filmmaker at his most formally experimental. The film is an expertly shot rumination on a city, and more largely a people's history, as seen through the eyes of men, women and children who have lived it very literally. The urban landscapes are gorgeously rendered here, with Jia's eyes clearly one of a loving admirer, as the film seems to find some sort of peace in watching Zhao Tao simply meander through these streets.
Jia's interests have always been political, even as he begins to progress in more broadly commercial arenas. Here he's simply dealing with it void of any narrative artifice. I Wish I Knew is in many ways a truly radical work, turning to documentary language to put in conversation the lives of those who encountered the evolution of China first hand as well as the media that attempted to document it as it happened. Talking head interviews are placed directly in opposition to propaganda films, archival photographs and various fiction works, all in an attempt to better weave a tapestry telling the story of one of the world's great powers and this iconic port town.
Speaking of the interview segments, these are, as opposed to most modern documentaries, absolutely engrossing. Gorgeously shot in locales that feel textured and lived in (unlike the simple, lazy backdrops that most documentary interviews are set against), these interviews offer truly profound insight into what life in Shanghai over through the 20th Century, with none of the 18 interviews ever truly painting a full portrait. Instead, viewers are given slivers of insight from the likes of criminals to businessmen, even filmmakers like Wang Toon, all the while placing them in context opposite newly restored images and footage that was previously censored by the government.
At just shy of two hours in length, I Wish I Knew is a knotty, engrossing city picture that never holds the viewers hand while going on this journey, instead allowing for these fragments to paint a singular and, hopefully, moving portrait of a city in constant flux. A film about, in many ways, the effect of war, not on those who fought but the world they left behind, Jia's now decade-old masterpiece is a captivating, strangely asymmetrical experiment in anthropology and storytelling. It's simply a stunning piece of filmmaking that's taken far too long to make it across the ocean.