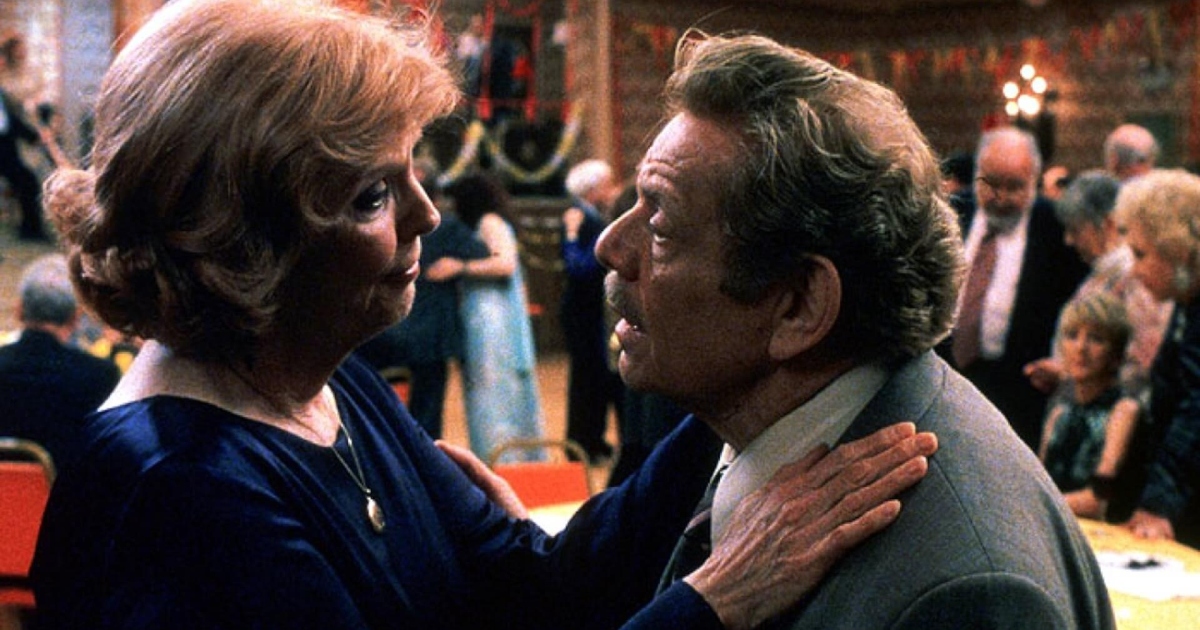 Over the last few years, as more and more cinephiles dive into lesser known films directed by women and particularly those of a more romantic-comedy style, the name Joan Micklin Silver has become something of a hot commodity. Through her beloved Crossing Delancy, Micklin Silver has become a figure of great respect and admiration, though much of her filmography is rarely screened in repertory houses and even harder to find on home video.
Well, that's about to change, at least with regards to her incredible and endlessly charming Fish In The Bathtub. Starring Jerry Stiller and Anne Meara (the legendary real-life husband and wife duo), Fish tells the story of Sam (Stiller), as he pushes his wife to the edge following the purchasing of a live fish which he makes a home for in the family bathtub. Molly (Meara) finds this to be the last straw in their contentious relationship, taking this oddly absurdist transgression as grounds to move out and contemplate life back in the dating pool. Moving in with their son Joel (a handsome and effortlessly charming Mark Ruffalo), Molly begins "seeing" a friend while the very son keeping a roof over her head begins contemplating his own romantic life as a sultry client begins to make rather blunt passes at him with regularity.
Back in theaters in a glorious new restoration thanks to Cohen Media Group, Fish In The Bathtub is an engrossing, endlessly delightful romantic comedy, and proof positive of Micklin Silver's directing acumine. A prototypical romantic comedy, the film is more or less a series of miscommunications and bursts of stubborn bluster, a film full of immense wit and narrative energy. Much like a film like Crossing Delancy, Micklin Silver's hand behind the camera here is incredibly subtle and in many ways classical, filling each strongly framed shot with lived in production design and naturalistic costuming. The narrative itself may feel a bit larger than life (the fish as the catalyst for the film's dramatic push is at the very least strange), but with its core storyline focusing around a couple who deeply love one another despite being at wits end, the film feels warm and rightly loose.
That said, the real star here has to be the film's cast. Seeing Stiller and Meara on screen together is an utter delight, particularly the late Meara, who here is as warm a presence as you'll ever see in a romantic comedy. Her Molly is a strong-willed, fully fleshed out character that feels at once completely lived in and yet has a presence that's specific to this type of comedy. Stiller's Sam is full of piss and vinegar, only making his ultimate come-to-Jesus moment near the film's conclusion all the more emotionally rich. Their chemistry is a bit wonky as for the majority of the film's runtime they're at one another's throats, but the emotional power of their ultimate reunion is never lost. Co-starring here are Ruffalo and an always enchanting Jane Adams, both of whom add some exciting depth to a film that's a bit thin narratively.
At 96 minutes in length, Fish In The Bathtub may be a pinch too long and a pinch too thin, but Joan Micklin Silver's underrated and rarely seen comedic gem is a gorgeously shot, emotionally rich romantic comedy that takes a collection of ace performances and a script that full of wit and verve. An absolute discovery, this film.