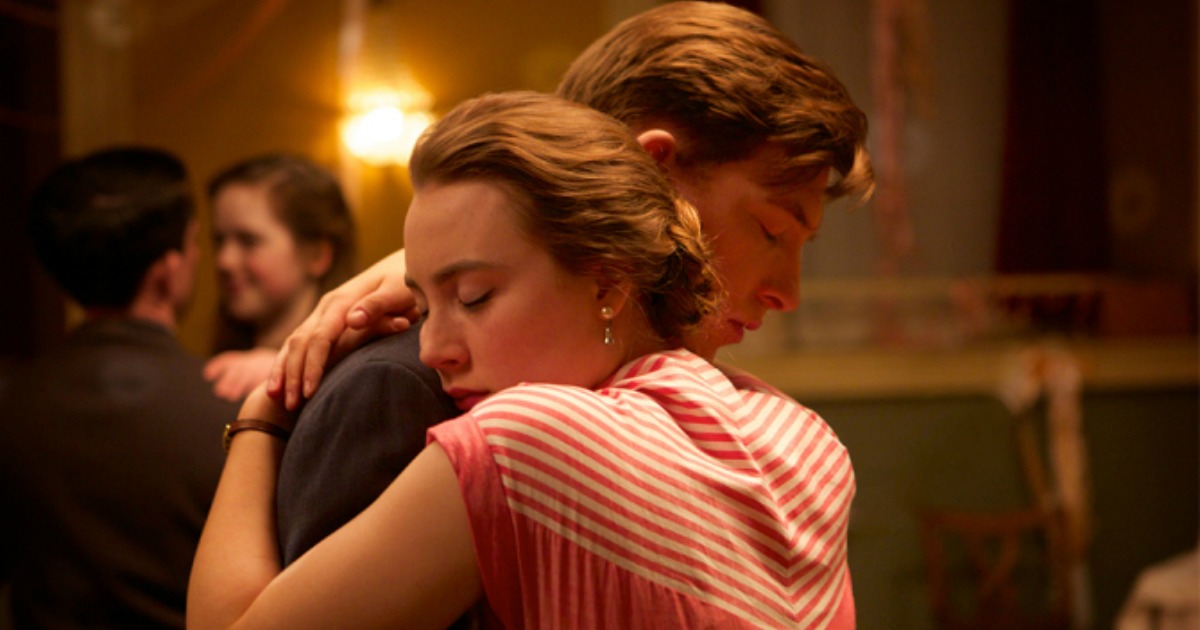 Defining something as classical or old fashioned can often times come as a death sentence in today's world, where filmmakers strive to break ground from storytelling to the aesthetic they use to tell these stories. However, in the case of John Crowley's new film, Brooklyn, there is true beauty in this classical story of love, family and what it means to be home.
Based on the Colm Toibin novel of the same name, Crowley's film follows the story of Eilis Lacey (played by Saoirse Ronan), an Irish woman who heads to Brooklyn out of hopes to find her calling, or at the very least a job off which to start her life. With the help of an Irish priest (Jim Broadbent), Eilis she makes her way to New York, all the while overcoming seasickness, and trying her best to beat the homesickness that cripples her during her first few moments there.
Sharing a boarding house with a group of young women who spend their days either working or gossiping about their new housemate, Eilis can't help but dream of the days she spent back home with her family. However, after she meets a young man at a dance, everything changes. At a Knights Of Columbus dance, she meets an Italian boy with a thing for Irish women, a man named Tony (Emory Cohen). The two instantly fall for one another, with their romance going from playful courtship to marriage over the majority of the film's runtime. However, when there is a family tragedy, Eilis returns home, only to begin being courted by Jim Farrell (Domhnall Gleeson) an Irish man who is just the icing on the cake that is Ireland, a place once void of opportunity for Eilis, only to now be ripe with it. This choice, this battle between a biological home and an adopted one, is the main crux of the film's great final act.
As hinted at in the opening paragraph of this review, Brooklyn is a classic romance told in a shockingly classical style. Rooted very much in golden age romances, Crowley's direction is top tier here, giving the film a glossy, nostalgic journey back into the 1950s. The film is sun soaked, giving us glorious shots of warm summer days in all their orange, vibrantly colored glory. Rooted in both golden age cinema and classical melodrama, the film is textured, with rich craft bringing to life a distinct period in this country's history. From the hair to the clothes, there is a rich vitality to the film, with each frame of the film feeling as though one could reach out and feel its warmth. Almost like a modern day John Ford romance, Crowley and screenwriter Nick Hornby have made a film so full of humanity that many cynical audience members will balk at its melodrama, but those willing to go along with this deeply human portrait of one person trying to find a home will find much to enjoy.
---
---
The performances here are the real takeaways, however. Saoirse Ronan stars here as Eilis, and gives possibly her best performance to date. There is a liveliness behind Ronan's big eyes, and an almost silent-film-actress-style ability to emote a diverse range of emotions just by a simple facial expression that makes her performance truly amazing. We watch as she goes from hesitant to anxious, excited and then nervous, all just through her physicality on screen. She's grown up on screen, and that big body of work is showing with each and every new turn. Her handle over this lovely script is superb, able to jump from humor to drama with ease and believability. It's a layered and nuanced performance that gives this otherwise broad romance drama a real depth and humanity. Cohen and Gleeson are great here as her suitors, with Cohen proving to be an absolute star in the making, with the energy of a Cry Baby era Johnny Depp. Rounding out the cast are names like Jim Broadbent and Jessica Pare, both of whom really give great supporting performances. Julie Walters, however, steals every scene she is in as the head of Eilis' adoptive house, Mrs. Kehoe, and hopefully won't be forgotten come Oscar time.
Home means a lot of different things to each and every person walking this planet. Sometimes it's just the place you go every night to lay your head down, and to others it is a safe haven. The place where roots are laid, family are formed, lives are made and lives come to an end. Brooklyn, in all its nostalgia, is one of the year's most charming films, and it feels as warm and as inviting as the home we all strive for. Films don't get this lovely very often.