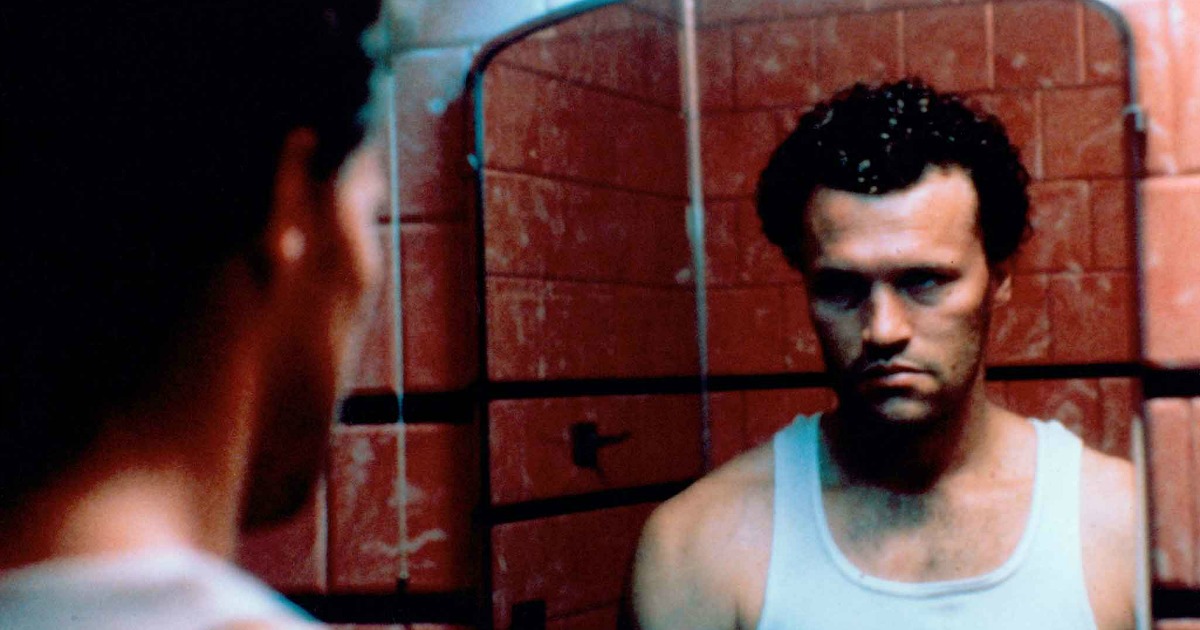 To a wide collection of even studied cineastes, let alone your average moviegoer, the name John McNaughton may not ring many a bell. Splitting his career between films like Wild Things or 2013's The Harvest and television efforts like his stint on Homicide: Life in the Streets or John From Cincinnati, McNaughton is the definition of the modern film making journeyman. However, there's one credit to his name that's not remembered simply for campiness or even its influence on today's fascination with true crime narratives.
His first fiction feature, Henry: Portrait of a Serial Killer is not only one of the director's most highly regarded works, but with its focus on the internal struggle of its monstrous protagonist, it's still one of horror cinema's most entrancing experiments. Newly restored thanks to Dark Sky Films, the film is starting a new run in theaters around the country, beginning this last weekend in New York City.
For those new to this picture, the film follows the titular drifter, played by a bewilderingly magnetic Michael Rooker, as he takes the lives of seemingly anyone he chooses too. Realizing it's best if he both kills people of various demographics but does so in a different way each time, Henry lives a sparse but violent life in an apartment shared with a man named Otis. However, when Otis' sister (played wonderfully by Tracy Arnold) comes to stay with them after making a run for it following an altercation with her abusive beau. Groundbreaking it not only its aesthetic conceit (the neo-neo-realist approach was rarely used to this extent in horror from the mid-1980's) but also its portrayal of violence on screen (the film received an X rating upon its initial release so it wasn't widely seen for nearly four years following its 1986 premiere at the Chicago International Film Festival), this is both one of horror's most underrated works and also one of its most influential.
---
---
Much will be now and previously has been made of the film's aesthetic choices as well as its thematic work, but what strikes a viewer first and most powerfully may well be the performances. Showing a quiet, textured side to famous "that guys" Rooker, his first lead film performance may very well be his best. Embedding a sense of humanity within his Henry portrayal, Rooker invites the viewer to not so much empathize with him but instead be enraptured by low key magnetism. Seeing both the monster and the man, particularly when dealing with Becky, Otis' sister, Rooker turns what many horror films would simply craft as a caricature of pure evil into a flesh and blood character. One the viewer will despise and loathe spending time with, but a character nonetheless. Arnold is also quite good, giving a sense of realism and a lived in quality to a role that's admittedly not written as much more than a catalyst for the film to show a separate side of our protagonist. Tom Towles is the only weak link here whose Otis is serviceable but lacks anything resembling the humanity or naturalism seen in his fellow actors. Overall, it's a film driven by its lead performance, and in that it gets a towering piece of work from a then unproven Michael Rooker.
Marking McNaughton's first foray into feature fiction film making, Henry is an abrasive, powerful and entrancingly crafted debut. Using an almost faux-documentary style, it never posits itself as a documentary like later "found footage" horror films would, instead uses the neo-realist tradition to embed the viewer deep within this character's world both physically and psychologically. Blunt in its use of violence, some acts may seem like high camp (particularly something involving a television set), but it feels both absolutely true and decidedly vital. Close ups and our characters spatial relationship to both one another and the world they live in (few apartments are as claustrophobic as the one found here) are used to great effect here, turning what is already a grotesque descent into one man's madness into something so tactile it becomes almost impossible to sit through. Absolutely one of the great "I've seen it once and never will again" pictures of its day, the X rating it originally received is an earned one, with blood and gore coming with such simple brutality that it feels decidedly different than the gore fests we have today. Today, gore is punctuated by lavish acts of violence that are shot with such perverse glee that they themselves become high camp. Here, however, McNaughton never shies from violence, but also turns the film's psychology into one that makes it feel disturbingly naturalistic. It's a real tour de force piece of direction, and with the streets of Chicago carrying with them a gritty realism all their own, this is a definitive take on the serial killer picture.
Again, with a new restoration from Dark Sky Films, Henry: Portrait of a Serial Killer is marking its 30th anniversary, and despite being relatively forgotten outside of horror circles, it's a superb and truly unforgettable film. Briskly paced at just shy of 90 minutes, this is a film that is both hard to recommend and yet finds its DNA throughout modern horror. To simply call it groundbreaking would be a disservice.