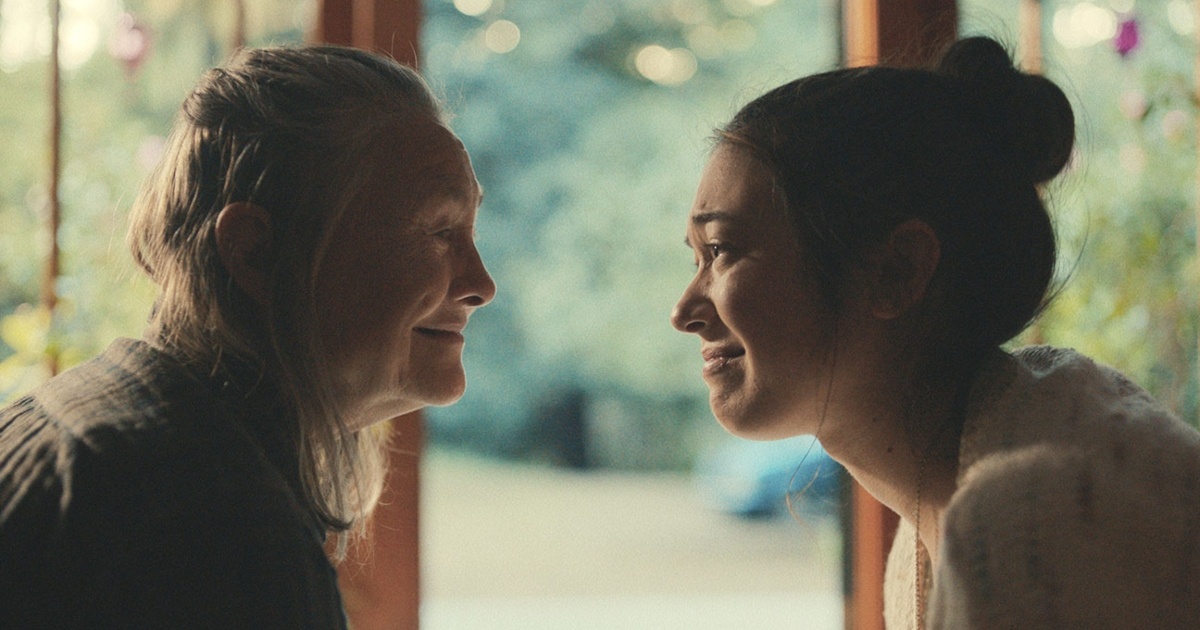 It seems, almost to a comic extent, that everywhere you turn you're hearing the old phrase, "this is a film about grief." Be it the rise of A24 horror or the wave of trauma-stricken dramas we've gotten in the wake of the COVID-19 pandemic, it seems that grief and loss is on the minds of many a filmmaker.
And yet, sometimes, through all the mishegas, something arrives and seems to finally add something new to the larger conversation. This time, it's from a very exciting artist.
Returning to the director's chair for the first time since Shirley, Josephine Decker returns with The Sky Is Everywhere, a film based on a beloved young adult novel that embraces the sincerity of its source material and elevates it to something that's not just deeply felt but also engrossingly crafted. The film introduces viewers to Lennie Walker (Grace Kaufman), a teen with a gift for playing music who, upon losing her beloved sister, falls into a pit of despair that seemingly has no bottom. That is, at least, until two men enter her life. There's Toby Shaw (Pico Alexander), her sister Bailey's (Havana Rose Liu) boyfriend and, to Lennie, the only person in the world who can relate to her pain and sorrow. Then there's Joe Fontaine (Jacques Colimon), a fellow musical prodigy who sparks a relationship with Lennie that's as pure as her connection with Toby is strange and surreal.
While that premise itself doesn't seem entirely original or one of a kind, the film very much is. Decker's hand is all over this film, turning what could have been a saccharine tale of young love against a backdrop of sorrow into an almost Godry-like surrealist escape into the feelings one encounters upon losing their partner in life. It's clear the connection between Lennie and Bailey was special, and is portrayed as such through beautifully lush flashbacks that feel ripped right out of a film like Be Kind Rewind. However, what's even more impressive here is the screenplay from writer Jandy Nelson (who also wrote the book this film is based on), which embraces the archness of the narrative. Sincerity is at an astronomical height here, from the captivating performances to a director who seems incapable of making a decision that feels out of place or not in keeping with the overall energy of the picture.
The direction here is rich and textured, with Ava Berkofsky's cinematography adding some vitality, her surrealist use of colors and textures embedding within the film an otherworldly kineticism. Each frame seems to be bursting with some sort of energy, be it that racing heartbeat one feels when first falling in love, or that dropping of one's stomach that happens when that very heart gets broken. This is what makes Decker a perfect fit for this type of film, with her entire career built on her uncanny ability to bring to cinematic life the inner workings of her characters on an emotional level. While it may seem more sleight than a film like Thou Wast Mild And Lovely, The Sky Is Everywhere is just as powerful, with each ebb and flow of Lennie's life playing out in a way that feels as raw as it does decidedly stylized.
That's not to say it's breaking new ground narratively. Every beat, structurally, feels in keeping with not just young adult fiction but this type of coming of age piece writ large, but Decker's direction and the performances, particularly the incredible turn from Kaufman, embrace the way this type of grief manifests internally. It may get a bad wrap as the "YA" tag brings with it a very specific connotation, but hopefully this will gain some steam as it makes its way through theaters, as it's an early contender for one of the best films of 2022.