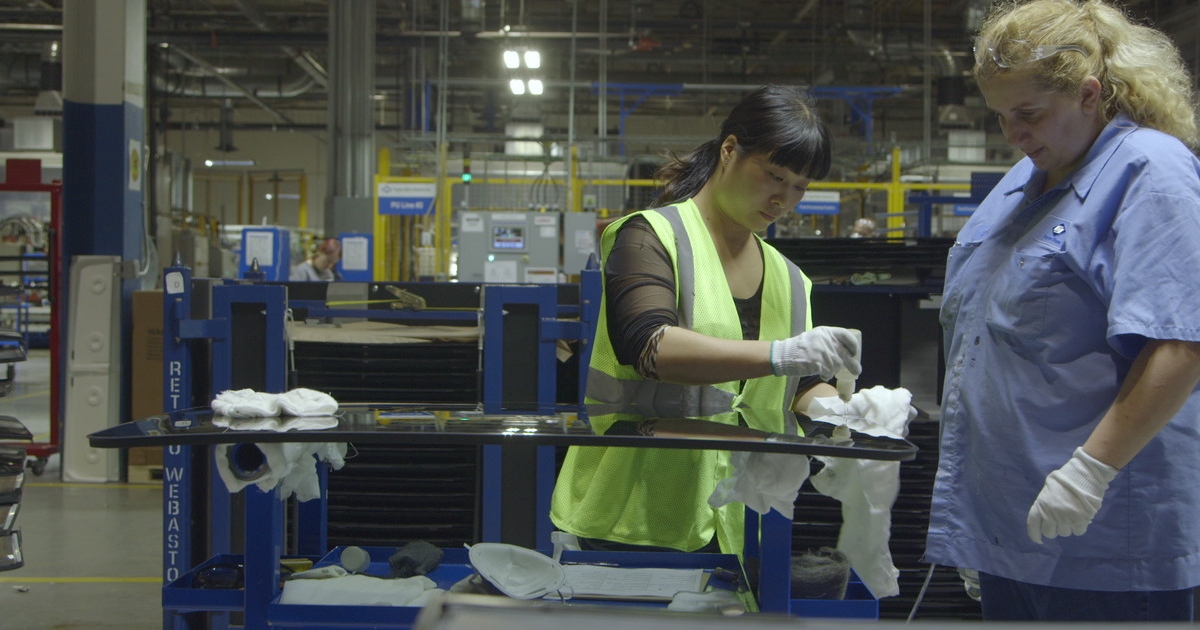 While remaining in the background of American politics since leaving office at the start of 2017, Barack Obama, along with wife Michelle, have taken to Netflix with a partnership that looks to bring to light important and influential films on the service. So being the first film released under this Higher Ground Productions shingle must carry a heavy burden, right? Thankfully American Factory, the first film released through this relationship, comes from a pair of filmmakers more than capable of standing up to the challenge.
With the American economy seemingly on the brink of a recession yet again, a film like American Factory couldn't have arrived at a more potent moment. From the Oscar-nominated directing team of Julia Reichert and Steven Bognar, American Factory is the latest Netflix Original to garner incredible notices both artistically and intellectually.
Continuing the directing duo's fascination with blue collar America, the film introduces viewers to Cao Dewang, a Chinese billionaire whose history as a auto-glass magnate has led him to open a new plant in the US. Taking over a former GM factory just outside Dayton, Ohio, Dewang's company Fuyao invested millions into the new plant and ultimately brought back some semblance of normalcy for a community ravaged by the financial crisis a decade earlier.
Close to the directors' hearts both literally (they reside with some proximity to this community) and figuratively (they documented this factory's closing in their incredible The Last Truck: Closing of a GM Plant), this new documentary starts in 2015, with the earliest stages of Fuyao's attempt to take over the plant. This optimism slowly turns into resignation and melancholy as, once the rah-rahs are over and rose-tinted glasses are taken off, and cultures begin to clash in ways that range from simple misunderstandings to an infuriating union struggle.
Reichert and Bognar may not be household names, but hopefully with this Obama/Netflix co-sign, American Factory will make something of a dent as it's one of 2019's very best documentaries. Styled very much in the body of your typical issue documentary, this proto-verite style documentary uses talking head interviews sparsely, instead opting for a more "you are there" approach. Viewers become privy to both the working conditions of the factory as it ramps up production, and some semblance of clarity as to the inner workings of the Chinese managment running the plant. Most meetings are open door here, with cultures clashing almost from the very beginning, with arguments over things as seemingly small as the location of a garage door to those as massive as the film's final set piece, the aforementioned union fight.
Therein lies this film's importance. While one may think it will be very little more than a slice-of-life documentary, what American Factory concludes as is an incredibly trenchant document of the future of American blue-collar life. As China becomes more influential on a global scale, particularly in manufacturing, expectations are to change, with demand increasing at a rate that puts quality and quantity at the forefront, stepping on the toes of everything from worker schedule to the very safety of each employee. Documenting this in as frank a manner as Riechert and Bognar do is incredibly wise, avoiding the easy, disposable type of agitprop that has made people like Michael Moore the butt of many jokes in 2019, instead turning American Factory into something so very much more. There's an empathy, or at least a patent understanding, with regards to their portrayal of both sides, even as tensions begin to rise. Once the union becomes the central focus, things get rightly political as the use of fear is something central to the growing relationship between the upper and lower classes, even in a small scale culture like that of a workplace. However, heroes and villains aren't this film's central focus. Instead it's simply the life of a manufacturing plant in post-financial crisis America.