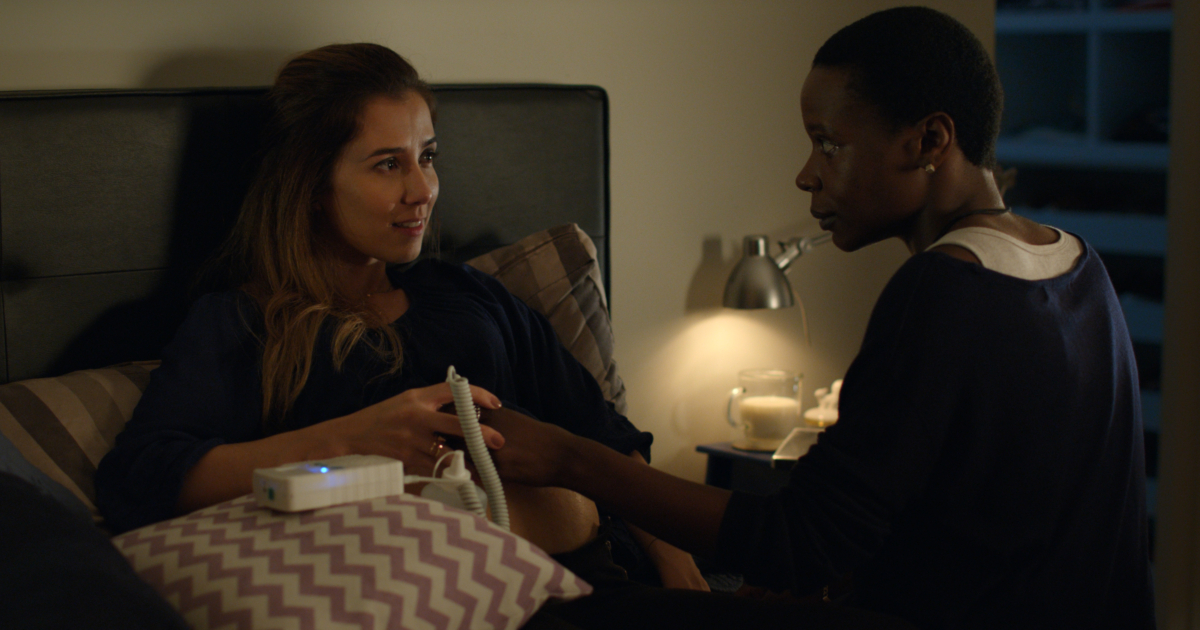 Collaborations are a really splendid thing, particularly between artists who find themselves returning to one another over multiple pictures. Take, for example, filmmakers Juliana Rojas and Marco Dutra. Starting their journey together with the serviceable Hard Labor, the pair has returned for a sophomore effort that sees them not only challenging themselves creatively but harnessing their clear vision to create a film that's as smart as it is formally inventive.

Good Manners leaves the mundane terrors of everyday life that made Hard Labor the critical darling it became and sees the directorial duo enter far more genre-centric waters. The film sends viewers to Sao Paulo, where they meet a nurse by the name of Clara, offered a seemingly normal gig as a nanny. Upping the proverbial ante from their previous picture, Rojas and Dutra once again set their eyes on the economic disparity seen throughout Brazil, placing Clara squarely up against the brazenly wealthy Ana, a woman seemingly hundreds of rungs up the economic totem pole. However, as one can glean almost instantly, Good Manners isn't rooting itself in a tradition of outright satire or even straight genre. Instead, from the picture's opening titles, one sees the almost storybook-like title cards and realizes this is going to be a far more fable-like ride. A stylized ode to classic cinema, Good Manners is a dissection of class struggles built into a film that's as assured in its use of genre tropes as it is thrillingly stylized and well acted.
Isabel Zuaa and Marjorie Estiano star here as Clara and Ana respectively, and both are absolutely splendid here. From the very beginning, the relationship is troubled and densely packed with both classist and racist barbs, as Clara is of a darker complexion leading the wealthy, whiter Ana to try and give more and more chores to her without much in the way of remorse. Clara is desperately in need of work so she obliges, but not due to anything more than economic struggles. These differences in class and economic prosperity make for a film that's intellectually quite textured, and with two great lead performances, the socio-political focus never feels forced or out of place. Zuaa is particularly great, her strong-willed and driven Clara being a more than capable guide through this world of complete imbalance. Oh, and did I mention that this is a werewolf drama?
One hesitates to delve much into this aspect of the narrative, as the build-up to the final conclusion is wonderfully paced, yet after Clara returns from a night out to see that her boss has become almost feral, she becomes slowly enraptured by her boss and with a full moon above them, they begin to have a relationship. This does admittedly come slightly out of nowhere as the lack of any real similarities between the two doesn't make for the most rewarding of romance plots, but thankfully neither are long for this pairing as Ana's birth to a werewolf monster leads to complications previously unforeseen. Turning itself into a creature feature par excellence, Good Manners is a quietly thrilling experiment in storytelling.
It's also wonderfully made and shockingly gorgeous. Very much influenced by the type expressionist horror films that would ultimately spark an entire wave of filmmaking, this classist Cat People is designed within an inch of its teeth, particularly the various interiors throughout the film. Ana's home is ripped right out of classic Hollywood set decoration, and the framing by the directing duo leans fully into that as well. Rui Pocas shoots the film and it's quite a gorgeous picture, again leaning heavily into the artificial quality that makes classic Hollywood cinema so thrilling. The performances here skew far more naturalistic but never become jarring because while the world around them feels decidedly arch, the themes and ideas being discussed are handled in such a broad manner that they all mesh together into one cohesive, surrealist whole.
Sure, the final half of the film suffers due to the shift in focus from the class-defying romance onto a more familial focus, but where the narrative may lose a little urgency the directors more than makeup for with endless energy. Good Manners is a lyrically paced picture, a film that concludes with a special thank you to Walt Disney, a more than fitting capper to one of the year's great film fairy tales.