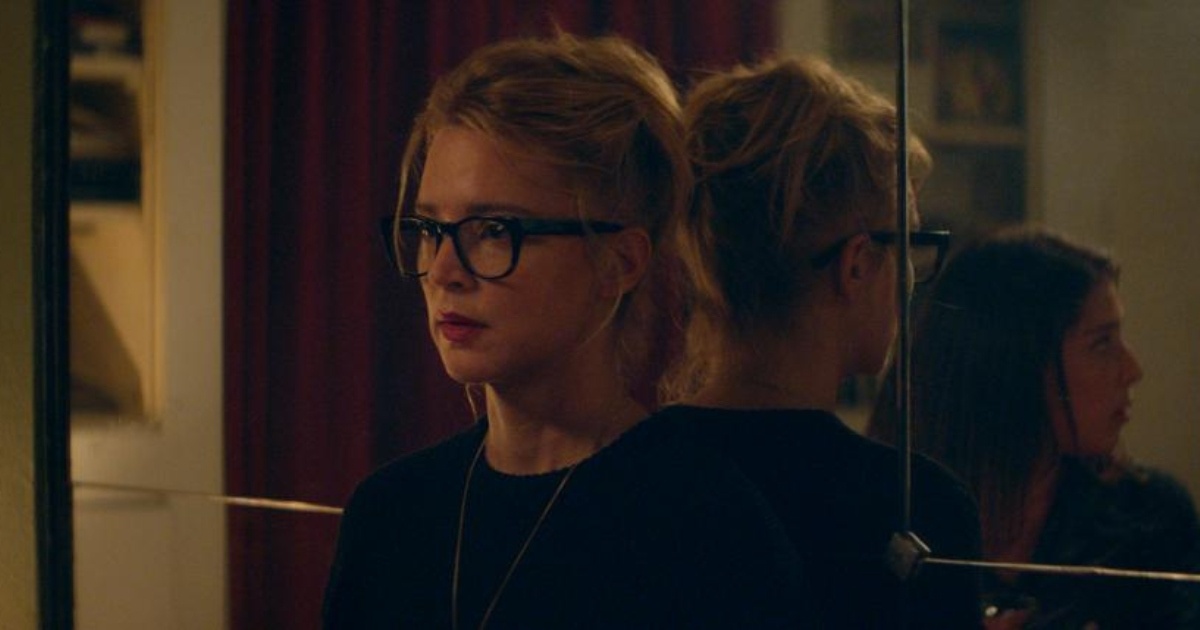 As the fall film festivals get underway, one of the rare films that managed to make a splash at not just two of the "big four" fall festivals but Cannes as well in 2019 is now finally arriving in Virtual Cinemas across the web.
Entitled Sibyl, this strangely comic psychodrama directed by Justine Triet hits virtual cinemas on September 11 via Music Box Films, and while it may have taken just over a year from its first initial bow to hit stateside, it was more than worth the wait.
Triet's film stars Virginie Efira as the titular Sibyl, a psychotherapist with a passion for writing. Deciding to jump back into that passion of hers after years in her own personal therapy practice, Sibyl encounters Margot (Adele Exarchopoulos), after what's best described as a genuinely harrowing phone call. Herself an aspiring actress, Margot is a troubled young woman caught between a pregnancy that she is contemplating terminating and a role in a film that may be lost if she goes through with that same termination. Also caught in a relationship that sees her lover (played by Gaspard Ulliel) standing as her co-star in the film, Margot is at one might call rock bottom. Oh and he's still with his partner and their director played brilliantly by Sandra Huller.
From this encounter comes a new fury of writing from Sibyl, using Margot's story and trauma as some strange sort of inspiration for her work, also finding Sibyl getting more and more lost in that same series of ongoing events. Herself a recovering alcoholic, the film paints Sibyl as a woman of integrity and more importantly sincerity, as she is seen going to meetings, actively taking part in her recovery and even helping, on a more small scale, her sister (Laure Calamy) as she waxes melancholic about being stuck in a worthless job and sans romantic paramores. It wasn't always so structured, however. These scenes are juxtaposed with a series of flashbacks to before Sibyl entered recovery, painting a strangely well textured portrait of a woman simply trying to make amends.
These scenes also deftly get into one of the film's core ideas. Set opposite her current day life, a life that's more structured but also admittedly more stale and antiseptic, when Margot enters the fray Sibyl can't help but be enthralled by her and her tale of the same type of chaotic energy that she lived in some years prior. As the film progresses the two get more and more entwined, and Sibyl bends her ethics more and more, ultimately leading to her joining Margot on a trip to Stromboli as her film's production comes to a conclusion. A film at once about obsession and also the blurring of the line between reality and fiction, Sibyl is a knotty black comedy whose story of a romance looks less like any shape one could describe and more like a scatterplot graph.
Performances here are uniformly great. Efira's Sibyl is poised and seemingly all put together, whose impact and singularity is only made more telling by those scenes where she recedes into the background. A film of mirrors and blurred realities, Sibyl is actually a character of complete uncertainties, a character whose journey is less set in stone than completely malleable with past traumas creeping back into her life to completely upend it. Efira's performance is assured and full of sincere humanity, making it one of the more surprising lead turns yet this year. Exarchopoulos is also quite good, albeit a bit more one note than her lead, with Sandra Huller (best known for her turn in Toni Erdmann stealing the entire movie from under the cast's feet. Huller is a complete revelation here, meeting her character's drama with captivating energy, despite the doom of a film and relationship on her doorstep.
Structured like but never pandering to the type of French eroto-thrillers that have become synonymous with that country's film production, Sibyl is an impressively shot psychodrama whose texture comes from a co-writer/director at the very height of her powers. At parts gut-bustingly funny and others strangely surreal, Triet's latest is a textured and nuanced rumination on latent traumas that gets increasingly otherworldly as the narrative begins to unravel and double back on itself. Maybe a bit long at 101 minutes, Sibyl is regardless one of the great discoveries of 2020 and a perfect introduction to what will be a strange fall film season.