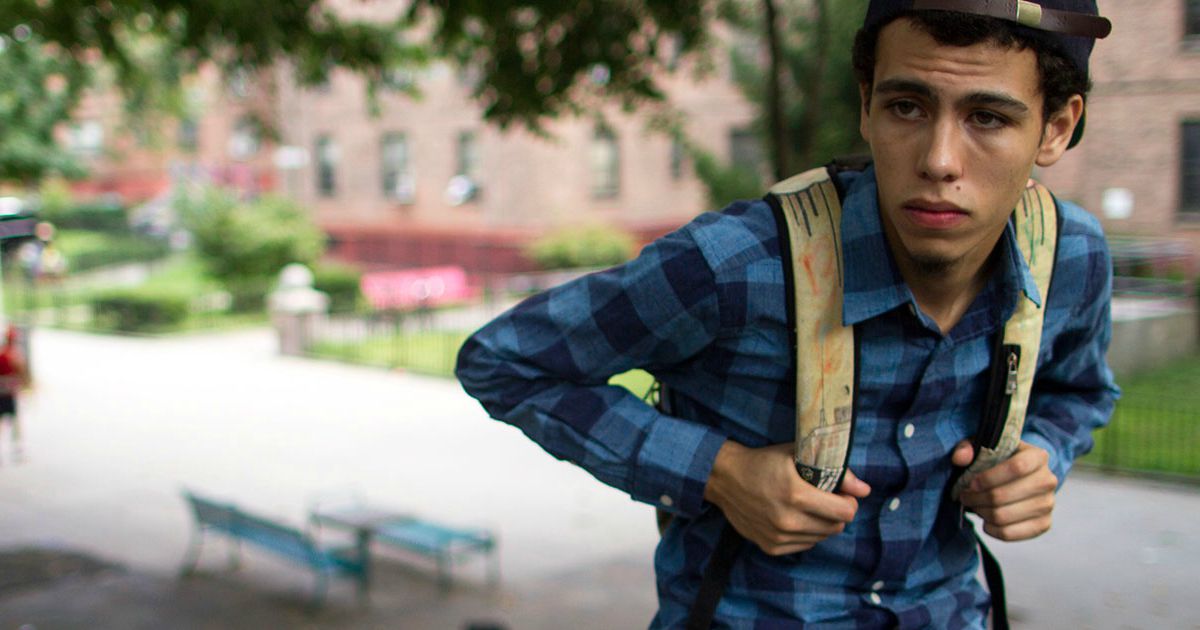 To say that the world of fiction and non-fiction, in cinema, has become blurred is to grossly understate to which boundaries have been pushed. Fiction filmmakers are taking cues aesthetically from the world of documentary cinema, while non-fiction directors are slowly adopting fiction-esque narrative ideas, turning the form into something entirely new.
And then there's Five Star and its writer/director Keith Miller.
Jumping onto the scene with the superb Welcome To Pine Hill, Miller is back with yet another intimate and neo-documentary style look into a section of the world many of us are not privy to. Miller introduces us in his new picture to a man named James Grant, but introduced to us as Primo. A member of the Bloods since the age of 12 (both here in the picture and in his actual life, hinting at the film's mix of fact and fiction), Primo is now considered a main man in his East New York neighborhood, and with yet another child on the way, he decides to use that pull to take care of one of his own. Therein lies John, a boy who is on the brink of manhood. The son of a fallen mentor of Primo's, John is falling more and more into the streets that consumed his father, and Primo attempts to change that progression. A moving look at the facing of past demons, Five Star is quite a superb sophomore effort from a truly talented young voice in independent American cinema.
---
---
Aesthetically, the film is in many ways a triumph. Miller's direction is very much influenced by that of non-fiction filmmakers, but instills within each frame a decidedly fiction-influenced sheen. Take the sequence that ostensibly bookends the picture, for example. Primo is seen, seemingly naturally lit by the world around him, but just off of center of the frame. The photography here is a tad more rich than found in modern documentary filmmaking, but it isn't without this distinct sense of naturalism that comes both from Miller's direction, but also the fantastic screenplay. With regards to the direction, there is a particular sequence that is a perfect example of the film's pushing of aesthetic boundaries. Primo goes to confront someone who owes him money, and after agreeing to accept payment in a few days, the men that went with him to this confrontation begin beating the other man. One would expect to see the fight proceed, but instead the camera very much turns away from the action, going as far as to ostensibly hide behind a corner in the tiny apartment. It's a startling shot that is a perfect example of what this film is attempting to do.
The performances here are great as well. Both James Grant and John Diaz are fantastic, with this film being one of the few pictures that seems to truly "get" what street language is like and the percussive nature of its flow. Never a false moment, each performance here is rich, layered with a history that feels tactile and lived in. A relatively standard tale of a young man's coming of age and confrontation of a past not known, Miller's film truly shines in the moments Primo and John share together, and particularly a final showdown between both men that may read on its face as a standard finale to this type of film, but has such great emotional depth and richness.
Overall, the film has a narrative structure that feels very much rooted in tropes that we've seen on screen before, but what we rarely see are performances this natural and lived in, and a filmmaker not only this assured in his aesthetic, but this willing to experiment within that. A resonant drama, this is a more than worthy follow up to Miller's superb debut.