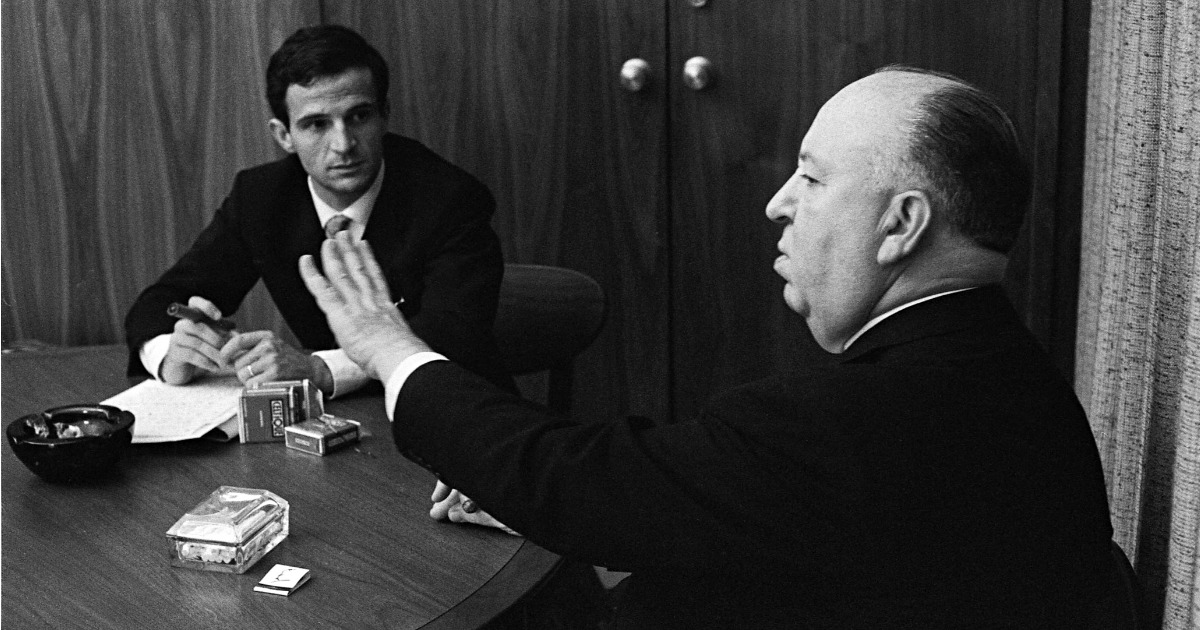 Separately, the names Alfred Hitchcock and Francois Truffaut conjure up visions of the very art even the fathers of this medium couldn't have dreamed of. Be it Hitchcock's bombshell blondes or tales of mistaken identities, or Truffaut, whose journey as both filmmaker and film scholar turned him into one of the French New Wave's most important and singular voices. Now, while the two made films that couldn't seem further apart from one another, Hitchcock became a lightning rod for the New Wave filmmakers and those writers who sparked the birth of the legendary magazine Cahiers du Cinema and this admiration led to a groundbreaking achievement neither of them could have ever expected.
Despite the three decade-plus age difference between the two, Truffaut and Hitchcock became relatively quick pals, with admiration for one another's work going both ways. After a brief correspondence, Hitchcock agreed to meet with Truffaut, for what Truffaut would ultimately bill as a "livrefilm." While their films are what they have become legends for, the book Hitchcock/Truffaut is arguably one of cinema's most important texts, and now it's one of the year's best documentaries.
---
---
From critic/scholar/filmmaker/essayist Kent Jones comes Hitchcock/Truffaut, an 80-minute masterclass on this world-changing text. After a lengthy run on the festival circuit, beginning at this year's Cannes Film Festival, the film is now available in theaters from Cohen Media Group, and it's a real doozy. Structurally, the film is split in two directions. At once, the film is a historical document about the lead up to, creation and impact of this legendary book. We become privy to the influence of Cahiers du Cinema, its relationship to the art of film directing and ultimately how a director like Hitchcock can help these critics formulate what is now considered gospel by many (including yours truly), the auteur theory. And then comes the film's most entrancing sequences. Where one would imagine this picture to be a stilted look at a niche piece of criticism, the film itself becomes a vibrant, vital piece of filmic conversation. Jones, pairing the historical information and its narration by Bob Balaban, with interviews from ten of today's greatest filmmakers ranging from Martin Scorsese to Kiyoshi Kurosawa. In these interviews, names like Arnaud Desplechin, James Gray and Paul Schrader not only wax poetic about what the book has meant to them, but also discuss its larger themes, impact and critical discussion.
These interviews, oddly enough, are the film's greatest attribute. While listening to a bunch of people talk about a book may not seem all that engaging, Jones, as a critic himself, is able to lead discussions that are much more dense with information than one would think. Wes Anderson, Richard Linklater and Peter Bogdanovich are seen here discussing everything from Hitchcock's frame to Truffaut's aesthetic choices to specific questions that were discussed within the book itself. It's a really engaging bit of critical conversation, not only between Jones and his interview subjects, but the subjects and this legendary book itself. Aesthetically, the film isn't quite as entrancing. Ostensibly filling the space between visual essay and classic talking head documentary, the film is at its best when it subjects the viewer to archival footage, especially the photographs from the conversations that became Hitchcock/Truffaut. It's also quite thrilling to see these modern filmmakers discussing topics like Hitchcock's use of the God's Eye View, and ultimately showing the viewer exactly what these directors are discussing.
That's ultimately the niche of this picture. While at its very heart, it's a film for cinephiles about the art they've grown to love, this is also one for budding film fans. With critical exploration at the heart of not only the book it draws at its inspiration, but also the central thesis of the documentary, this is a deep dive into a book whose impact is still being felt across the film world. While it itself may not look like much aesthetically, this is a bewilderingly entertaining meditation on filmmaking, criticism and damn near everything in between.