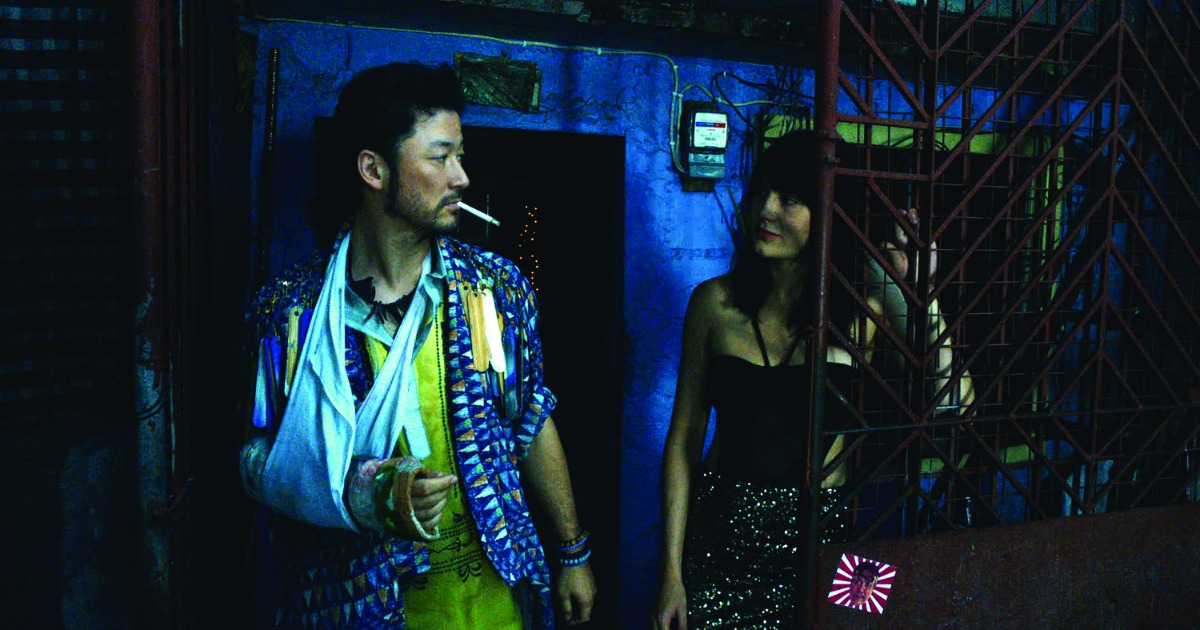 To cinephiles, few cinematographers get the blood truly pumping quite like beloved and Criterion-approved director of photography Christopher Doyle. Best known for his iconic work in films like Wong Kar-Wai's In The Mood For Love (to this very day one of the greatest achievements in film photography), Doyle has honed his craft largely outside of the United States, occasionally coming stateside to work with filmmakers like Gus Van Sant (Paranoid Park) or even Barry Levinson (Liberty Heights). Working numerous times with directors like Wong Kar-Wai, as well as the likes of Zhang Yimou and Edward Yang (Doyle's first film was Yang's That Day, on the Beach), he has become a bastion of the world cinema scene and one of today's most beloved photographers.
Playing this year's New York Asian Film Festival is his latest journey behind the camera, as Filipino poet/filmmaker/artist Khavn (aka Khavn De La Cruz) has brought his new film to the Big Apple. Entitled Ruined Heart: Another Love Story Between A Criminal and a Whore, the film is an almost entirely dialogue free journey into the slums of Manila as seen through the eyes of two vagabond lovers. The Criminal (Tadanobu Asano of Ichi The Killer fame) saves The Whore (Nathalia Acevedo) and they take to the streets with the hope of escaping the lives they've led. They meet various faces like a Godfather, but ultimately the film's narrative is something seemingly secondary, if not tertiary, with the aesthetic and poetics of the film's creative team taking hold.
The biggest star of the film is far and away Doyle's photography. Proving yet again that he's one of the most skilled and assured photographers in all of cinema, the film is soaked in a melancholic realism which uses haunting blues as the main color in its pallette. Khavn's direction is lyrical and very much of this generation, using everything from a Malick-esque free-wheeling camera to a Go Pro camera attached to our leading man's arm via a cast he wears throughout. Thrusting us directly into this world with such an assured vision and sense of aesthetic, Khavn crafts a breathtakingly kinetic meditation on love in the shadows, and there are particular sequences here that will forever be melted into the mind of any viewer. Be it Acevedo dancing in a bus or that same character running around with a group of children, it's a melodic film that has the flow of a poem and yet the energy of something far more alive.
Speaking of Acevedo, she is slowly becoming one of the most entertaining young actresses to watch. Almost like a Spanish Charlotte Gainsbourg, Acevedo is not only one of Mexico's greatest thespians working today (she's best known for her turn in Post Tenebras Lux) but she will hopefully become a name American audiences will learn soon. She's fantastic here in a voiceless performance, but one that is without a doubt resonant and featuring boundless energy, one viewers won't soon forget. Asano is great as well, but it's truly Acevedo's show, and the film gives this character so much room for real vitality, despite not giving her a single word to say.
Despite being largely free of dialogue and arguably even more free of actual forward moving plot, this film that clocks in at just a notch above 70 minutes is one of the year's truly great achievements. Hopefully one that will see a release at some point this year, albeit likely a niche one, this is a feature that truly rewards those who appreciate the visual experimentation cinema allows its artists.
---