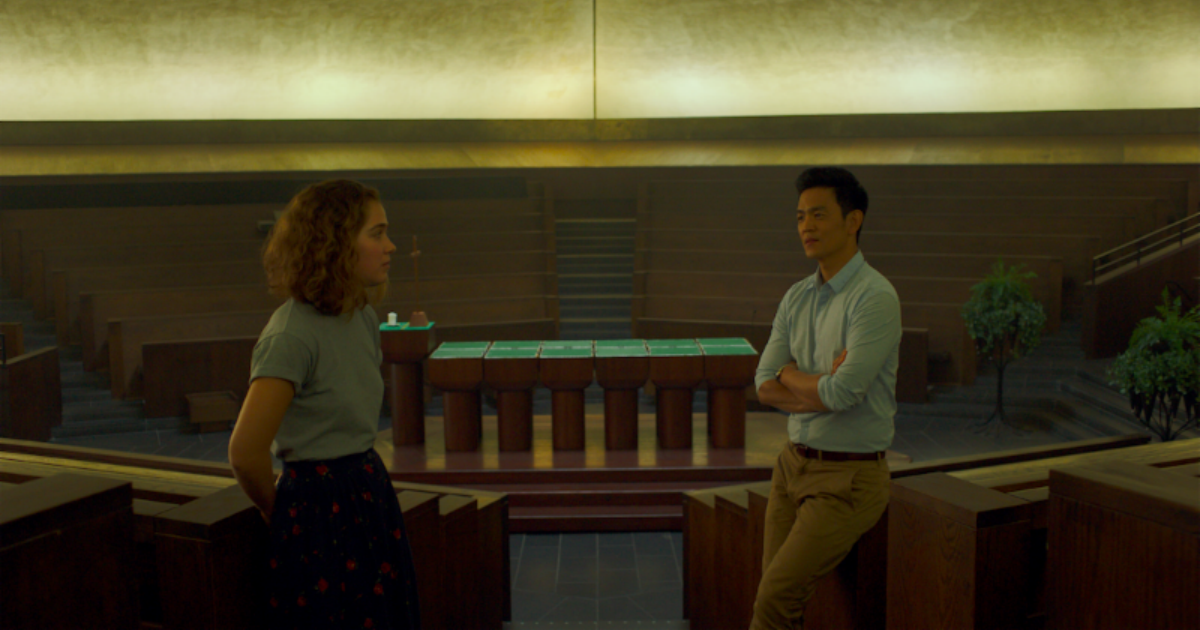 Say what you will about the art of the "visual essay," but there are few threads of film criticism and scholarship more interesting today. Sure, the Everything Wrong with [blank] in [arbitrary time frame] videos are about as interesting and critically stimulating as a punch to the kidney, but at its very peak, the video essay has become a true art form.
And one of the very best (and weirdly most polarizing) creators of these videos is finally seeing his first feature film come to light.
Entitled Columbus, this film marks the feature debut of visual essayist and scholar Kogonada, and what a modest debut it truly is. More or less a glorified two hander, the film introduces us to Jin (John Cho), the son of a famous architecture scholar who finds himself stuck in Columbus, Indiana after his father becomes gravely ill. A city best known for its modernist architecture, Columbus is a quiet, unassuming Midwestern locale. It's also home to Casey (Haley Lu Richardson), a worker at a local library who has a passion for architecture, and a young woman with familial issues of her own. Where as Jin's relationship with his father is icy at best, Casey's relationship with her own mother is one that breeds conflict within her, as her hopes and dreams see her leaving the town but her fear for her mother's safety is at odds with these aspirations. Co-starring Parker Posey, Rory Culkin and Michelle Forbes, Columbus is a breathtaking debut, a beautiful meditation on space, family and the totemic nature of the places we call home.
While this plays, in many ways, like a stage drama, the real star of the film is Kogonada himself. While his background in visual essays may not hint at a real eye for actual "filmmaking" (whatever that means, really), his hand here is so deft and assured that it's rather startling. Drawing inspiration from directors like Ozu, Bresson and many in the Romanian New Wave, the film isn't so much static in the way those films are, but the precision with which the frame is structured is. Clearly inspired by the modernist architecture that it bathes in here, Columbus is a breathlessly structured conversation piece, that sees our characters float in and around these spaces with a stark sense of naturalism. It's not even so much a "painterly" frame as it is something far more precise and striking. Very clearly interested in the relationship between people and the spaces they encounter, this is a rather affecting look at the true power of the film frame.
It also helps that the performances here are all uniformly superb. Cho is maybe the best he's ever been here, giving life to a character that could easily become cold and uninteresting. There's a quiet heart and a deep well of empathy to this film and it is in his character and his relationship to Casey that that really shines. Speaking of Casey, actress Haley Lu Richardson is maybe the film's biggest takeaway, and what should be the thing each person runs out of the theater talking about. While she shines in the sequences she shares with Cho's Jin, she's never defined by these relationships, instead her own inner struggle to figure out how to balance grand aspirations with deep fears for her family turn what could be a one note character into one far more moving. Watching her and Cho console and try to truly help one another is a beautiful and profoundly moving way to spend a pinch over 100 minutes.
Columbus is the film that Summer 2017 has been waiting for. A perfect bit of counter programming to the loud and insufferably bland action films that have been flooding multiplexes over the last three months or so, Kogonada's debut is a quietly profound look at the power of human empathy and the importance of the spaces around us. It's truly something to behold.