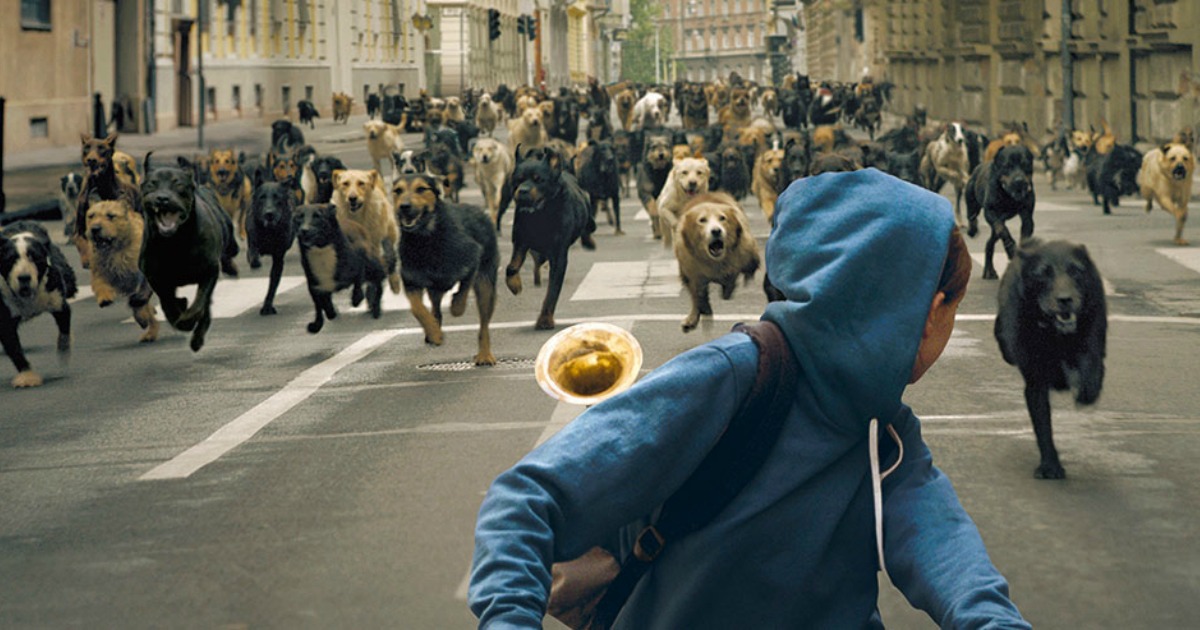 There are very few film festivals quite as prestigious as the Cannes Film Festival, and even fewer prizes at any given festival as full of impact as the festival's main prize, the Palme D'Or. However, one that nearly beats it to the punch, at least for the most studied of cinpehiles is the prize given to its main sidebar, Un Certain Regard. With awards given to names such as Weerasethakul, Sembene, Puiu and 2013's winner, Rithy Panh, the Prix un Certain Regard is an important look into world cinema and the greatest artists it has to offer.
So when each year's winner arrives stateside for US viewers to take in, it is more than worthy of discussion. It also helps when that said film not only lives up to the expectations given to it along with the award, but shatters them into a million pieces.
That is the case with last year's winner, and it introduces much of the world to a fantastic filmmaker in a manner that forces us to pay attention to the director going forward. From Kornel Mundruczo comes White God, one of the more entrancing pictures of this still very young year.  The film introduces us to precocious 13 year old Lili, who has her life forever changed when her dog Hagen is forced out of her grasp. Due to her pup being of mixed descent, Hagen is taken away from her and what follows is the beautifully told journey the pair take to once again be together. Pairing one youth's coming of age with her furry best friend's fight for survival, White God is an emotionally rich and unflinching drama that is both intellectually stimulating and genuinely rousing. Hell, there's even a chase sequence that could stand as worthwhile study material for action filmmakers looking to craft an interesting and cogent set piece.
Aesthetically, the film is above reproach. From the harrowing sequences of Hagen's journey back to his human best friend and the subsequent canine revolution that takes to the streets of Hungary to the set pieces shared between our lead and her father, the film's ability to balance various tones and moods both aesthetically and narratively is quite thrilling. Thrillingly tense man vs. beast set pieces more Hitchcockian than one could imagine abound here, in a technically lavish bit of idiosyncratic craftsmanship. The photography here is superbly dense and layered, with the use of seemingly natural light helping to give the film a richly naturalistic atmosphere. Toss in Asher Goldschmidt's fantastic score, and you have a film that at one moment plays like a coming of age drama and the next turns into bombastic political allegory.
Speaking of the film's political leanings, the central narrative may enrapture those looking to connect with the core dog and man arch, it is the subtext here that will play as the picture's lasting legacy. A look at revolution in the face of oppression, this is cinema as philosophical and sociopolitical debate. Using its uncanny ability to bring the human viewer into perfect emotional connection with our four legged companions and their battle against the state that has no interest in seeing them as anything more than pet or profit. The film's second act features some brutally unsettling sequences of dog fighting and while these are often times nearly impossible to sit through, they only aid in the impact of the final act, which may very well be the most emotionally and intellectually provocative piece of cinema 2015 will offer up to us.
Performance-wise, the film is also above reproach. Driven almost entirely by Zsofia Psotta, the fresh faced youngster is fantastic here. Raw and unflinching, White God's lead actress is beyond her years here, helping to elevate and add to the film's sense of naturalism and raw vitality. It's a picture that seems more interested in being filmic metaphor than an actually character driven narrative, but that doesn't stop Psotta from acting as a perfect conduit for the viewer as part of their journey through this story of an uprising from what one class sees as the inferior one. Think Hitchcock by way of White Dog, Mundruczo's film may be a smidge overlong and the metaphor not at all on a secondary level, but it is given, thanks to this lead performance, an emotional center that helps elevate this to something that will be hard to forget come the end of this year's list making session.
Despite being a prestigious, award winning festival darling, this film may very well get lost in the shuffle of the pending Spring film season. While it lacks men and women in capes and cities being destroyed without much if even a blink from a viewer, Mundruczo's brilliant return to cinemas has more heart, energy, action film brawn and art film brain to leave any viewer shaken at their core.