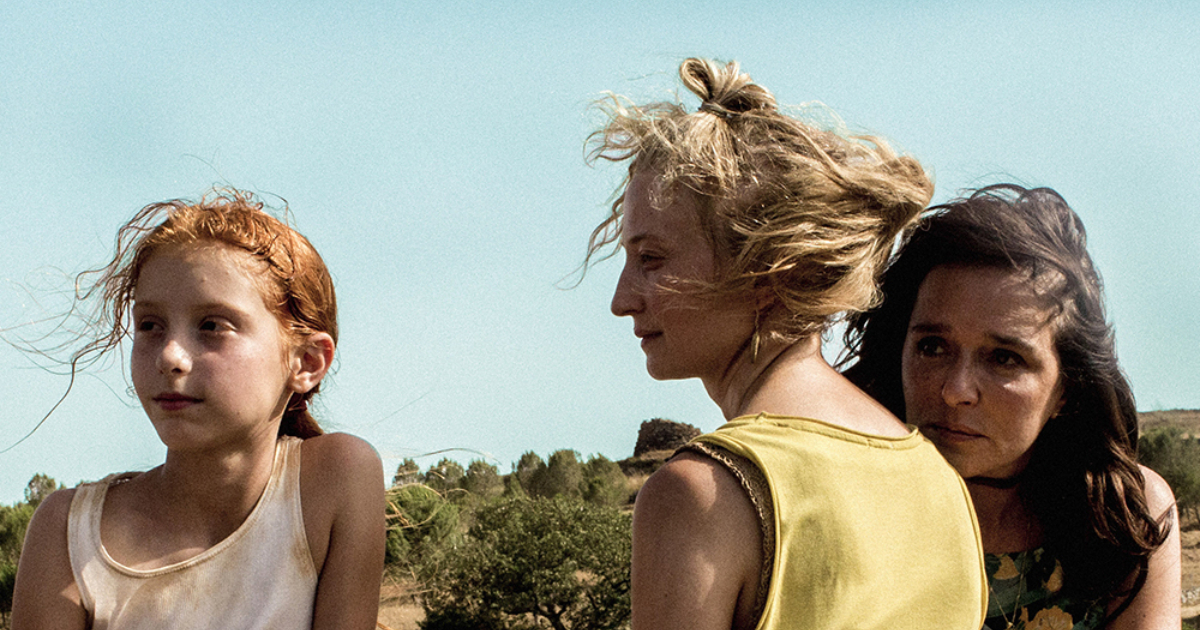 With the 2019 Berlinale on the horizon, one of the festival's recent breakout stars is back in theaters with a sophomore effort that is one of the first truly great films of this relatively new year.
After hitting the festival in 2015 with her superlative debut Sworn Virgin, director Laura Bispuri hit the festival a second time in 2018 with Daughter Of Mine, a film just now hitting theaters in NY and LA via Strand Releasing.
A somewhat easy film to describe narratively, Daughter of Mine tells the story of 10-year-old Vittoria, a young Sardinian girl caught between two worlds and two mothers. Living what is more or less a quiet, normal life in the care of the tender and humane Tina, Vittoria suddenly becomes aware of the relationship she shares with the local trouble maker/party hound Angelica after Angelica reveals that she must move away due to some financial pains. Despite some hesitation, Tina agrees to let Angelica spend more and more time with Vittoria which leads all of their lives to be completely upended.
Bispuri is a relatively unknown commodity to many cinephiles, even those with a keen eye towards world cinema, but hopefully that will change following this quiet and humanist portrait of frayed mother/daughter relationships. She's been the only single person mentioned so far in this piece because at first glance, the filmmaking here is utterly striking. In lock-step with her previous feature, Daughter of Mine is a naturalistic film featuring fluid camera work that embraces the intimate settings and textured photography, all bringing to the film a neo-realist atmosphere. Photographer Vladan Radovic shoots the film with a keen eye towards the warm and almost elemental nature of the Sardinian landscapes, capturing the way each of these characters not only relate to one another but the land they inhabit. There's an almost Dardenne-esque fluidity to some of the camera work which feels at once clearly inspired by the legendary directors, but also decidedly of its own stock given the warm photography and focus on female connections. This is a connection one could easily make by seeing either of Bispuri's films, as her focus on long scenes told through intimate and yet tender close-ups appears to be something of a calling card for the humanist director.
Another connection between Bispuri's first two features is her collaboration with underrated actress Alba Rohrwacher. Rohrwacher was a revelation in Bispuri's Sworn Virgin and here she gives nothing less than a tour de force turn as the town "party girl." Her performance, while not the film's centerpiece, is the film's liveliest turn, a performance that is as feral as it is deeply sad and full of subtle moments. In any other film this would be a portrait of her collapse under motherly pressures, but instead we see as schemes are implemented and subverted all while her maternal instincts kick in despite years of regret for giving her daughter away. It's a textured and layered performance that's a crowning achievement for an actress whose career is chock full of highlights.
The titular daughter here is played by youngster Sara Casu, who is rather great herself. She's a wispy young woman with a quiet energy that plays well opposite her two maternal figures within the film. As she becomes more and more influenced by the new woman in her life, Casu's Vittoria begins to have some sort of awareness of what has happened in her life, a burgeoning awareness that we see right from the film's opening sequence, when she encounters the woman she'll soon discover to be her real mother being felt up at a rodeo. It's a captivating way to start the film and sets the tone wonderfully for what is to follow. Finishing out this relatively intimate three-hander is Valeria Golino as Tina, Vittoria's adoptive mother, and she too is quite great here. Her performance has all the trappings of the quietly frustrated mother losing connection with her daughter, except her take on the character feels all the more real for the openness with which she deals with these issues. As Vittoria and Angelica begin connecting more and more, her frustration becomes more and more clear, taking physical form in emotional and physical outbursts that break from the clearly maternal state she's been in for the past ten years. It's a deeply felt performance that plays as the heart and soul of the film quite potently.
A brilliant follow up to Bispuri's ambitious debut, Daughter of Mine is an expertly crafted, richly told meditation on mother/daughter dynamics and what those roles truly mean. While the script itself may be a bit too on the nose, Bispuri proves to be a deeply humane filmmaker, a filmmaker with the keenest of eyes towards the emotion of her characters and their relationships with one another.