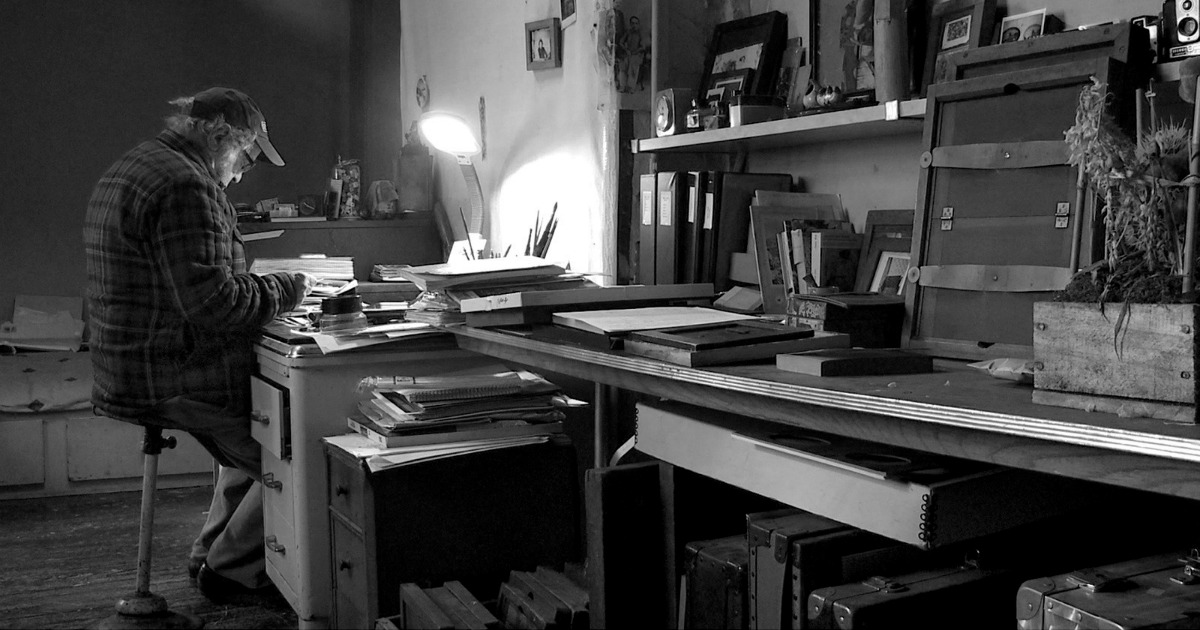 Since the late 1980's, editor Laura Israel has spent much of her time as editor for legendary photographer Robert Frank. One of photography's most intriguing and influential voices since the 1950s, Frank has become synonymous with avant-garde photography and filmmaking, and his recent work owes a great debt to the work of Israel, a filmmaker in her own right. And now, she's decided to take a leap behind the camera, and give her collaborator the retrospective he so rightly deserves.
A Swiss-born photographer, Frank first truly burst onto the scene with the 1958 masterwork, The Americans a haunting and in many ways medium-shifting meditation on post-WWII America and the poverty and racism that became widespread therein. A groundbreaking work of photojournalism, this is only the launching pad for this new documentary, entitled Don't Blink – Robert Frank. Israel uses this collection of photographs as an introduction into the world, works and life of Frank, ultimately making a majority of the picture about his film work, including and not limited to a film that's also showing in New York in honor of this release, the Rolling Stones-commissioned documentary Cocksucker Blues. A true raconteur and multi-hyphenate, Frank's life and career are full of digressions and deeply profound statements about a world surrounding him that he never quite feels at home within.
---
---
A contemporary of the Beat-generation poets, one of Frank's earliest efforts gets much of the focus here, a short film entitled Pull My Daisy. The definitive work for a photographer who left the world of neo-photojournalism to scratch more esoteric creative itches, Daisy is narrated by Jack Kerouac, and is a distillation of all that makes Frank such a decidedly singular creative entity. Born out of the same rush of vitality and spontaneity that birthed the great Beat works of that era, the film is gorgeous and evocative, hinting at an artist who values the initial idea as a jumping off point from which his soul will seemingly lead him to whatever conclusion he lands on. This sense of anarchic energy is at the core of Don't Blink as well, the title playing more as a command to the audience from the film's subject.
Whereas aesthetically the film meshes new interviews with Frank, archival interviews and source footage from the artist's work, the narrative structure is slightly more rigid. Again, never afraid to digress just like her subject, Israel does build her picture around a skeleton of a structure, with the film touching on major aspects of his life ranging from his definitive photography series The Americans to his marriage to June Leaf and all the chaos that happens in between. Hardly linear, the film doesn't so much see time as an important topic, instead seeing each of these periods in Frank's life as pockets of insight into a filmmaker who saw intuition as the greatest of all human traits.
The film also has superb energy. While the footage from Frank's films are inherently enthralling, its the insights into them we get from the man himself and those around him that truly elevate this material. This is a portrait of a man by a woman who has known him for over two decades and yet doesn't quite know the world from which his creativity is born. His wife, June Leaf, plays a large role in the film, and her time on screen is arguably the film's most interesting moments, as this is someone who doesn't see the artist, instead sees the man. It gives the film a shockingly intimate tone, that with the sudden bursts of color as well as black and white cinematography, allow the film to carry with it a distinct sense of liveliness. Toss in an interesting relationship to a New York City that almost feels like an entirely different planet in comparison to today, and you have a film that is as layered and textured as the man at its center. Also one that's as original and singular as any documentary you'll see this year.