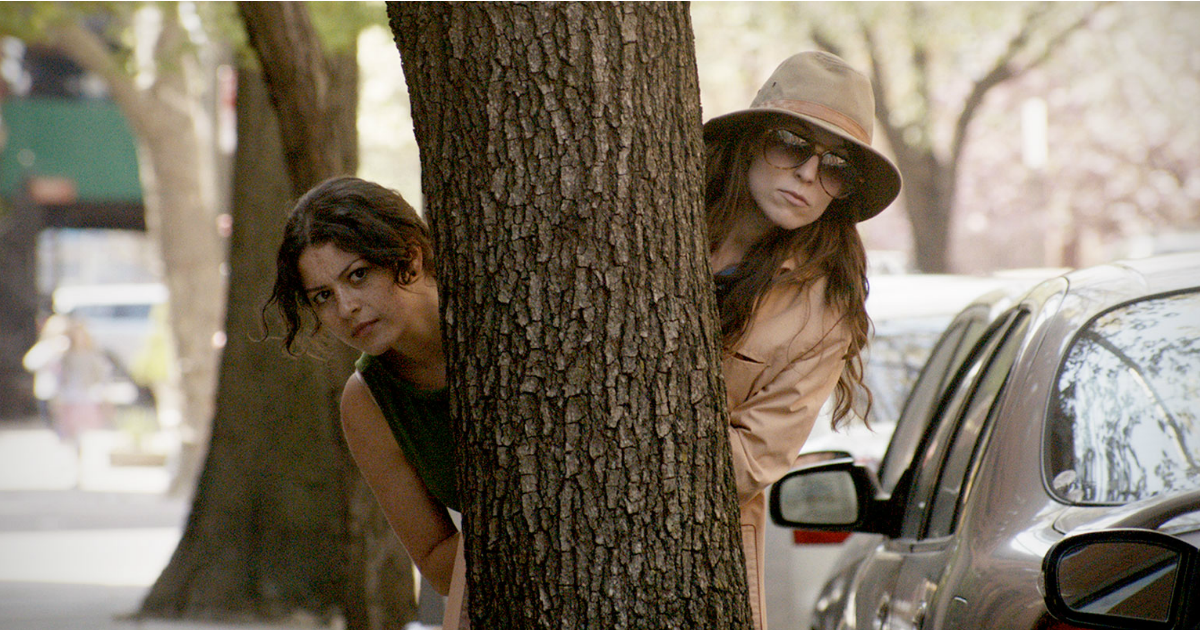 Murder mysteries, in this Gone Girl era of pulpy cinema drawn from any given year's big blockbuster novel, seem to come a dime a dozen. However, there aren't many that take to the world of neurotic New York hipsters and quarter life malaise. That is, until now.
That's ostensibly the world beloved indie filmmaker/thespian Lawrence Michael Levine thrusts us into with his latest film, a mystery/comedy entitled Wild Canaries. Freshly engaged are Barri and Noah, a pair of New York based hipsters stuck in what appears to be, for all intents and purposes, a relationship that is on the verge of complete collapse. Barri, played by the beautiful and effervescent Sofia Takal, is a firecracker of a woman with eyes on getting out of town as soon as she and her friend Jean can get the million dollars to start their latest get rich quick scheme off and running. Opposite her is Noah, the older of the two by a good margin, and one of the more self involved protagonists you're bound to see. Stuck in a job and relationship that makes him feel unfulfilled and under valued, with each passing moment his patience grows weaker and weaker until it breaks when Barri gets to snooping around a neighbor's apartment. Following the death of that said neighbor, her son becomes the focus of Barri's ever lively imagination, and from there we launch into a web of murder, greedy landlords and double crosses that may or may not be happening in the actual world and not just Barri's mind.
It's this imagination that plays as not only the film's main narrative force, but also its most interesting thematic topic. As much a pure indie comedy as one could imagine, this is also a deliciously dense look at the connection we all have with outlandish pulp narratives, and in many ways fiction as a broad topic. Barri's sole escape from what appears to be a rather turgid and bland life, one shared with a fiance that patronizes her as if it were a second job, and this is an almost universal idea. The same idea a housewife losing herself in the pages of "50 Shades Of Grey" or a young adult finding it impossible to put down his or her copy of "The Hunger Games," this exploration of fiction's inherent appeal as escapist art is exciting and something not often seen in this genre.
That all being said, it's also just dastardly comical. Levine takes cues from various comedic artists, most clearly the work of Woody Allen (even down to the flowing camera during a fight between our couple in the final act), and does so with an assured hand. He's arguably the film's biggest star, both on screen and particularly behind it, taking this comedic picture to real cinematic heights. With a percussive score and some gorgeous photography, Levine's camera is evocative and plays, rightly, to the film's comedic beats more than the rather campy murder mystery at its core. Intimate and ultimately both thematically stimulating and shockingly emotional come the final act, Wild Canaries is a real triumph from a seasoned indie veteran and one of the better films we've seen yet this still-early year. We're nearing the end of the first quarter of the year, and this is absolutely one of the first three months' best films.
Levine's also fantastic on screen. He and real-life wife Takal are fantastic here as the film's central couple, a pair who have been working together on screen for quite some time. They have amazing chemistry and such assurance with the script, making the film feel all the more natural and involving. The cast here also includes indie "it" actors Jason Ritter, Lindsey Burdge and even the always delightful Alia Shawkat, as well as Kevin Corrigan in a delightfully subdued turn. Shawkat is of particular note as, while her friend role may not be all that unique, the way she breathes real life into the character is remarkable. The character has conflict in her heart and real pure love in her eyes, and it's an interesting wrench thrown in the film's structure. She absolutely steals every sequence in the film, and helps bring an extra layer to this fantastic flick.
While it may ultimately leave those looking for real pulp and real thrills a little cold, this shockingly assured comedy will hopefully find a home square in the realm of VOD and art houses across the country. Beautifully made and wonderfully acted, Wild Canaries is a delightful little picture that needs to be seen.
---