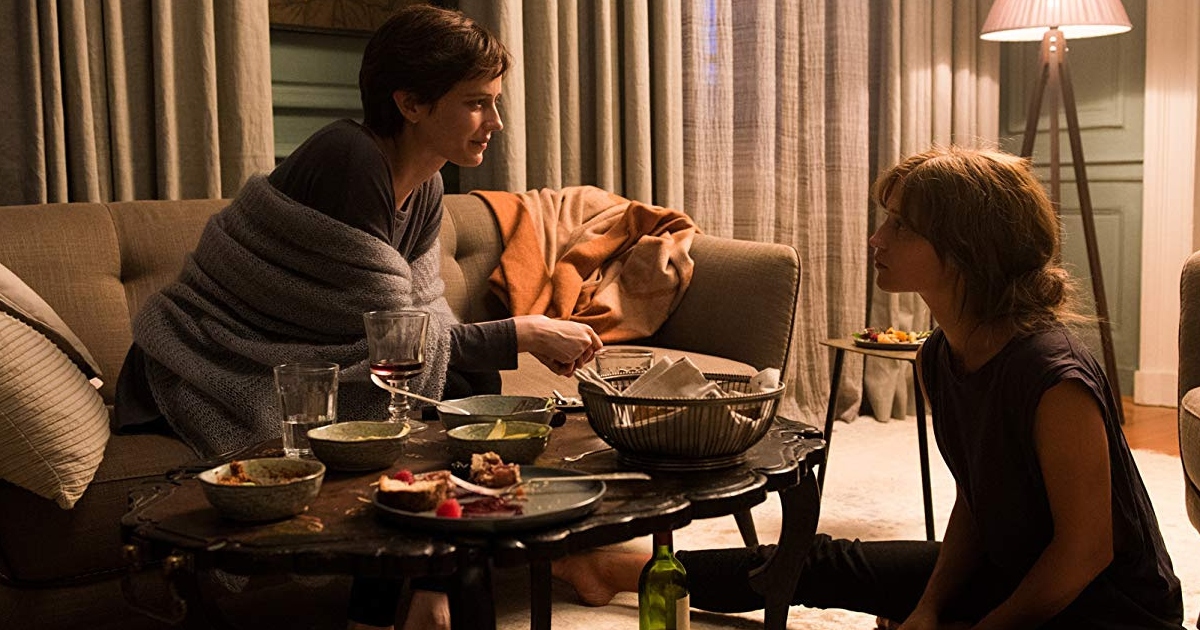 There are few acting trios one would rather spend any amount of time watching apply their craft on screen than the team of Alicia Vikander, Eva Green and Charlotte Rampling. Green and Vikander have staked their claim as two of the great actresses of their era, and Rampling continues to turn in performances that vary from gobsmacking like her turn in Assassin's Creed to her career-best work in Andrew Haigh's incomparable 45 Years.
So it's truly confounding that, when you team them up in one film, that the results are something oddly forgettable.
Entitled Euphoria, Green and Vikander star as Emilie and Ines, two sisters who, over the years, have grown incredibly distant despite their closeness during their youth. However, the film begins as the pair embark upon a sun-soaked vacation at a luxurious hideaway compound with hopes of sparking some true reconciliation. That is, until the true reason behind their trip is revealed. The remote retreat isn't simply for some sister-sister bonding sessions. Emilie has recently been diagnosed with a terminal illness, and instead of wallowing in her depreciating body, she has taken it upon herself to come, with her sister, to this retreat in hopes of comfortably "leaving" this life. There are strange twists and turns (nothing that reduces the film to its horror-like potential), but what ultimately plays out in front of viewers is a maudlin, flatly made drama about two sisters in grief.
Leading this conversation with the cast isn't some sort of red-herring. For a film that's almost impressive in its sterility and flat aesthetic, most of the performances here are relatively fine. Vikander is given the most interesting arc, and whereas Green is oddly one note, there are small shifts in emotion that add some much-needed nuance to the proceedings. Green isn't bad so much as the film's screenplay (from writer/director Lisa Langseth) does very little to truly get into the head of a person who has not only come to terms with their passing but quite literally took ownership of it. It's a thrilling concept, and yet for a film clocking in at 104 minutes, it plays as little more than window dressing for this tale of sister reconnection. Rampling is the best of the aforementioned all-star trio, playing as the film's sole voice of life/death reflection, and the sole burst of energy come from a shockingly vibrant Charles Dance as a man suffering from a brain tumor. Both Dance and Rampling prove to be truly captivating here, helping elevate the film to something worthy of taking a chance on.
Yet, one can't help but be as frustrated by the style of the film as they are excited by those two performances. Langseth is a fine filmmaker, as both of her previous features Pure and Hotel are handsomely made, Alicia Vikander-starring dramas. And while the warmly shot Euphoria sure looks crisp and inviting, the world these two sisters encounter is frustratingly mundane despite the strange premise. This is a world where the ultra rich pay to have their lives ended on their own terms, and there's little eye for the political or class issues that undermine that and even less for the strange setting. Everything is soaked in bucolic sunlight, making the film look like a CBS evening melodrama instead of something intimate or with any real biting satire.
With an A-list cast this will surely garner a few eyeballs, and for the Rampling and Dance performances it absolutely should. However, anyone looking for a film with bite or insight, look elsewhere.