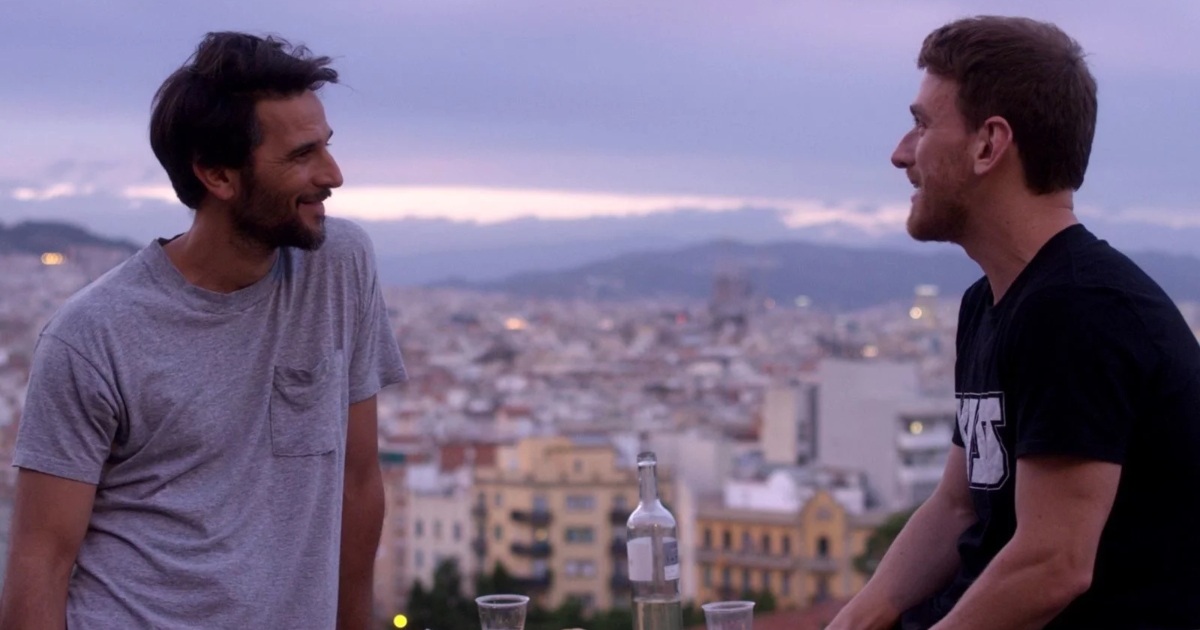 It may seem like literal eons ago, but as the planet neared the year 2000, anxieties ran high about what would happen when the calendar finally hit the new year. Would the world sink into global apocalypse? Would computers cease to work over a simple coding error? The future was, unlike most new years, something to be feared or at the very least unsettled by.
With a title and subsequent setting of a film like End Of The Century, one would expect these fears and anxieties to be placed front and center. However, this time-spanning tale of romance, missed opportunities and perceived destiny takes this setting for something far more abstract. A film about uncertain futures and human growth, writer/director/editor Lucio Castro's feature debut is an incredibly intimate and moving story of love and connection in an ever-changing world.

End Of The Century introduces viewers to Ocho (Juan Barberini), a gorgeous, unassuming Argentine 30-something with a penchant for meditative strolls and evocative poetry. While on vacation in a handsomely decorated Barcelona Airbnb, Ocho encounters the equally handsome Javi (Ramon Pujol), a Berlin-based Spaniard with a husband and daughter waiting anxiously back home. Over the early portion of the film, Ocho and Javi's relationship amounts to little more than literalized "missed connections" posts, until after finally getting in proper contact with one another, lives appear to be changed on an almost seemingly cosmic level. Somewhere between Weekend and Brief Encounter, this time-hopping drama is a mature, textured and entrancing rumination on human connection.
While most will point to the film's time shifting narrative structure at first, the form of End Of The Century is where the conversation truly should begin. Gorgeously shot, with the Barcelona setting playing perfectly opposite this quietly romantic tale. Much of the film's opening is simply introducing viewers to the life of Ocho, a life that's relatively solitary, with few moments shared with anyone other than himself. Viewers watch as he first sees the man we come to learn is Javi, only to see him later while standing on his balcony, with one thing leading to another culminating in them hooking up if you will. Told almost entirely through static shots, the film gives space both to the characters and the setting they find themselves in, coming across as something more along the lines of a documentary, particularly those hybrid-style films like the undervalued MS Slavic 7 from earlier in 2019.
The film then jumps backwards without much of a heads up for viewers, re-introducing us to Ocho and Javi, this time in vastly different positions. Ocho finds himself at an evolutionary moment in his life career-wise, and Javi has a relationship with a mutual friend of theirs and is stuck in a rut with regards to the documentary he's working on. The style doesn't much shift from the removed nature of the earlier sequences, giving the film a strangely dream-like quality. When things then leap forward, this otherworldliness hits in full effect, packing an emotional punch that's both deeply felt and oddly melancholic. This is a film of incredible poise and maturity, unfolding its narrative in a manner that's both matter of fact stylistically and more allusory narratively. Little is spoon-fed to the viewer, instead forcing one to stitch together lives that seem to be fully lived.
Closing on a note that's almost meta-physical in its sense of wish-fulfillment, End Of The Century is a profoundly moving, intensely quiet romance drama, a portrait of human connection at arm's length that feels intensely tactile in today's Tindr age. Gorgeously lensed and strangely propulsive at 84 minutes, director Lucio Castro has crafted a debut film that's as mature emotionally as it is compelling narratively. A hell of a debut, this film.