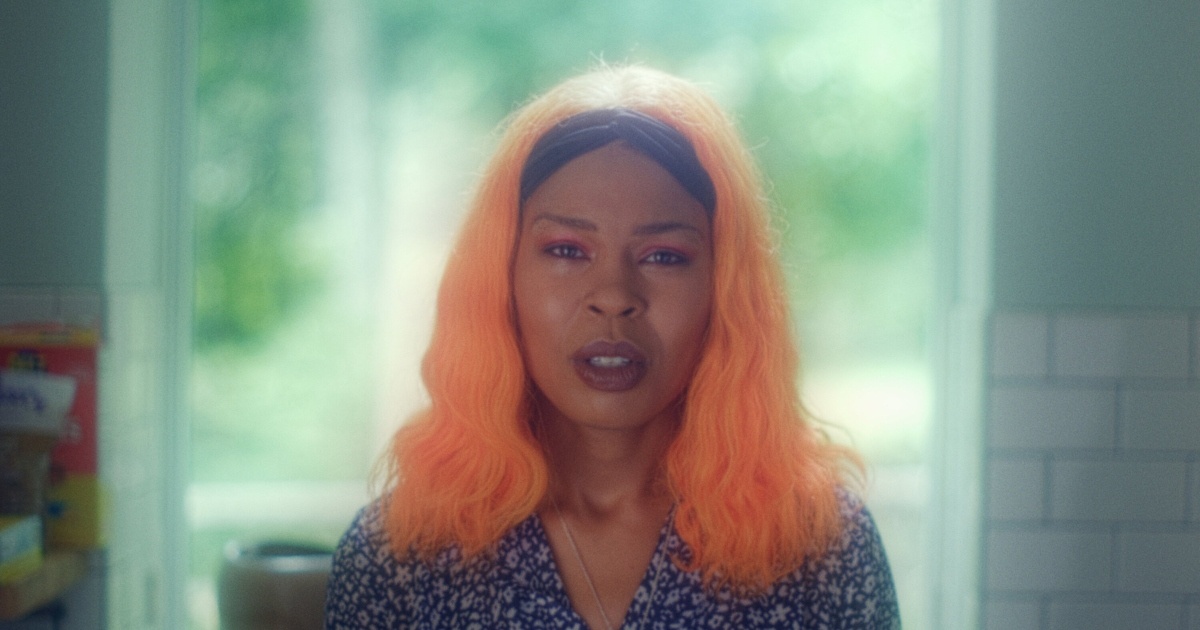 To be genuinely surprised by a film in 2022 is a strange thing. Between megaplexes full of the same six blockbusters and even the most experimental of pictures finding buzz thanks to ever-increasing social impact, going into a film relatively clear of preconceived notions is a rare delight.
Take for instance The African Desperate. The debut feature from artist Martine Syms, The African Desperate paints a picture of one day in the life of Palace Bryant (played by the endlessly charming Diamond Stingily), a young woman who we first meet as she prepares for and ultimately gets her Masters Degree. With a graduation party she has no interest in going to on the schedule for that evening, a musician father with ties to Chicago party music and a group of one-of-a-kind art world dorks, Palace's sole goal is to get back to her home in Chicago, hallucinatory nights out be damned.
At its core an art world satire, the beauty and ultimately the greatness of The African Desperate is its sheer audacity of spirit. Seemingly influenced by everything from Mumblecore to the French New Wave (watching people read philosophy to one another will always scream Godard to me, so shoot me), Syms' direction feels entirely its own. From the guy whose art installation is nothing but screens of guys jerking off to lines about "not blaming the lesbians for the faulty upstate supply chain," Syms' screenplay is raucous and pairs perfect with her frequently hallucinatory filmmaking. Syms frames even the most mundane activity, like getting a phone call during a makeup tutorial, with liveliness and vigor, and yet everything feels tactile and relatable.
Take for instance the opening sequence. Viewers are introduced to Palace not through a grand introduction, no, instead Syms crafts her introduction around the preparation for and anticipation of her final thesis critique. Each character is instantly recognizable, from the confrontational teacher trying to calm down her student despite going about it the wrong way to the teacher who can't stop mentioning Edouard Glissant, to the teacher who reads a lavish statement making Palace's work sound like the essential oeuvre of her generation. It's a perfectly modulated, enthrallingly sharp piece of satire that sets the stage perfectly for the story that is about to unfold. Each aspect of the world being built here is lived in and nuanced, which makes Syms' biting screenplay all the more captivating.
It's also a superb introduction to a hell of a screen actor. Diamond Stingily is a revelation here, turning Palace into a genuine, flesh and blood character despite the dream-like world she falls into over the span of the evening we're with her. It's a deadpan performance that's perfectly modulated for a satire of this ilk. It's also a surprisingly emotional performance. After Palace earns her Masters, we watch as she begins to cry alone in the classroom, hinting at some genuine catharsis that, of course, is felt after having your heart and soul turned into a script being read by some dork professor. It's a brilliantly textured performance in a brilliantly textured film.
The African Desperate may be a pinch too long (99.9% of films are these days), but even then it's hard to complain about spending more time in a world as compelling as the one Syms and Stingily have put together here. With a supporting cast of singular, memorable characters, Syms' debut feature is a gorgeously rendered character-study-cum-art-world-satire, and easily one of 2022's genuine surprises.