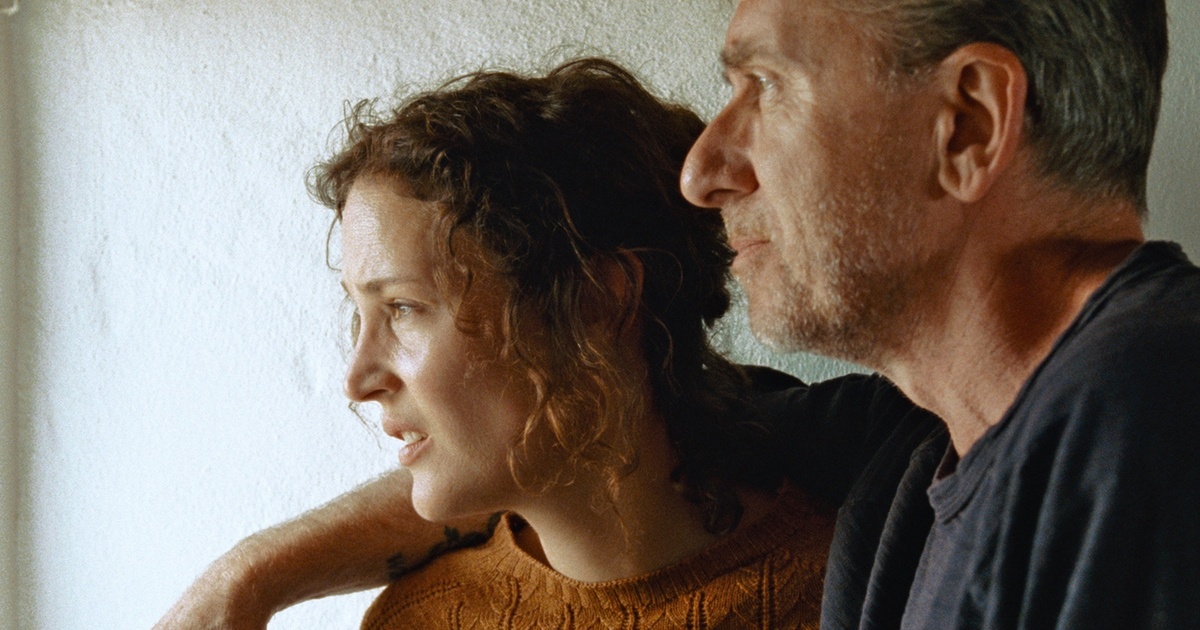 Now that the major fall film festival season has more or less come to a close, it's about time some of the year's most talked about festival darlings finally start cropping up in theaters. Leading the way is cinephile catnip three-fold, in that it's not just about a fictional filmmaking couple waxing philosophic about a legendary filmmaker, but it comes from one of world cinema's great writer/directors.

Bergman Island comes to screens from writer/director Mia Hansen-Løve, who in following up her underrated 2018 knockout Maya brings together the incomparable duo of Tim Roth and Vickie Krieps who star as Tony and Chris, a pair of filmmakers with a passion for the titular master filmmaker. Hoping to draw inspiration from the remote island of Fårö, the couple lose themselves in their new projects, connecting to both the romanticism of being in Bergman's spiritual presence and also the isolated nature of the island. Chris in particular finds much to muse on during her time on the island, as she begins to dive head first into the lives of the fictional characters that she's building.
Breaking out into something decidedly more meta, Bergman Island shifts as Chris falls more and more for her characters, themselves brought to physical life by Mia Wasikowska and Anders Danielsen Lie, both of whom are absolutely transcendent here. Itself based on Chris' experience with a first love, the various digressions into this narrative thread gives the film an almost magical realist energy, turning this portrait of the artist finding their voice into something entirely its own. Mia Hansen-Løve's latest effort is a multi-layered work of profound beauty and intimacy, driven home by four startling performances.
Leading the way is Krieps, who cements herself once again as one of the most exciting screen presences with this textured, moving performance. Almost from the very first moment, there's is a strange chemistry between Krieps and Roth, both of whom feel strangely adrift as they prep their next projects. Krieps' Chris is here seemingly to find inspiration for her next screenplay, yet instead finds the burden of Bergman's almost God-like omnipresence to be more a weight in need of shaking off than something close to inspirational. Not really a film "about Bergman," Bergman Island is more a film about a creative couple trying to find solace in one another's presence and the increasing blur that has become the line between reality and fiction. Much of this weight is held on the shoulder of Krieps and she does so with startling intimacy and texture.
Opposite here is Roth as Tony, a filmmaker in his own right here to work on a new project while screening his latest film. Roth is quite good here, if not given much to do as the film progresses into the heart and mind of Krieps' character. As the film dives deeper and deeper into The White Dress as it becomes known, Roth's Tony is less an active participant than he is a vaguely disinterested/distracted companion on this journey. This is truly a film driven by the female performers, but Roth carries his own in his role.
That all being said, the film doesn't truly come alive until Mia Wasikowska becomes its central focus. Herself playing Amy, a not-so-vaguely shaded proxy for Krieps' Chris (herself clearly playing a not-so-vaguely shaded proxy for Hasen-Love), Wasikowska's performance is absolutely stunning. After leaving behind her child to go to Fårö for a friend's wedding, she reconnects with the equally engrossing Joseph (Danielsen Lie), her first and most passionate love. Mirroring brilliantly the hope of liberation that Chris feels increasingly throughout the film, Wasikowska's Amy is about as primal as the film gets, seemingly carrying with her the same sense of frustration with the lot she's gotten in life and yet without any resolve that's left Chris stuck in an imploding marriage. It's an ace performance from an actress who has become one of the more underrated thespians of her generation.
Hasen-Love is also at the very top of her game as the true auteur of this picture. Writing and directing the film, Bergman Island feels decidedly personal for the filmmaker (something that's easily said for most, if not all, of her films to date, to be honest), herself a former partner to a world renowned filmmaker. Crafting a film of otherworldly elegance, each shot is more beautiful than the previous, with Denis Lenoir's photography embracing the isolated nature of the island and giving the film a romantic, if slightly cold, energy, almost like that of a coastal breeze at dawn. Marion Monnier's editing seamlessly weaves each compounding narrative together with real poetry, allowing Mia Hansen-Løve's superb screenplay to really sing here (there's a scene involving the lead couple requesting a "pleasant" film only to watch Cries and Whispers that's maybe the funniest thing you'll see all year, for example).
Simply put, Bergman Island is an absolute knockout. Writer/director Mia Hansen-Løve's latest is a breathless, tender, enigmatic picture, a deeply-felt rumination on art, the creative process and the thin line between reality and fiction. One of the year's more ambitious films, it's also one of its most mature and quiet, turning into a film less about Ingmar Bergman than it is inspired by the beauty and isolation of the place the late legend called home. A breathtaking work, this film.