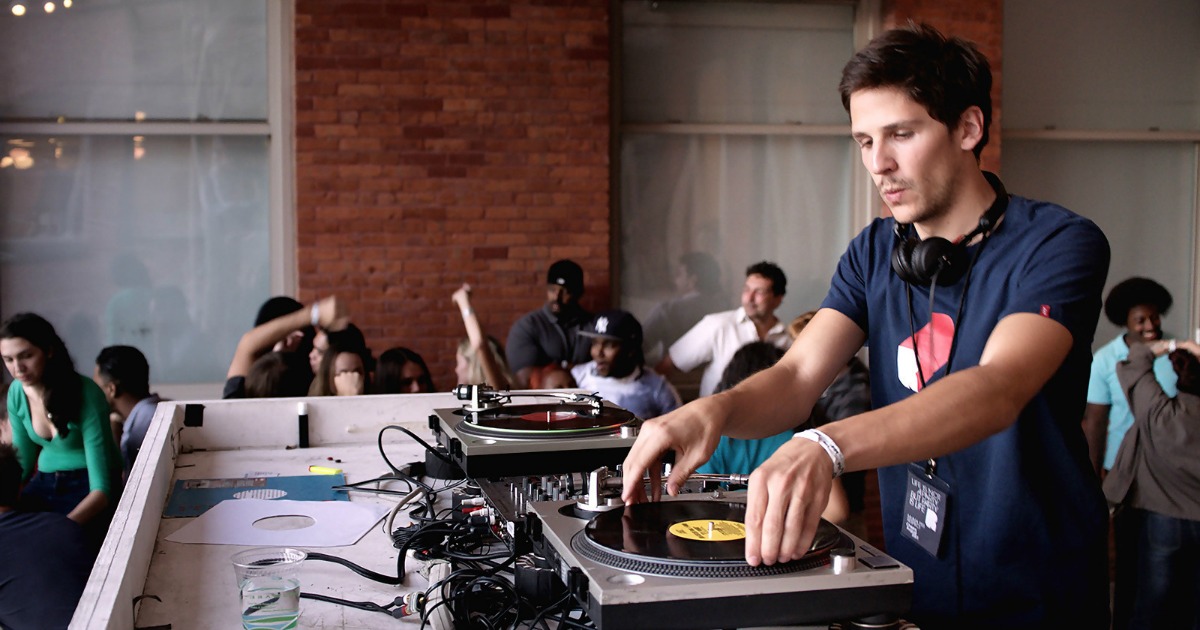 There are few filmmakers working today quite like Mia Hansen-Løve.
Starting off her career as an actress working with filmmakers like Olivier Assayas, Hansen-Love jumped behind the camera in 2007 with her debut writing-directing gig, Tout est pardonne. Evolving into one of today's most interesting voices of human drama thanks to masterpieces like Goodbye First Love, Hansen-Love is a filmmaker unlike any other, not only becoming one of today's great female voices, but one of the most interesting auteurs world cinema currently offers.
Eden is her latest effort, and sees her collaborating with someone close to her heart. Co-written by her brother Sven, this new film spins an epic yarn in a muted, human way, telling a roughly 20 year tale of one man's journey through not only his life, but the electronic music scene that becomes it for much of the film's run time. The film introduces us to Paul (Felix de Givry), a teen growing up in Paris in the early 90s, just as rave culture takes hold. Himself drawn to Chicago's soulful garage scene (think early Kanye West but on speed), he starts a DJ collective known as Cheers that is akin to fellow DJ group Daft Punk, who themselves somewhat meander throughout the film, almost like phantoms. At times a personal tale of lost dreams and at others an epic about a music scene that evolved into something far darker, Eden is an epic tale in the most human of ways possible.
---
---
Hansen-Love is superb behind the camera here, and along with cinematographer Denis Lenoir, the film is both an epic and yet something far more personal. While it covers 21 years and feels like an episodic retelling of the birth and death of an entire music subgenre, it has the mood and focus of a character piece, following a man as he rejects the rigid structure of an academic career to follow his heart and soul, only to be relegated to the world of detergent sales by the film's conclusion. Given this sense of humanity and heart by Hansen-Love's lyrical filmmaking, we the viewer become utterly enthralled in this universe, with dance sequences so heart felt and intoxicating that it's hard not to get lost in her frames. It's a stunning piece of craft that is drenched in a startling amount of melancholy despite the early portion being fraught with youthful optimism. As we watch the world surrounding Paul, himself included, dissolve into a world of sex and drugs, the film becomes increasingly sad, and Hansen-Love doesn't shy away from showing her lead's vices coming to haunt him. It's a gorgeous piece of craft that is drenched in neon colors fitting of this type of picture, and also this type of mood.
Performance-wise, the film is equally fantastic. De Givry gives a star-making turn here, helping to turn what for all intents and purposes sounds like an epic into a deeply profound character study of a man finding his dream, and ultimately the loss of it. Every moment of his performance feels real and carries emotional weight, and there's not a false note among them. American audiences will surely enjoy the performance from Greta Gerwig, who portrays Julia, one of Paul's many lovers we encounter, and Brady Corbet is fantastic here as her husband, Larry. However, the real stars of the film here are a pair of secondary character actors in the form of Vincent Macaigne and Pauline Etienne. Macaigne is slowly turning into one of French cinema's most interesting character actors, and gives arguably his best performance here as one of Paul's fellow performers. However, Etienne is the film's real star, as her performance as Louise is a startlingly raw look at the darker sides of this scene. Paul's greatest love, she falls victim to the scene in many ways, or at least their relationship does, and some notes about her character are revealed as the film progresses, adding real weight and darkness to the picture. As much a director showcase as it is, it's equally an acting vehicle for some of today's great young talents, all of whom are top notch here.
With a propulsive soundtrack keeping the film's energy at a constant high, Mia Hansen-Love's latest film is not only one of the year's great cinematic achievements, but it's also one of the most emotionally resonant dramas we've seen yet in 2015. Driven by a collection of brilliantly humane performances, Eden is the type of epic cinema doesn't see very often. Deliciously decadent in its photography and filmmaking style and yet hauntingly intimate in its scope, Eden is just the type of film this summer season has been calling for.