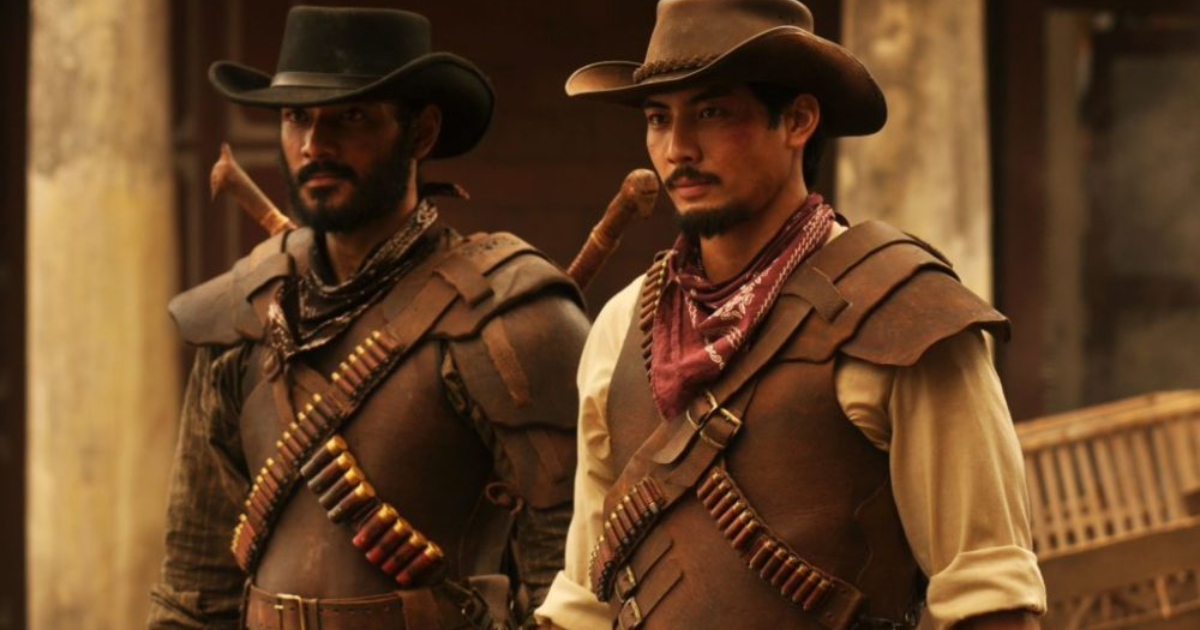 It's January, and while that usually means studios dumping hack horror pictures and/or broad family pictures, it also means something for those trying to find solace in a much smaller film in much smaller art houses. Often the home for films being released under the auspice of a potential run in the Best Foreign Language Film category at the Oscars, January has become as much about forgettable studio fare as it is catching up with films from across the globe.
That being said, just because a specific country decides that a film is or is not their Oscar submission doesn't mean that the film in question is of anything more than passable quality.
Just look at Singapore's submission for the upcoming Oscar ceremony. Entitled The Buffalo Boys, the film is the debut feature directing outing from producer-turned-filmmaker Mike Wiluan (Crazy Rich Asians) and despite being considered as part of this prestigious lot, the film doesn't amount to much more than a genre-influenced curiosity from a director trying to find their voice.

Boys is set in 19th Century Java, a tumultuous region which we discover just suffered a brutal massacre that found their leader, Sultan Hamza, murdered and overthrown by Dutch forces led by Captain Van Trach. However, during the massacre, the Sultan's young sons Jamar and Suwo, along with their uncle Arana, escape and find a new home in the American West. Opening in dusty San Francisco, the film introduces us to this trio who have grown into deadly, highly skilled cowboys of sorts, ready to head home and take revenge for their father's murder and their people's enslavement.
While the opening train sequence features a rather thrilling fight sequence, the action doesn't truly ramp up until the trio arrives back on Indonesian land, and begin encountering locals who are under duress in this occupied region. One of these civilians, the beautiful and strong Kiona, becomes close with Suwo and a romance appears to be burgeoning. However, Von Trach becomes aware of their arrival into the village, and things are upended until revenge can be taken.
Seemingly getting compared to films like Django Unchained and the works of Sergio Leone, the reason these comparisons feel right and apt is that despite some inspired fight scenes, the influences are front and center. From the cartoonishly uninspired production design to the equally forgettable use of music, every trope and every narrative beat feels flat and rudimentary. Opposite the film's clear-eyed and deeply angry ruminating on colonialism, the flatness of the narrative emotionally makes this a bizarrely off-kilter viewing experience. The atrocities committed by the Dutch during this period is very much on the film's mind, hence how this examination of violence through a historical lens can be seen as a right contemporary to the above-mentioned Tarantino film, and it is this theme that elevates Buffalo Boys into a film at least worth giving a chance to if it comes across your VOD service.
It also helps that Wiluan does know his way around an action set piece. Fight scenes and shootouts are featured throughout the film, and while his shifting of tones and themes leaves much to be desired, his ability to properly frame and commit a fight scene to film is exciting. Occasionally falling victim to the quick cut and over-mixed sound that has become the stock style for today's action film, there are numerous moments where he allows the camera to linger on the wonderful choreography and they're the film's truest highlights. Thankfully the film doesn't slow too much down over its roughly 100-minute runtime, instead Wiluan keeps the pace propulsive and it does make for a rather compelling experience. The final act is chock a block with attempts at something resembling real emotion and while each sequence falls on its face, the action sequences ramp up well enough that it doesn't leave a sour taste in one's mouth. Likely not getting a nomination for Best Foreign Language Film given the category's historic depth this year, Buffalo Boys is a film that will hopefully find an audience on VOD, particularly those looking for a more genre-tinged bit of counter-programming this cold Winter.