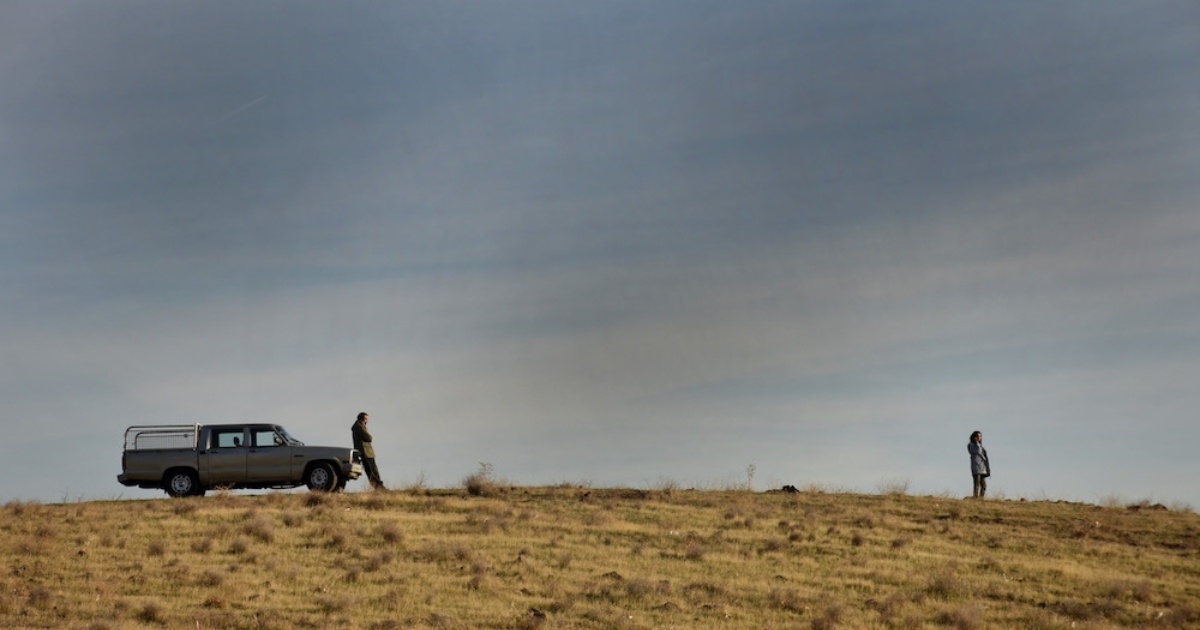 With a name like There Is No Evil, images of Saw-like torture porn or Z-grade slasher cinema instantly pop into mind. Easy to look over when mindlessly scrolling through your local on demand, virtual theater's cinema listing, director Mohammad Rasoulof instead has crafted not a trash horror picture, but instead one of the year's most powerful works of socio-political commentary.
In actuality four short films rolled into one 150-minute long feature, There Is No Evil is an anthology work unlike any seen before. More or less Rasoulof's exploration of the death penalty, each of the vignettes tell the story of men staring death squarely in the face. Forcing each of his leads to either follow orders to kill a fellow man or rebel against this vicious system, Rasoulof paints a profoundly humanist portrait of the corrosive ability of what remains one of man's most vile judicial beliefs.
Winner of last year's Golden Bear at the Berlinale, Evil is the sixth feature from beloved Iranian auteur Rasoulof, and yet another one of his films that will not be shown in his native country. Like contemporary Jafar Panahi, Rasoulof has been "banned" by his native government from making films, and this is another one of the numerous masterworks from Iran over the last 10-15 years that have been forced to be smuggled out by various means. And thankfully, despite an oppressive regime wanting nothing more than these voices to be snuffed out, Rasoulof is still churning out devastating, infuriating, engrossing masterpieces like There Is No Evil.
The first episode here tells the story of a father played brilliantly by Ehsan Mirhosseini, who we discover, after joining him for a drive through the city running errands with his wife and daughter, is an executioner. A modest, often quiet segment, this instantly sets the tone and atmosphere that the film will, for much of its runtime, abide by. This is a profoundly experiential film, and while the narratives may not overlap like many anthology films, this mood certainly does. The closest overlap comes in the second and third chapters, which tell the story of two separate soldiers who must commit a murder to earn a three day leave. The soldiers are played by Mohammad Valizadegan and Kaveh Ahangar and both performances are devastating and brilliantly textured. The most emotionally rich chapter comes in last, with Chapter 4's "Kiss Me," which tells the story of a young med student who discovers a secret that's been held from her since her birth, only as her "uncle" Bahram stares his own death squarely in the face. It's a quiet, subtle chapter that concludes on one of the great modern cinematic narrative twists that feels entirely earned.
A film of remarkable emotional potency, it's not entirely an observational work. No, instead the brilliance of Rasoulof's latest is its uncanny ability to throw the viewer squarely into the center of the moral quandary that each of its leads face. What would you do when faced not just with a literal question of life or death but a government that requires you to make a specific choice? How is one's own humanity eroded when forced to make a genuinely inhuman decision? These are the core questions at the heart of the film and with profound intimacy Rasoulof is able to navigate the different responses each of these characters have. It's an incredibly challenging film, a film about the ability of the government to strip man of its humanity, and through these intimate portraits of life caught in the machine director Rasoulof is able to make this not just a ponderous work of political rebellion but one with a deep well of emotion and humanity.
At 150 minutes in length, the film is an epic one at least in length, but again there's nothing narratively epic about this at all. Instead Rasoulof's latest is a startlingly intimate film, driven by textured and lived in performances and captivating direction. Largely told in medium shots, Evil finds Rasoulof brilliantly blending thematic elements within his directorial choices, be it the sinister, brooding darkness found within Chapter 2 or the barren landscapes that conclude the picture. The direction here is subtle and nuanced, never losing sight of its own political outlook. It's simply one of the year's most devastating artistic achievements.