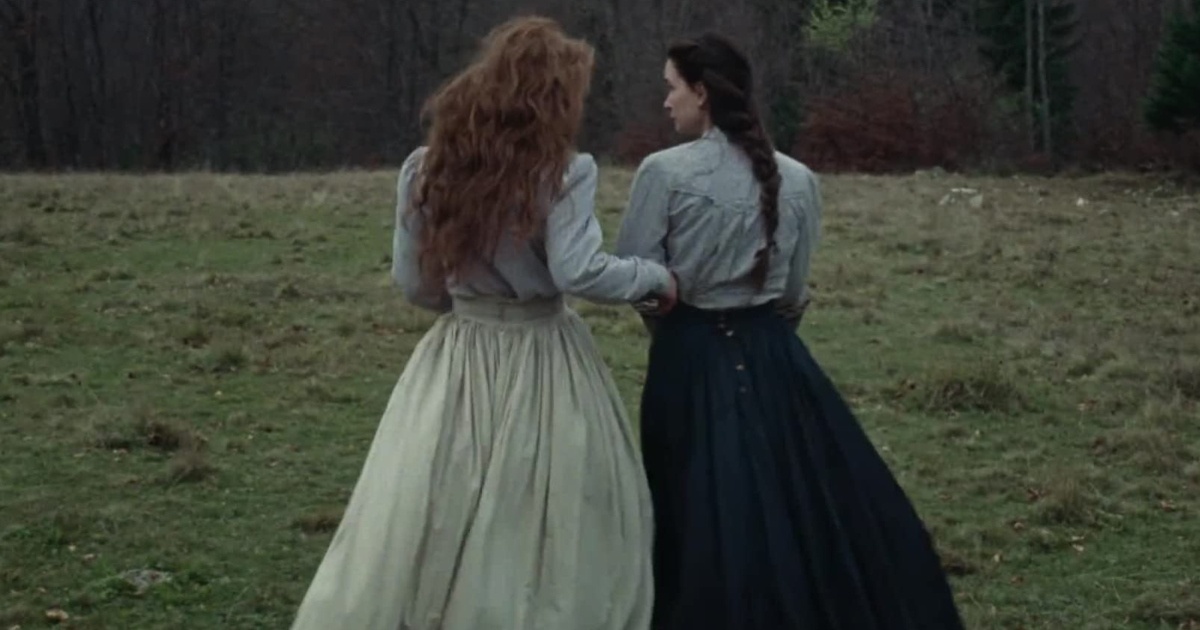 There are great casts, and then there is the collection of talent brought together for the new period romance picture, The World To Come.
Besides being directed by the incomparable Mona Fastvold with a script co-penned by Jim Shepard, The World To Come stars a venerable murderer's row of acting talent, spearheaded by a rarely-better Katherine Waterston. Waterston stars here as Abigail, a woman caught in a seemingly loveless marriage with the quiet farmer Dyer, played here by Casey Affleck. Abigail's relatively mundane life changes, however, with the arrival of Tallie (an equally-great Vanessa Kirby) and husband Finney (Christopher Abbott), with Abigail and Tallie slowly embarking on a friendship that ebbs and flows between platonic companionship to something more emotionally textured and involved. Based on Shepard's story of the same name, The World To Come is a quiet, plaintive character study, structured around a series of journal entries written by Abigail, describing the ever evolving state of things on her and her husband's dreary farm.
The film begins on the start of a new year, 1856, seemingly months after the passing of Abigail and Dyer's daughter. A bleak starting point made literal with lines comparing her life to a "library without books" or literal descriptors like the sudden appearance of ice within her bedroom, Fastvold's film does thaw, albeit ever so slightly, with the arrival of Tallie. Billed by luddite critics as this year's Portrait of a Lady On Fire, the film bursts open in the gazes shared between Waterston and Kirby, with the latter lighting enough of a fire under the former to get Abigail to not just rethink the prospects of her life but to actively go about changing that trajectory. With title cards drawn out like old-time map keys and atlases playing a strangely big part in the film's plot, this is a film very much about destiny and one's ability to re-draw the steps we take to get there.
Waterston is a tour-de-force here as Abigail, a woman who finds herself at once endlessly curious about the world outside her home walls and yet lacking the spark needed to truly take the risk of discovering what that all may entail. Her chemistry with Kirby's Tallie is wonderfully modulated, with the glances they share playing as thrilling and vital as any genuine physical interaction they share. Kirby's Tallie is the opposite side of Abigail's coin, entirely self-aware and confident, yet seemingly resigned to her lot in life. The men here are little more than children, with Affleck's Dyer showing a different side of the otherwise lively performer. It's a muted, deeply sad performance, with Abbott's turn as Finney playing as his self-important mirror image. They're both children, needing their partner's not for love or companionship, but for something much more desperate and, at least in the case of Finney, childish and gendered.
That all being said, it may be Fastvold who is the film's biggest star. Her second feature film, Fastvold proves to be a master of mood and atmosphere, focusing less on anything carnal being shared between the two burgeoning companions and something more personal and intimate. It's a film of remarkable restraint, with the period setting beautifully rendered with sparse landscapes making for a film at once profoundly beautiful and yet also oddly frigid. Everything within is played delicately, Fastvold's camera catching everything from a chat about the webbing between one of the character's fingers to a tender, seemingly ground-shattering first kiss. With the 16mm photography from Andre Chemtoff bustling with an almost otherworldly energy and vitality, The World To Come is one of 2021's first genuinely essential new-releases, and announces director Mona Fastvold as one of the brightest directorial talents working today.