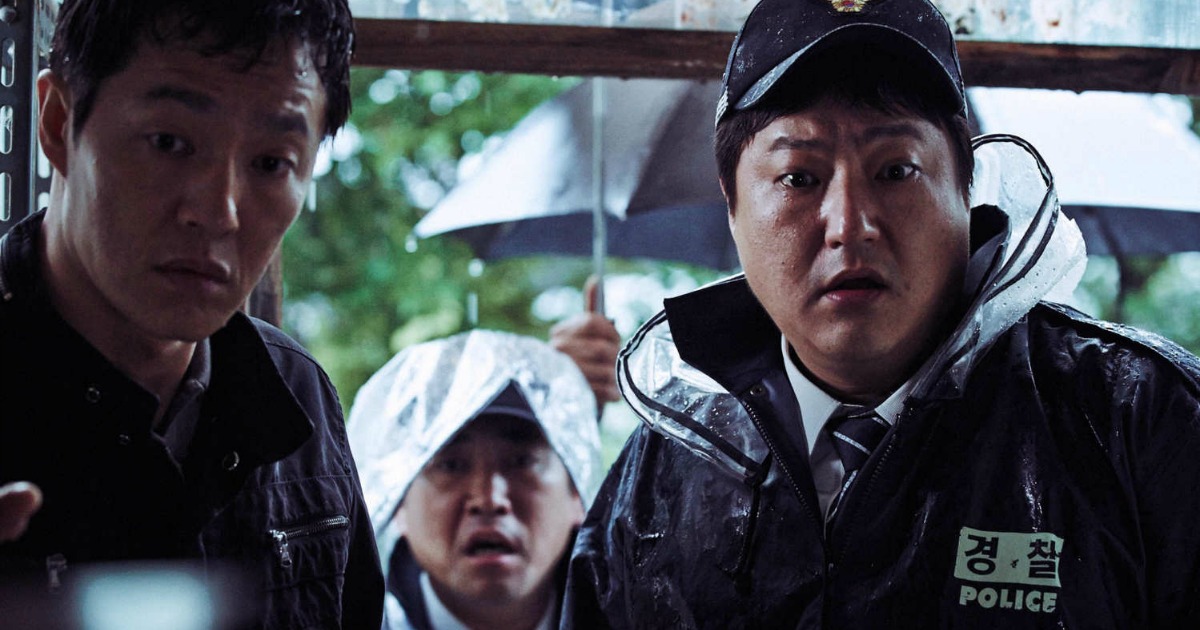 It's not every day that a film premieres at a prestigious, iconic film festival like Cannes, only to hit theaters within weeks of its debut. But then again, The Wailing isn't an everyday feature film.
Hitting theaters this week from the equally singular distributors Well Go USA, The Wailing is the latest film from beloved Korean director Na Hong-jin (The Chaser, The Yellow Sea). An esoteric thriller even by Cannes standards, the 156 minute film opens with a face that's going to be familiar to many fans of world cinema, Kunimura Jun. Jun, best known for films ranging from Audition to Kill Bill, is in rare form here however, as a mysterious newcomer to a small South Korean village, Goksung. Simply, and startlingly, known as "The Jap" to locales, his arrival brings with it a wave of violence and death, sparked by an illness that causes many natives to fall under the spell of everything from rashes to something that brings out primal violence in those who suffer from it.
Our lead is a character we've seen numerous times, a local cop trying to do right by his family. Played by Kwak Do Won (The Yellow Sea), this trope may be one we've seen throughout film history, but rarely is it written and played in this specific manner. Instead of being a cop who must elevate an already strong sense of will, the character of Jong-gu is a bumbling, oafish investigator who is as charming as he is emasculated. The constant butt of jokes at the office and at home, the film asks a great deal of him, only to subvert that in what is a truly unforgettable final act. Entirely built around a specific decision he makes, the final act is a startling piece of writing, making the character one of the year's most entrancing. Leading up to that conclusion, the film sends him on a perverted odyssey of sorts, going from humble family man to a husband and a father who finds his daughter beginning to fall victim to this illness that has taken his village hold. Himself haunted by visions of a demonic nature, this is a nuanced character that may seem like a caricature of modern masculinity but is instead a deeply moving portrait of a man out of his own depth. Unable to keep even his daughter safe, there's an existential helplessness to his character that is utterly devastating, and undercuts the humor with a stark sense of sadness and builds empathy in the viewer.
---
---
Over the bulky two-and-a-half hour run time, Jin's screenplay balances humor with genuine terror with a deeply assured hand. A real piece of craftsmanship, The Wailing is the rare film that at once clearly makes the most of its lengthy runtime in its focus on character work and minute narrative details, and also feels as though it goes by in about half the listed time as the viewer is never allowed to really gather themselves. Even in the film's editing, which may be the best of the year to this point, there's never a moment that lags, particularly during the final act. After what is the film's crowning achievement, a set piece that cross cuts two very different spiritual rituals, the film gets up to a sprinter's pace, all concluding with a finale that will leave any and all viewers gasping for breath and then forcing their friends to decipher what it all truly means.
As seen in a film like The Yellow Sea, Na Hong-jin is truly one of Korea's greatest working auteurs. Drenching this picture in a distinct sense of atmosphere that's as driven by its beautiful photography as it is by its even more startling natural settings, Hong-jin and photographer Hong Kyung Pyo (and one would be foolish to diminish the efforts of production designer Lee Hwo Kyung, costume designer Chae Kyung Hwa and editor Kim Sun Min) have crafted a gorgeous thriller that takes the rural setting and embeds a sense of dread that feels both otherworldly and decidedly tactile. There are bursts of energy like the above mentioned ritual set piece, but for the most part this is a film that's shot quietly and with a focus on character and their relation to the world around them.
Hong-jin's latest film is, on the surface, a police procedural in the body of a supernatural thriller. However, that doesn't do this film the justice it truly deserves. As much interested in horror of an otherworldly nature as it is the terror that can be found within a mob mentality that any group could fall victim to, The Wailing shines a light on the terror caused by those who believe they are being terrorized. For all its twists and turns, the very themes at its center may be what makes this film both the masterpiece it truly is and also a film that's bound to be unshakable for anyone who has the chance to see it.