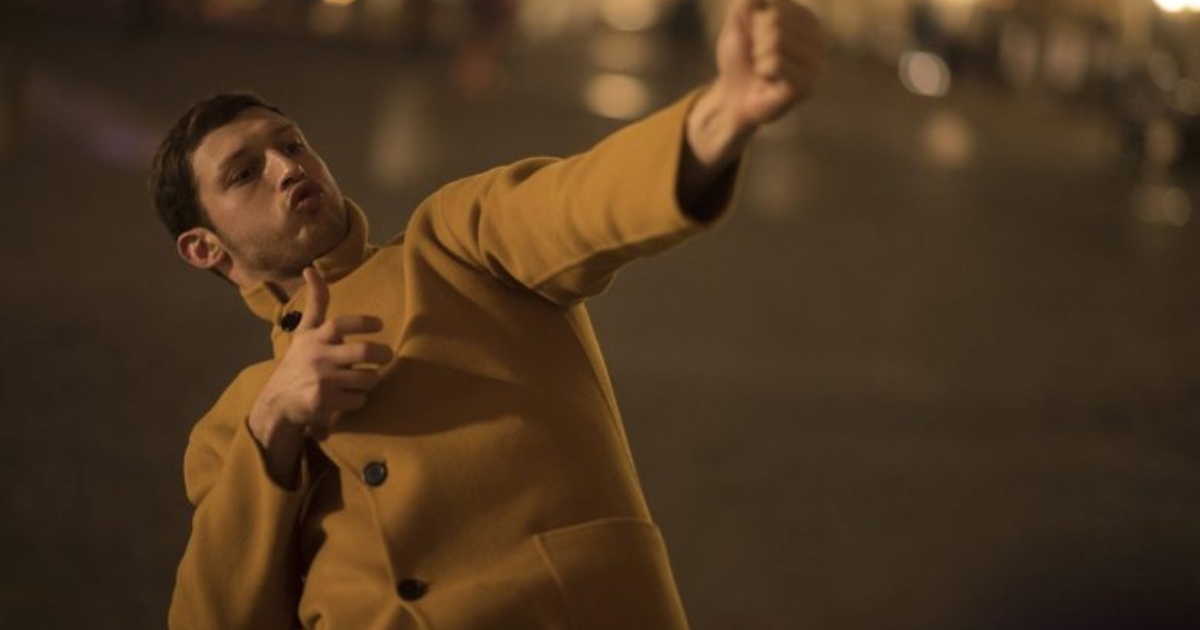 With just three films to his name, Israeli filmmaker Nadav Lapid has become not just one of the great new voices coming out of a thriving Israeli film landscape, but one of world cinema's most thrilling young filmmakers.
Starting his career with the masterful Policeman, only to follow it up with the great Kindergarten Teacher, Lapid has, since the latter's 2014 release, left the film world anxiously awaiting his follow-up. Debuting earlier in 2019 at the Berlinale, Synonyms has since made the festival rounds to some outstanding notices, that despite being relatively rapturous, still don't quite do what is in actuality one of 2019's greatest film achievements justice.
Set in Paris, Synonyms introduces viewers to Yoav, a young Israeli man who has made it to France in hopes of fully rejecting his Israeli identity. Himself a former member of the Israeli military, director Lapid has crafted what plays as his most personal film today, a gorgeous and often surreal rumination on identity and masculinity that draws and blends the two ideas in ways that are both utterly captivating and endlessly provocative.
The film introduces viewers to Yoav in ostensibly a moment of crisis. Entering a flat that he may or may not know the owners of, Yoav proceeds to undress and cleanse himself of the day prior only to have his clothes stolen only to pass out in the flat's bathtub, ultimately being thrust into the care of young bourgeoise lovers Emile (Quentin Dolmaire) and Caroline (Louise Chevillotte). Concluding that he now wants to identify as French, Yoav refuses to speak Hebrew and while sparking a romantic triangle with his new friends may keep his mind busy, he begins to flash back ever so slightly to his violent past. Strangely episodic, viewers watch as Yoav encounters people waiting at a local embassy while screaming "there are no borders," learn words via a French dictionary and even try his hand at pornography (it what is the film's greatest and most absurdly radical sequence), all while battling between the roots he so desperately wants to forget and the toxic masculinity that continues to envelope him.
Fragmentary though the narrative may be, the focus is never once lost. Even during the brief digressions into the connections being made between Yoav and both Emile and Caroline, his inner battling with his past and future identities is front and center. Embracing his future as a Frenchman only brings him closer to his roots in Israel, with the world around him seeming to only tighten their focus on his Israeli background the more he attempts to forget it. At first glance a very simple concept piece, Lapid and co-writer Haim Lapid craft a narrative that, despite being structured in a seemingly rigid manner, feels less abstract than its episodic nature may lead one to believe. A satire riding a razor's edge between absurdity and profundity, Synonyms plays like a funhouse riff on the immigrant story that has become the focus of much of world cinema.
While Lapid gets first mention in this review, the true blue star of the film is actor Tom Mercier. An oddly surreal film, Mercier's performance is ostensibly one of muted self deconstruction, a performance that internalizes a sense of self-loathing that's both utterly palpable and yet strangely alluring. Yoav isn't a quiet character, however. The otherwise stoic Yoav becomes increasingly tense as the world around him becomes more and more grotesque, and while the performance remains relatively muted, Mercier's physicality in these scenes becomes almost dancer-like. An incredible screen presence, Mercier's lean frame is lovingly shot by Shai Goldman, and Lapid's camera catches each minor shift in Mercier's face or the briefest of gestures he makes. His ability to shift almost on a proverbial dime is truly astounding, making for a performance that feels both quite literally lived in and yet entirely fitting of a world that feels just a degree or two more arch than the one we currently live in.
Goldman's photography is equally as engrossing, with Lapid's relatively naturalistic framing coming to life thanks to his rich and textured work. Lapid's direction shifts between expertly framed, static shots to increasingly unfiltered sequences, with the director opting for a more handheld aesthetic as the world around Yoav (and the one at war within him) begins to crumble. It's a film whose aesthetic is perfectly in keeping with the edginess of its lead character, and shoots him with a tenderness and empathy that, despite the gutsiness of Mercier's performance, never once feels manipulative or simplistic. Lapid's direction becomes increasingly locked into his lead's headspace, a film that ebbs from dead-eyed static sequences of a man taking video of Yoav as he barks at him to masturbate to incredibly chaotic, almost impressionistic flashback sequences of Yoav's time in the military.
A film about words both literal and in the abstract, Synonyms is director Nadav Lapid's third feature, and easily his finest yet. A captivating look at the intersection between nationalism and toxic masculinity, few films feel as vital and truly important in 2019 as this superlative piece of work. All driven by a dancer-like lead performance that's an absolute tour-de-force, Synonyms is the first truly must-see film of fall 2019 and one of the year's most singular, visionary works.