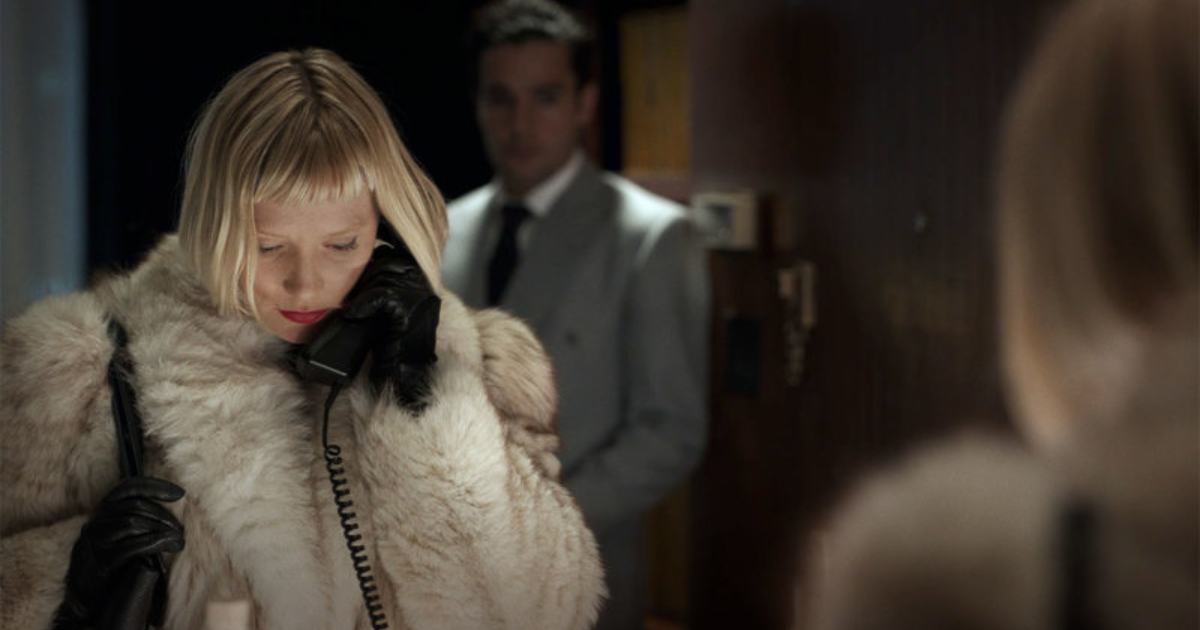 With Sundance 2019 in full swing, one of the hottest talked about commodities from the 2018 edition of the iconic film festival is finally arriving in theaters and on VOD.
Based on a novel from Audition author Ryu Murakami, Piercing is the latest film from director Nicolas Pesce, who made a hell of a splash with his 2016 debut feature The Eyes of My Mother, a horror film that launched him squarely into the discussion of most exciting young genre filmmakers. Now with a cast led by Mia Wasikowska, Christopher Abbott and the always captivating Laia Costa, Pesce has made a film that is at once an ambitious sophomore effort and also one that feels a bit shallow.
Drawing inspiration from the acclaimed Murakami novel, Piercing introduces viewers to Reed (Abbot) who ventures out on what he describes as a routine business trip, but quickly the film reveals it to be something far more perverse. Despite having a wife and child at home, Reed appears to be searching for something, shall we say, more, something a bit more violent and vile. With dreams of committing the perfect murder, Reed makes a phone call after arriving at his hotel, bringing Jackie into his life. This is an encounter that will forever change that very life of his, derailing almost instantly into something even more grotesque than one would expect given this tight, two-handed thriller premise.
The first act is the film's highest peak. While the vast majority of the film is spent in the company of the pair of psychopaths played by Abbott and Wasikowska, the introduction of Reed opposite his wife and new child offers up some of the film's rightly perverse dark comedy. Drawing the passion he has to end the life of his newborn child, Reed harnesses that anger into his plan of murdering a prostitute, which we see through the film's nightmarish editing style is something drawn from his own abuse and childhood trauma. This is, at its very core, a pitch black comedic fable about abuse and the endless cycle caused by it, something seen in spurts throughout the film but rarely enough to make an actual impact on the viewer.
Therein lies the film's greatest flaw. While it's impossible not to describe the film as expertly put together, there's very little "there" there. Its examination of trauma and grief isn't entirely inspired (see Phantom Thread for a better execution of the film's final act), and feels oddly empty. Maybe it is the film's strong sense of artificiality or potential over-production, but the noir-ish overtones and cartoonish vintage design make every sequence in the film feel free of any of the danger or subversive undertones that have become synonymous with Murakami works. One takes a film like Audition, and what makes that such a masterpiece isn't just the jarring shift in tone that has made the film's final act iconic, but it's the complete embracing of the romantic comedy stylings that mark the film's previous two-thirds. Here there's little of that subversion, making the film feel not just one note but entirely superficial.
That said, when your film is this well made, there are worse things to be than superficial. Pesce is a clear craftsman, embracing the gorgeous photography from Zachary Galler and using its contrast-heavy, giallo-style palette and infusing that throughout the film. Be it the use of music like Goblin's Tenebre or the '70s-style production design, there's a captivating otherworldliness here, almost surreal filmmaking that makes everything from a needle drop to a chloroform attack the most impactful directorial movement imaginable. These choices may not say much about our characters or the traumas they have felt, but as an example of filmmaking prowess, Pesce proves to be a force to be reckoned with.
As little more than a two-hander, performances are highly important for a film of this stock, and thankfully Abbott and Wasikowska are quite good here. Abbott has a specific look and charisma to him, which fits well with this type of character. Reed is a mild-mannered guy superficially, but there's a deep seeded hatred and anger within him, which Abbott plays up well with his emotionless stares and quiet demeanor. Wasikowska is always a compelling presence, and while she's not given much to do here, there's a danger to her that fits well opposite Abbott, particularly in a film so rooted in the noir/giallo tradition. The only other performance of note is Costa and again, while she's not given much to do, she's a welcome addition here and only makes the viewer wish the film were about half an hour longer so we could get more time her and Abbott's Reed as a new parenting duo. It's that lack of character background that the film desperately craves, and with a cast led by these three it's all the more frustrating it isn't there.