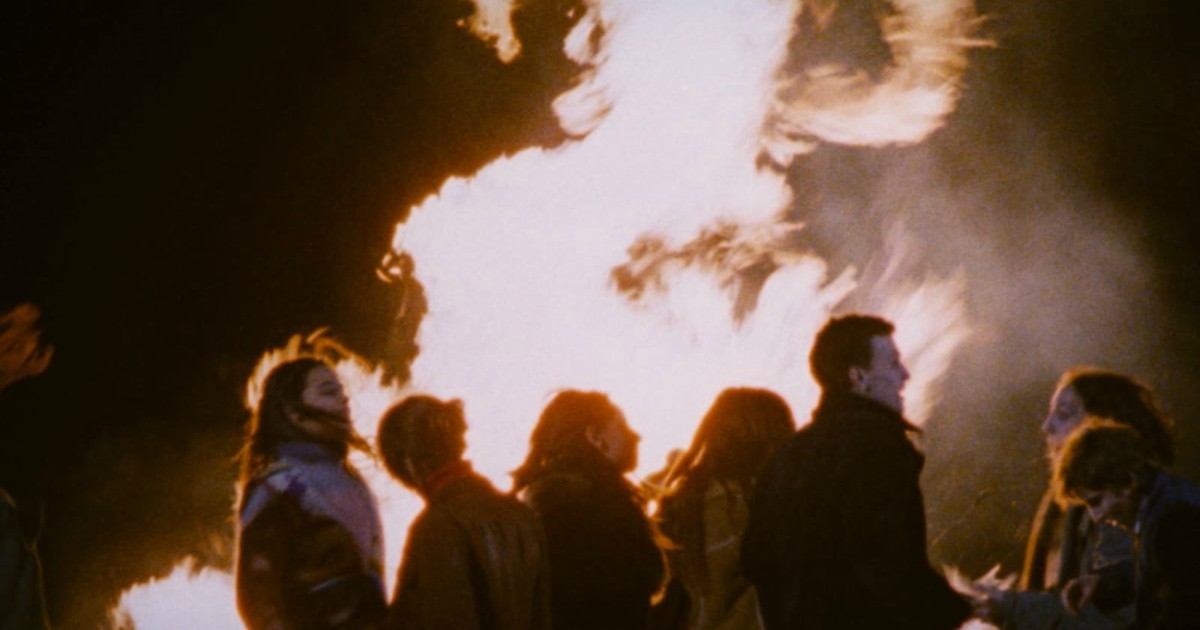 As "disruptors" like Netflix are hoping to forever change the way we think about the film viewing experience and companies begin bringing to life projection-free theaters, few could argue that the repertory scene has ever been quite as lively. Seemingly every week cinephiles are able to discover a film that, just a handful of years prior, couldn't be seen outside of less-than-legal means or VHS tapes that feel more at home in a dumpster than one's VCR. And yet, for some reason, there are still masterpieces waiting to be discovered, even from filmmakers still putting out new Work.
That's the case for Olivier Assayas, as his rarely screened romance drama Cold Water finally arrives in US theaters thanks to a new restoration and tour via Janus Films.
Very much in the Assayas style, Cold Water is an evocative, lyrically composed (in many ways) romance, finding two teenagers meandering through their existence. Virginie Ledoyen and Cyprien Fouquet star as the star-crossed lovers, two youths with more passion for heisting vinyl records from a local shop than trying to acclimate to their school culture. An autobiographical picture of sorts, the film is set in 1972, in the wake of the events of May 1968, a similar territory that Assayas would mine for equally as great results in his film Something In The Air roughly twenty years later, and sees the filmmaker at the very heights of his power. Be it the breathtaking soundtrack, which with its songs from names like Bob Dylan and Janis Joplin became a main reason as to why it has been such a hard film to see here in the states, or the poetic and intimate camera work, Cold Water is a brilliant and profoundly urgent look at love on the run as shared between two disaffected youths, lost in a world that's left them behind.
At first glance, the source soundtrack is what many will likely grab ahold of. Using works from artists like Alice Cooper and Leonard Cohen, the music here becomes more than just window dressing, as it both help sets a vital and specific landscape but also elevates a film strongly focused on tone and atmosphere. When Nico's "Janitor Of Lunacy" comes on for example, its droning production and the immediacy in Nico's voice helps set an incredibly moving sense of impending doom, almost like that of a funeral march. It's a startling needle drop when it comes on, proving not only Assayas' understanding of atmosphere but more specifically how music is a major player in the creation of it. Bob Dylan's "Knocking on Heaven's Door" becomes the melancholic setting for the passing of some weed, and Creedence Clearwater Revival helps set the mood for what is maybe the single greatest party sequence in film history.
Just as important as the music is Assayas' direction and Denis Lenoir's stunning photography. Heavily rooted in the type of neo-realist filmmaking that has become a calling card for filmmakers of Assayas' generation, there's a dream-like looseness to each sequence, particularly as the walls start closing in on the film's central relationship. Assayas' use of left-right or right-left tracking shots to add a larger scope to the world these two youths inhabit is almost otherworldly, particularly as they traverse in and out of the rooms of the mansion that plays home to a great chunk of the film's back half. This is a tour-de-force for Assayas, setting this captivating exploration of youthful rebellion against the backdrop of an abandoned mansion that's the bourgeois antithesis to everything these kids stand for. And when the harsh cold of the morning sets in the day after this raucous party, one can't help but compare it to an almost Godardian look at revolution in a downward spiral. Come the film's profoundly moving conclusion, Lenoir's gorgeous photography and all of its stark blues and naturalistic lighting play vessel for a heartbreaking exploration of love on the run.
It would all be for naught, however, if the performances weren't as revelatory as they are here. Ledoyen and Fouquet are absolutely superb here, specifically Ledoyen whose face is one of Assayas' great weapons. Every glance she gives those she encounters is imbued with a startling sense of realism and immediacy, as her chemistry with Fouquet is palpable. The film, despite being incredibly melancholic, is also quite tender, using close ups to help turn itself into something as human as it is richly stylistic. Fouquet is equally great here, with his greatest moments coming not in his relationship to Ledoyen's Christine, but when Fouquet's Gilles comes in contact with adults, Cold Water's theme of youthful disaffection really comes alive.
A film of gestures and textures, Cold Water is not only proof that director Olivier Assayas has been a talent of high prowess for well over twenty years now, but it's also one of 2018's great rediscoveries.