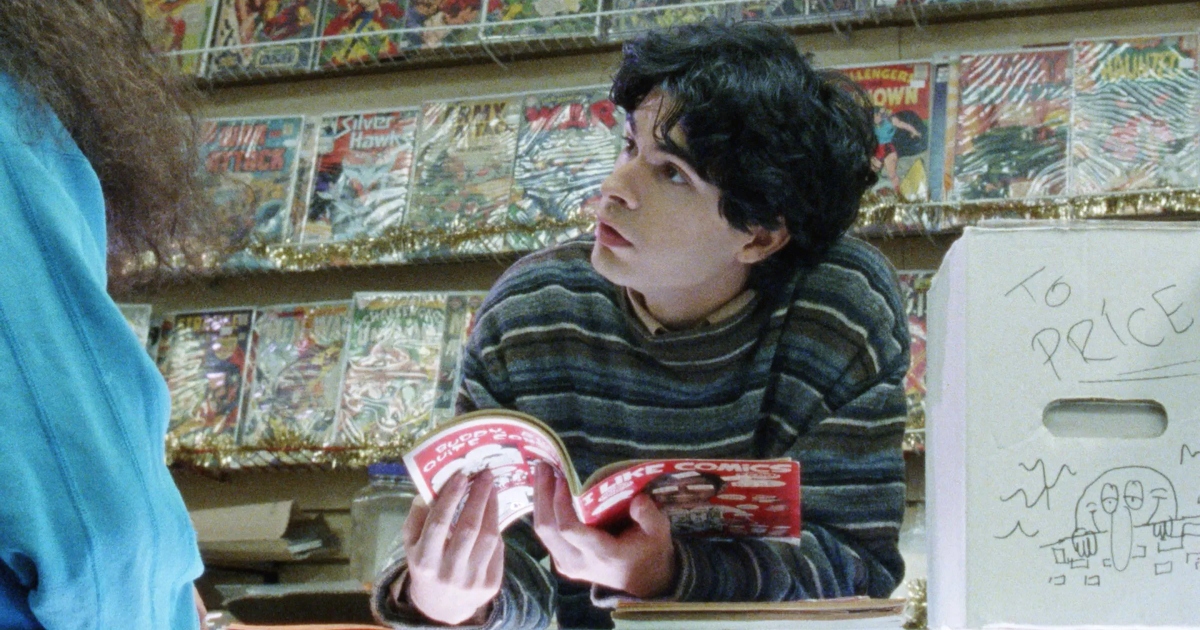 While maybe best known for their seemingly patented "horror film that's actually a metaphor for grief," A24's latest release is something of an entirely different, more engrossing ilk.

Funny Pages comes from artist Owen Kline, and introduces viewers to Robert (Daniel Zolghadri), a seemingly normal, albeit awkward, teenage boy with a passion for alternative comix. This love of a very specific strain of comics and comic culture is apparent from the very beginning, with his own talent being a topic of self doubt. After a confrontational meeting with his beloved art school teacher (who, despite taking things too far in their last interaction appears to be nothing more than the sole support he has in this world of his), the two attempt to rekindle as Robert walks home, only to have a car accident cut his teacher's life short.
This tragedy sets the film in motion, ultimately sparking him to leave home and making it on his own in the underground New York comic scene. He barters his way into a job and a small outlet for his art and even a place to stay, its legality notwithstanding (when you're a runaway the last of your worries is sharing an illegal basement with a stranger). He even finds a gig as a note taker for a local public defender. However, things take a decidedly bizarre, and darkly comic turn when he meets Wallace, a man who at once fascinates Robert and also is his first real connection to the comic world he so desperately wants some space in.
A beautifully empathetic spin on the coming of age story, Owen Kline proves to be much more than the terribly meaningless "nepo-baby" tag that's been levied against and so many others. Son of Kevin Kline and Phoebe Cates, Kline has a clear connection to this specific world or these specific characters. Funny Pages is shot on gorgeous, often grimy 16mm, and with a camera that's utterly captivated by the faces that it comes across. One of the prettiest films of the year so far, the grainy 16mm brings with it an outsider energy that it fully embraces. The often gauzy cinematography looks as though the cameraperson wiped their fingers across the lens before shooting, which feels fitting. Carrying with it the same sort of heightened energy of the comix that it clearly loves, Funny Pages is as connected to that world as it is the films of Ronald Bronstein or the early works of the Safdie Brothers (who co-produced this film). There are moments here that pack the same type of volatility that a Black Balloon had back in 2012, which when paired with an almost classically structured coming of age story, turns into something fairytale-like. It's a beautifully rendered, compassionate piece of storytelling.
It also stands as a fantastic launching pad for its leading man. Daniel Zolghadri is a real discovery here, a quietly charismatic presence that, as he gets more in over his head with each decision, also becomes all the more compelling. Yet Kline is all but overt with the awareness of his leads follies. Even down to the poverty tourism that he engages in. Surely going to be the main complaint from detractors of this very film, there's a sincere empathy behind Roberts interest in the lives of those around him. It's a deft, mature choice that allows the film to maintain its urgency without coming off as exploitative or malicious.
The most oft-compared work to Funny Pages has been Ghost World, and the comparison is quite apt, particularly in the contentious relationship between the teen lead and older companion. Zolghadri is a fantastic lead character, but only becomes more interesting when paired opposite the brazenly cantankerous Wallace. Matthew Maher's performance is a stunner here, imbuing this unhinged former Image Comics employee into something decidedly human. It's the thinnest of ropes to walk, between villain and caricature here, and Kline's script paired with Maher's lived in performance makes this a one of a kind partnership.
With clear nods to films like Frownland and the Daniel Clowes adaptations of Terry Zwigoff, Funny Pages is a darkly comic coming of age story. Driven by two engrossing lead performances and a urgent sense of time and place, Owen Kline's latest feature is a tactile, textured portrait of youthful angst and life on the periphery of society.