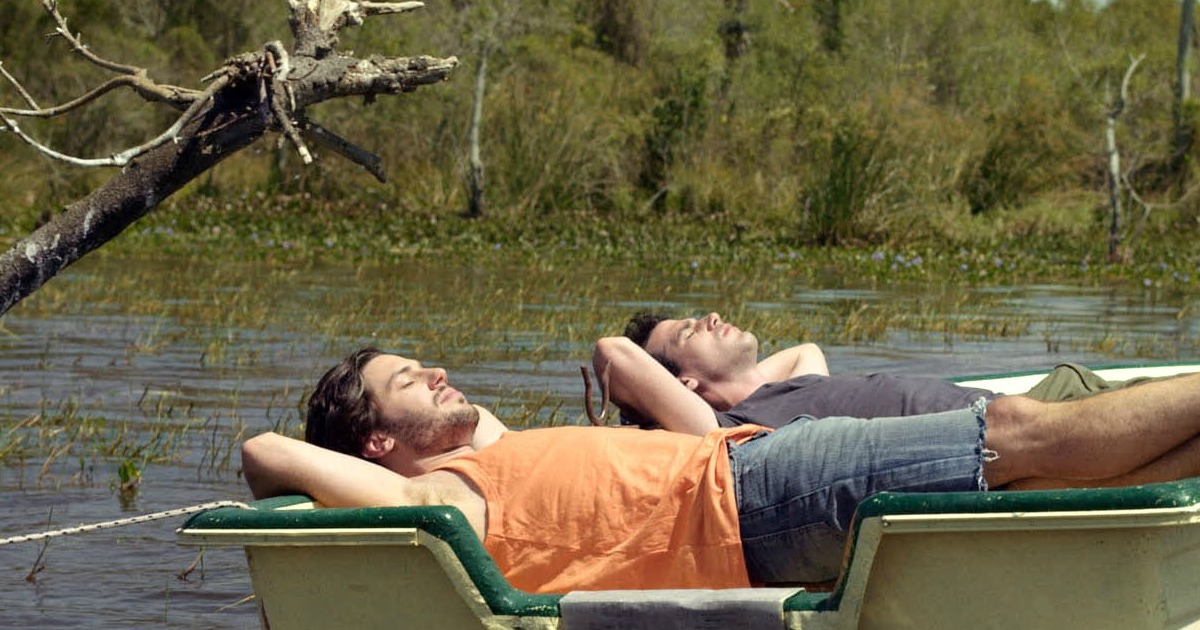 Over the last handful of years, LGBT filmmakers telling specifically LGBT stories have increased exponentially. Along with film festivals like LA's Outfest and Toronto's Inside Out LGBT Film Festival, the LGBT experience is being given new voice not only here in the states or North America specifically, but throughout the world as a whole.
An example of this? From Argentina comes the debut film from director Papu Curotto, entitled Esteros. Following a run at both of the above-mentioned film festivals as well as various others, the film is arriving in theaters on November 18, and is a delightfully low key Argentinian drama.
A relatively classical tale in its broad strokes, the film tells the story of Matias and Jeronimo, two long-time best friends who have seemingly become estranged over the years following childhood. Seen in flashbacks interspersed throughout the film, we watch as the young Matias and Jeronimo go from inseparable best friends to something far more intimate ultimately leading to a fracturing of their friendship. Paired with Matias' father changing careers, forcing he and his family to move away, the two lose contact until, and this is the crux of the present day story, Matias' girlfriend happens to task Jeronimo to do makeup for a party the couple are attending. Unaware of their history, Jeronimo and Matias re-ignite their friendship and ultimately take a brief vacation to a family home very close to both Jeronimo and Matias' hearts. Ostensibly an expansion of the director's short film Matias y Jeronimo from last year, Esteros is a nuanced and deeply tender look at the power of true love in the face of doubt be it both self inflicted and generational.
---
https://www.youtube.com/watch?v=jIFWWIO5wHE&t=2s
---
While at first glance, the picture may seem almost frustratingly unremarkable in its craft, the real power within this film comes from the intimate and almost naturalistic approach with which the story is told. Split between the two previously-mentioned time periods, the film paints a textured story of repressed love and attraction that ultimately concludes in a final act that packs a real emotional punch. Oozing heart from every pore, Curotto's first film is an assured one, a charming meditation on the power of having a second chance at real and true love, despite whatever may be saying otherwise. It's tender almost to a fault, and while the style may not be loud or formally entrancing, the nuances held within the narrative are engrossing.
It also helps that the performances are superb. Ignacio Rogers and Estaban Masturini star here as Matias and Jeronimo, and are simply magnetic. The chemistry is real and nuanced between the two, with them not holding a firesome chemistry, but one that feels lived in and of a specific history. We watch as these two reconnect and all the peaks and valleys that come with that story. They're not loud performances by any means, as befitting of such a quiet motion picture. They're very good performances, and performances that give real heart to an otherwise relatively straight-forward narrative. And with a runtime that's just a pinch under 90 minutes, Esteros is a wonderfully quaint and delightfully magnetic look at love and the power found in even the idea of a second chance at finding it. It's also one of the real surprises of 2016, and hopefully one that will find an audience as it expands theatrically and on VOD.