With the buzz at a fever pitch following festivals like Sundance and SXSW passing on programming the picture and some rather scathing profiles, most notably one published by The New York Times which instantly shot this film's presence into the stratosphere, one would imagine Paul Schrader's return to the big screen, The Canyons, was a massive budget picture with even larger intentions.
However, and this is an absolute credit to every person involved, one would not only be further from the truth, but it wouldn't do this monstrously micro-budget picture any sort of credit. Credit that is due to director Schrader, writer Bret Easton Ellis and its two magnetic leading actors, tenfold.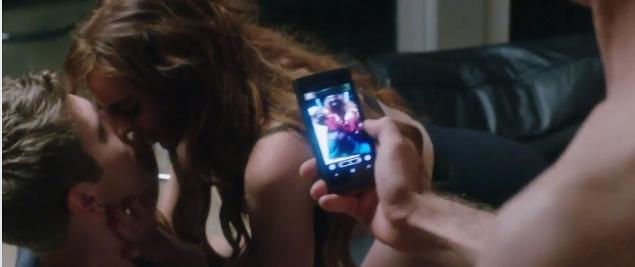 The Canyons stars porn star wunderkind James Deen as the seething Christian, a trust fund baby with money to burn, enough angst to fuel a small nation and a penchant for loving ladies as much as he loves cocaine. We find him in the throes of producing a new, low budget slasher pic with his current beau, Tara, played by a hopefully revived Lindsay Lohan. However, when their leading man Ryan (Nolan Gerard Funk) is revealed to have had a previous relationship with Tara, lives are flipped upside down, inside out and everything in between.  However, that plot, a plot befitting the latest in a long line of 20-something melodramas found everywhere ranging from MTV to Lifetime, is in no way shape or form the end all be all of this film's discussion. A shockingly profound and startlingly crafted meditation on the "Blendr Grindr generation" that blends Hitchcockian voyeurism with a shimmering layer of modern melancholic sleaze that only Ellis could harness and is scooped out as something both dense and inspired.
Much, as this film truly begins to roll out into the zeitgeist, much, if not all, of the discussion will surround star Lindsay Lohan, and for just cause. Giving what will hopefully be a career reviving instead of simply defining performance as Tara, the performance is ostensibly a vehicle that could have driven the actress into something closer to self-parody, but instead Lohan feels not only comfortable in her own skin for the first time ever on the big screen, but she feels intensely inspired by it. Concluding with a couple of sequences that could be seen as nothing but a pure melodramatic moment of "acting," Lohan becomes something she hasn't been in years: utterly magnetic. There is a level of truth that she's never been able to access, and that may be due to the fact that she's playing an admittedly troubled woman, but one has to assume that this is what Lohan truly can do when she gives herself over to a film and its creative team. Originally sought after for nothing more than a cameo, her insistence on taking the lead role is telling, as is her credit as producer on the picture, that this is a passion performance for her, and one can truly honestly tell.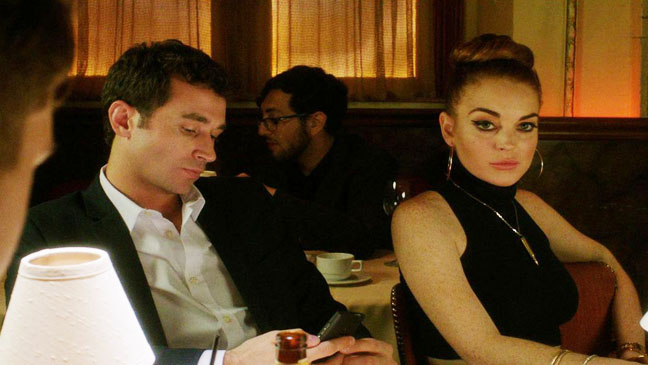 And her co-star James Deen is a revelation. Superficially taking on a role like Patrick Bateman in Ellis' American Psycho, there is a sense of sneering drive to his performance, where from the very opening frame a sense of unease floats above his character. All of these characters, even our first "hero" Ryan, are utterly unlikable, but Christian is a true monster. But a monster bred of this status-centric generation. A trust fund baby of the purest form, Christian is the type of man truly unable to connect with a human being for fear of losing control, even scoffing at the idea that he'd never hire a woman he found attractive as his assistant. You know, morals. Funk is the weakest link of the trio, but his last few moments prove that he is just as, if not more, interesting a character than any we meet throughout the film's slightly 90 minute-plus runtime. It is just a small cog in a collection of performances so deliciously self aware that they become something more than just caricatures in a small budget melodramas.
Yet, all these great performances, and it will hopefully be director Paul Schrader who sees a second wind following this film's release, as it's a truly gorgeous picture. Lucking out with various sets found inexpensively and without any permits, the film has an aesthetic that is both befitting its characters, and yet equally befitting the film's themes. Primarily a film of static camera shots focused on faces and desolate landscapes equally (the film's opening hints at this being sort of a post-apocalyptic picture where cinema is the world that had just been destroyed, sent to the grave by the Internet generation and the "democratization" of filmmaking), Schrader takes the camera off its stand, only to posit these handheld takes as the film's direct correlation to voyeurism. It is in these various moments, or the collection of shots where the actors shatter the fourth wall, that prove this to be as meticulously crafted a low budget picture as anything we've ever seen with a budget even four times greater than this picture's quarter million budget. With beautiful photography from cinematographer John DeFazio (probably best known as a grip on the criminally underrated Hard Candy, but even then, he's a real fresh face in the field), the film paints this world as nothing but a detached, sterilized world where even human interaction becomes nothing but a means to a superficial, sex hungry end.
Ellis's script here is a shockingly smart, while also auteurishly sleazy piece of writing that blends both wondrously. A meditation on this generation's insular nature, the film fits within the scathing view of lifeless wealth Easton has posited throughout his work, but brings with it, along with Schrader's deft visual hand, a pinch of medium playfulness. Equally about how people are nothing but actors jumping from situation to situation, scene to scene, and this central generation's need for control, the assumption that they deserve control, the film has rightly been compared to other American Dream screeds like Spring Breakers and The Bling Ring. While those films have a bit of a better handle on tone and offer up a bit more of an insight into this theme, Ellis' screenplay here is oddly taut and well paced, paired with a director who attempts to play with the medium of film, blurring the line between fact and fiction, truth and performance.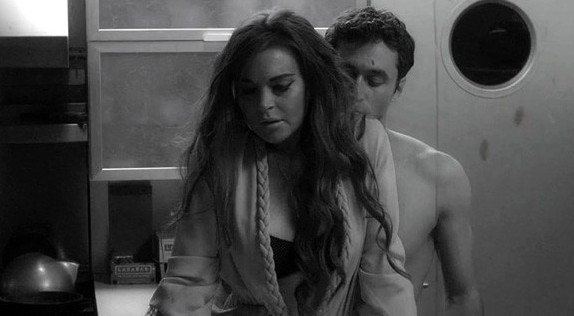 Overall, the film is going to be polarizing. The inherent melodrama found within the film's central plot will turn off many people positing this as nothing more than elongated, far grittier take on something like any of the various "rich-lives-are-so-interesting" reality shows turning audiences into half witted Neanderthals. Others will come for the Lohan casting, and stay for the various scenes of her half naked. However, even in those seemingly erotic sequences, there is an icy cold sense of deadness that, sighted by Schrader as something told to him by the programming team behind SXSW that passed on the film, is actually arguably its strongest suit. This generation may very well be dead, thinking their lives are as important as everyone elses, making movies on their phones, and unable to connect with a human being if not through a screen. And film may be dead (a different discussion that I am annoyed of seeing pop up online). But I'll tell you this, if this film is any inclination, Paul Schrader and his troubled leading lady, Lindsay Lohan, are far from it.