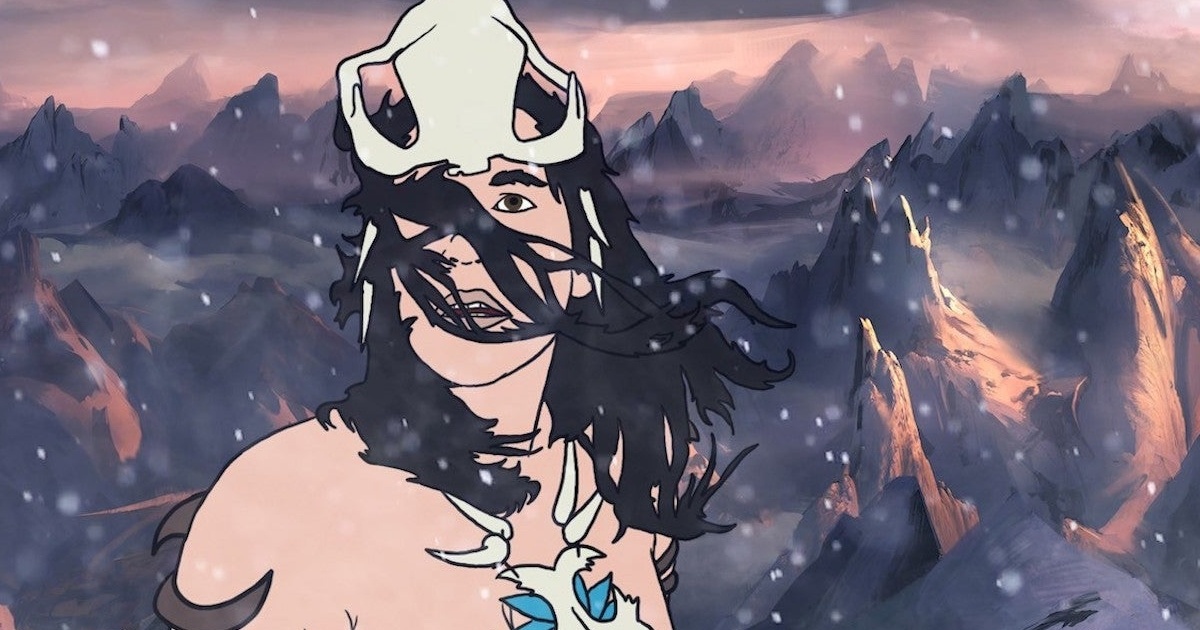 Seemingly relegated to the world of television, "adult animation" has flooded the market, leading that term to mean little more than a few crass jokes tossed into an otherwise innocuous animated work. Sure, anime is still as profoundly transgressive and thought provoking as it has ever been, but the concept of "adult animation" has lost much of its meeting outside of the truly avant-garde.
And yet every once in a while we get a film like The Spine Of Night. Finding inspiration in the towering works of artists like Ralph Bakshi and films like Heavy Metal, The Spine Of Night is a dark, brooding and endlessly brutal fantasy film that takes viewers on a journey through time that feels as epic in scope as it does intimate in its violence.
Billed as an "ultra-violent fantasy epic," The Spine of Night comes from directors Philip Gelatt and Morgan Galen King, and tells a series of stories weaving together one large narrative about various heroes as they deal with the ramifications of an ancient and unquenchable evil falling into malevolent hands. Viewers first meet Tzod (played by Lucy Lawless), a warrior-witch who after reaching the peak of a mountain, encounters an entity known as Guardian (Richard E. Grant), and the two begin sharing stories of the mystical "bloom," of which the two are closely connected to.
Viewers then become privy to stories such as Tzod's first hand account of the "bloom" being taken from her people, who are subsequently slaughtered and their home swamp burned. It's recounted that the bloom corrupted a scholar, only to spawn generations of violence all born out of the unquenchable thirst for knowledge and control of the natural world. Surely set to be catnip for any Game of Thrones fan missing that series' blend of fantasy with the good old ultraviolence, The Spine of Night is a thrilling love letter to the "golden age" of adult animation, a modern day riff on films like Fire And Ice that for 93 minutes, sends viewers to another world that feels as surreal as it does oddly tactile.
For all this talk of "uncanny valley" in animation, the rotoscope work here does absolute wonders. Some performances feel strangely off or isolating (Patton Oswalt's whiny despot is the most clear example of a vocal performance not quite matching the atmosphere it is dropped into), but for the most part the animation crackles as much as the vocal performances do. Lawless and Grant are unbelievable here, specifically the former who feels arguably a little cliche to cast here (she's Xena for God's sake) but imbues the character with startling humanity despite the archness of the narrative. Grant's is a voice that feels perfectly suited for the type of time-spanning, all-seeing entity he plays here, and they both add real depth and nuance to an easily ham-fisted narrative.
However, it would all be for naught if the film's animation was anything less than engrossing. Gorgeously brutal and uncompromising, the rotoscope animation really breathes here, leaning into the Bakshi/Frank Frazetta influences and yet making them decidedly modern. The multi-tiered narrative allows the animators to play in various type periods and "vibes" if you will, from the almost Jonny Quest-like swamps that the first story features to the steampunk future of the final major set piece, to the most jaw-dropping sequence that appears to take place in shadows made of Lotte Reiniger-tinged cutouts.
At just a pinch over 90 minutes in length and with such a wide-reaching narrative, the heavy metal drone of violence never truly gets old or overstays its welcome. If there's a performance that falls flat, it's gone within the blink of an eye and replaced by another singular, one of a kind fantastical entity. Set pieces routinely surprise, upping both the grotesque violence as well as the archness of its fantasy as the narrative progresses. One of a kind, this film. One of a kind.