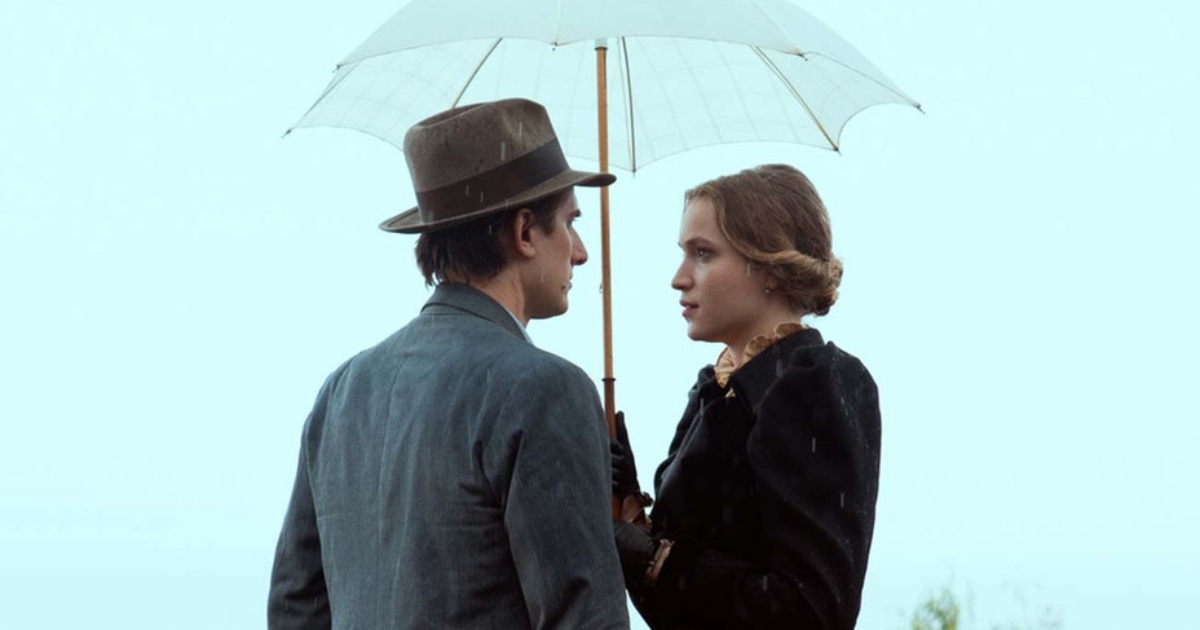 While festival season may very well be done, all that means is that we are nearing ever closer to the start of film awards season. With progressively more and more of the year's biggest releases being pushed to 2021 due to the never-ending global COVID-19 pandemic, this year's award season may look a little bit different than those of years passed, however.
Even as films are moving dates and award shows are being pushed back, or even seeing op-eds call for their immediate cancellation, not all distributors are putting the brakes on regarding some of their topper tier releases. Take Kino Lorber for example, who on October 16 bow the gorgeous new film from director Pietro Marcello.
Entitled Martin Eden, Marcello's latest finally hits theaters after a lengthy festival run dating all the way back to Venice 2019, where it garnered not only almost universally positive notices but even the Best Actor award for its star Luca Marinelli. Marinelli stars as the titular lead of the Jack London novel of the same name, from which this film draws its inspiration. Packing up the narrative of London's 1909 novel and sending it across the Atlantic (err, maybe the Pacific, not sure what's the shortest flight) from Northern California to Italy, introducing viewers to a young Martin, a sailor with an interest in little more than making money and wooing any beautiful young woman that comes his way.
After meeting a man by the name of Arturo (Giustiniano Alpi), he's introduced to Arturo's family, a higher-class group with Elena (Jessica Cressy) catching his eye almost instantly. As he attempts to get in her good graces, he tries to impress her with a feigning intellectualism, riffing on French and philosophy as if he actually understands a word he's saying. Culminating in an evolution of our once simplistic brute, Elena inspires Martin to follow his newfound passion of writing, leading him to get involved with intellectual and political movements in what is an epic yarn about class divide set against the backdrop of one man's self-decomposition.
I say decomposition as, while the class and political discourse within the film is done with texture and nuance, watching Martin battle between bringing to light his own struggle as a working-class laborer and the constant urge to forever jettison his 99%-er history is quite fascinating. Marcello's Martin is almost perversely classical within the larger Italian cinema context, a ruggedly handsome man with a facial structure seemingly built right out of granite. His performance is lived in and glances towards classic performances from past Italian social-realist dramas without ever feeling derivative or anything more than slyly modern. The artist's self-destruction under the weight of capitalism is literalized beautifully here, and makes the rather epic narrative feel strangely intimate and tactile.
His chemistry with Cressy's Elena is also absolutely entrancing. Her performance is equally influenced by Italian neo-realist cinema, a performance that's modulated perfectly, particularly as her relationship with Martin begins to erode. It's a warm performance, but one with a real inner life that gives body to an otherwise seemingly stock caricature. It would be really easy for a performance in a film like this to lean into the maudlin nature of the central drama, yet Cressy gives a nuanced and lived-in performance that gives real weight to the romance at the core of the film and the fall it has opposite the fall of our lead.
And yet, all of this truly pales in comparison to Marcello's direction. Turning Martin Eden into one of 2020's most beautiful films, Marcello's direction is rightly vibrant and, particularly as the film progresses, gets increasingly energetic. The photography embraces grain, pairing the sparse use of archival footage with a film that feels stylistically less like a referential neo-realist drama than one born of a medium in evolution. Richly textured and of this moment in history, Marcello's film is an opulent work of social commentary in the body of a classically Italian genre. Politically charged like the great Italian neo-realist films of generations previous, Marcello breathes new life into the tradition with a camera bursting with energy and a narrative of self-destruction born around one's own loss of values. Liberalism as betrayal. A must-see movie.