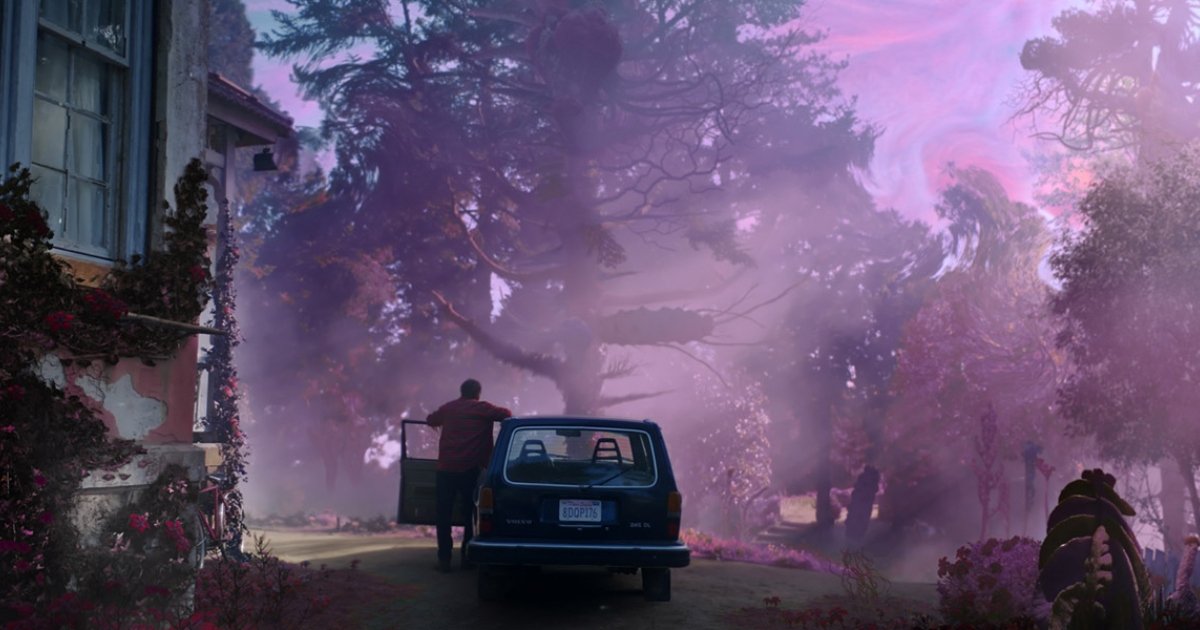 Over the better part of the last twenty years, actor Nicolas Cage has gone from a twice Oscar-nominated thespian with a penchant for the histrionic, to one of the more polarizing actors working today. Some fans will point to a film like 2018's Mandy or even his small turn in Spider-Man: Into The Spider-verse as proof he's never lost his talent and yet others will turn to the numerous straight-to-Redbox action film's he's willing to do as proof he's not much more than a hack.
So what to make of Cage's career in the year of our Lord 2020? With allegedly five films slated to drop just this year alone (not counting the one we're here to talk about today), Cage sure doesn't shy away from the camera, but while many of them will surely be, ahem, "lesser-than," when he's truly clicking, there are few wonders quite as awe-inspiring.
And that's the case with Color Out of Space.
Based on an H.P. Lovecraft short story entitled The Colour Out of Space, Color tells the story of the Gardner family, led by the patriarch Nathan (Cage), who head off to the woods to escape, only to have their lives completely upended by a sudden cosmic event. When a meteorite lands in their front yard, the world around them begins to change on a seemingly atomic level. As the world around them begins to be enveloped in an otherworldly haze, Nathan must help save his family from a mysterious organism that begins infecting not just the animals around them, but their very own minds and bodies.
Directed (and co-written) by filmmaker Richard Stanley, and produced by the very same team behind Cage's aforementioned hit Mandy, Color is a gorgeously-rendered science-fiction horror picture. As he was the main focus of most of the sentences above, the film does truly begin and end with Cage. Riffing on a similar type of character as he's done in previous films like, again, Mandy, Cage's Nathan is a seemingly mild-mannered father of three who, along with his family, simply want to escape from the hustle and bustle only to find their world sent truly inside out. Cage's slow dissolve into madness is strangely heart-felt, proving once again that there may not be a more self-aware and genuinely sincere screen actor working today.
Despite being the lead in a film that, come the third act, dissolves into completely Lovecraftian histrionics, Cage always seems true to his character and his performance seems to come from a place of genuine emotion. It's not a naturalistic performance in any way, much the opposite. Instead, Cage seems to be boiling down these emotions into something of a primordial ooze, a strange concoction that feels both of an entirely different universe and yet strangely recognizable and relatable despite their abstraction.
Opposite him is Joely Richardson as his wife Theresa, and her performance is also quite good. Her energy is obviously very different from Cage's, but their chemistry is palpable and feels oddly genuine given the type of heightened story being told here. Toss in their children played by Madeleine Arthur, Brenden Meyer and Julian Hilliard, as well as a fun (albeit one note) turn from Tommy Chong and you have a cast that does some real justice to a fine script.
Speaking of the script, co-writer Stanley also has the control of the reigns behind the camera, and does quite an admirable job. Stanley, a beloved filmmaker within more cult circles of cinephilia, takes a tough bit of source material, arguably Lovecraft's most haunting short story, and turns it into a bizarrely moving and thoughtful science-fiction parable. Probably best known for being the guy John Frankenheimer replaced in the director's chair for The Island of Dr. Moreau, Stanley has made this his best bet for regaining legitimacy, and crafts a film that is obviously indebted to Lovecraft both literally and previous representations of his work on screen, yet the way he subverts the Lovecraftian horrors under the guise of genuinely perverse body horror is absolutely thrilling. The film is brazenly funny, not in a ha-ha way, but instead something resembling Stuart Gordon's Re-Animator, taking these ghastly images and making them at once truly upsetting yet so arch and extrapolated that they become almost nervously comic. It's a genuinely thrilling film, particularly as it comes to its conclusion (in a finale that, admittedly, makes little sense yet is a true sight to be seen), all the while slowly morphing the world around this family into a mutated, fun house mirror image of a world they once vaguely recognized.
The type of sci-fi horror/thriller that's meant to leave audiences nervously laughing as they ask their friends just what the hell they'd finished watching, Color Out Of Space is, at its very best, a thrilling melodrama in the body of a phantasmagorical horror film, a picture about a family dealing with trauma as it is inflicted upon them. Stanley proves to be a confident craftsman despite the difficult source material, turning in a film that's at once a moving familial drama and ultimately a galactic body horror thriller. A strange nugget, this film. But one you shouldn't miss.