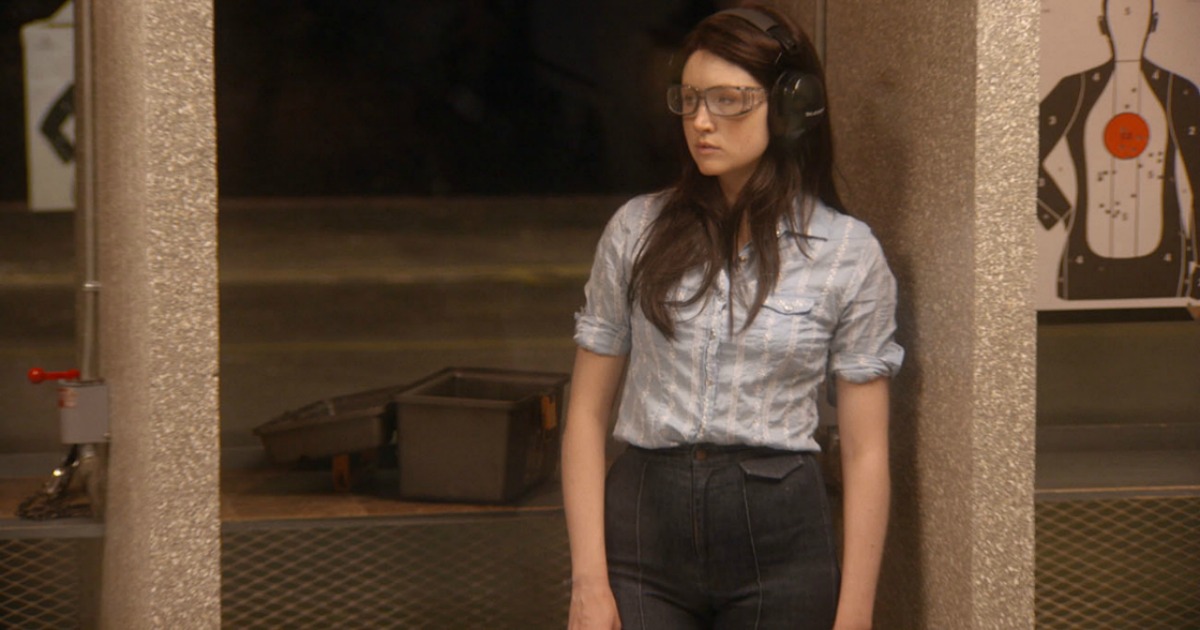 This feels like a truly historic moment in the world of non-fiction cinema. With filmmakers challenging not only the aesthetics one can adapt to a documentary story (look at a film like Leviathan) but the very form of non-fiction cinema through films like Cameraperson, the world of avant garde non-fiction cinema has given viewers, over the last half decade or so, some of the most groundbreaking and truly exciting works in all of film.
And then there's Robert Greene and his newest, transfixing meditation on performance and memory, Kate Plays Christine.
Kate Plays Christine is a film of many colors. Introducing us to the late Sarasota newscaster Christine Chubbuck, the film has a logline that sounds like any number of biographical documentaries. Looking into Chubbuck's life and her infamous suicide from a gunshot wound self inflicted live on television, Greene and actress Kate Lyn Sheil go to the aforementioned Florida city to dig deeper into Chubbuck's life through those who knew her first hand. However, that's not entirely what the film attempts to do. Through the guise of a potential biopic, Sheil isn't a passive player in a standard non-fiction film. Instead, she spends much of the film wrestling with her own creative process, trying to make tactile a life that seems frustratingly out of reach. At once a meditation on performance and the creative process, Kate Plays Christine is arguably even more so a deeply profound discussion of empathy and just why we as a people have a fascination with sensational narratives. Even found within the speech given by Chubbuck prior to her pulling the trigger on her .38 magnum pistol on that fateful day, humanity's deep fascination with scenes of what she called "blood and guts" is one of the many themes discussed in this nearly two hour long, utterly transfixing motion picture.
---
---
Structurally, the film is built almost entirely around the process of Sheil preparing for her role. Concluding with what is both the year's best final sequence as well as the moment that the film and the actress have built to for the entire two hours, performance is clearly one of the picture's central themes. Sheil herself is a microcosm of this. Starting off as simply a young woman trying to prepare for a performance, as she digs deeper and deeper into the life of Chubbuck, actually talking to the men and women who knew her, and her perceived weaknesses, best. A woman of her time, Chubbuck strived to do better than the "blood and guts" reporting she had been tasked with, also wanting to start a family only to have one particular office romance shot down by another fellow employee. Kindred spirits in many ways, Sheil and Chubbuck share a passion for their work and for validation, a connection that evolves into something completely bewildering. Sheil being upset over constantly seeing her performances described as "subtle" in reviews could be a complaint had by Chubbuck, and Chubbuck feeling out of step with potential romantic interests is a clear issue with Sheil, who laments about not being desirable. As the film progresses, we seen Sheil slowly don more of Chubbuck's humanity, be it her isolation from the world around her or physical manifestations like her famous jet black hair via a shockingly stylized wig. There's something about Sheil's performance that feels truly groundbreaking. As we the viewer watch Sheil adapt Chubbuck's look, her mannerisms and ultimately her world view, we never are able to lose sight of the film's artifice, the performance that becomes the obsession.
And the artifice extends into the film's direction as well. Instead of plainly shooting this film in a verite style, as most modern documentarians do, Greene taps photographer Price Williams (Heaven Knows What) to bring to life this experimental work. With framing that clearly evokes Sheil's growing loneliness as she delves deeper and deeper into her preparation and this role, Greene and Williams give a real cinematic voice to the film, blurring the line between fact and fiction even more when one begins to see how truly directed each sequence is. The photography is gorgeous, particularly as the film progresses, with a beach-set sequence set against a gray sky and lightning becoming a jaw dropping little set piece. Again, Greene's eye is particularly set on Sheil as she becomes more and more isolated, culminating in a back and forth between actor and director that is so raw, so visceral that the already blurred line between reality and performance utterly disappears.
Following a rapturous debut at Sundance, Grasshopper Films is finally releasing this film into theaters, where it will hopefully garner equally high praise. With a star making "performance" from Sheil, Greene's newest film is a hard one to both decipher and emotionally shake. A devastating mediation on performance that is as interested in the creative process of its actress as it is the specifics of Chubbuck's life, it's hard to describe this film as anything less than a masterpiece. It is truly unlike anything before, and as a character study as seen through an actress as she tries to dissect a very distinct character, it is easily 2016's most provocative and unforgettable film.