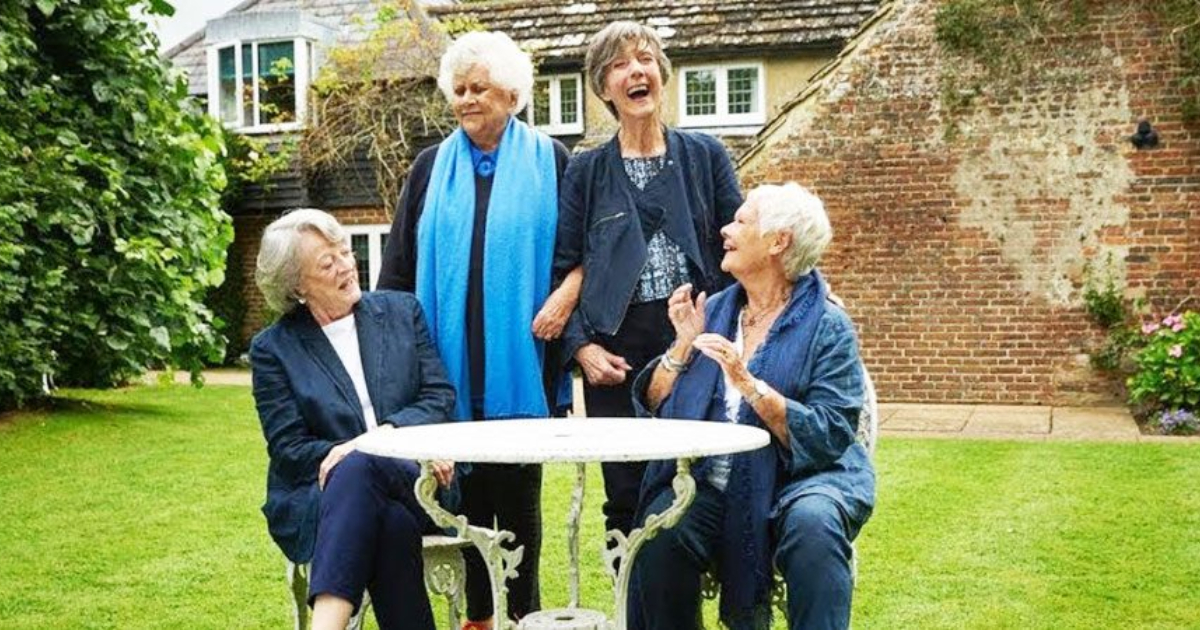 What constitutes a true "guilty pleasure?" Is it something that's so hilariously awful that, somehow, it flips back in on itself to become some version of "good," or is it a film that is relatively void of any real political import in this ever polarized social landscape yet somehow speaks to one's more base interests? Is it simply a film that on Twitter one might call "their kink," a type of picture that hits all of the viewer's sweet spots without offering much of real ideas?
Or is it like Tea With The Dames, a documentary that carries with it almost zero artistic merit, yet is so effervescent thanks to its fearsome foursome at its core, that it becomes at once frustratingly flat and yet entirely impossible to turn away from?

Tea With The Dames is the new documentary from filmmaker Roger Michell, who himself is best known for the beloved Notting Hill. Jumping back behind the camera, this time for a piece of non-fiction, Michell sets his camera on four of the world's most well known Dames, Eileen Atkins, Judi Dench, Joan Plowright and Maggie Smith. Over the next 90-ish minutes, Michell simply places his camera in the presence of these four legendary icons, allowing them to talk over their careers and personal lives, through what is one of the most charming weekends in the countryside you'll ever have.
Despite being a relatively well-known director, Michell is saved entirely by his delightfully engaging material. Told almost entirely through talking head interviews and some archival materials, Tea With The Dames is the type of aesthetic-free documentary that has seemingly become en vogue thanks to the readiness by studios to simply snatch them up and throw them into theaters or on their streaming services as nothing more than a piece of content. The editing is fine and rudimentary, and while it could be seen as admirable for Michell to simply let his subjects speak, there's a void of any real artistry here, or even any actual nuance in the direction, that makes it feel incredibly thin and slight.
That said, when you have juggernauts of stage and screen like the four Michell has gathered here, there are many worse ways to spend a pinch over an hour and a half. Collectively their chemistry is off the charts, each playing into one another's personality with both a clear knowledge of and love for one another, and the moments of retrospection of which this film is chock a block with really make for a wonderfully moving excursion. Similar in many ways to something like Michael Winterbottom's The Trip series, this lacks that trilogy's experimentation with narrative and reality/fiction, but carries with it the same looseness and free-wheeling sense of humor that makes the conversations in The Trip and its subsequent sequels so damn engaging. Hearing these four actresses not only wax philosophic about their craft but also about the world they inhabit is a real pleasure, and throughout the film insight after insight offer up a great deal of back-story for some of the great performing careers of their generation. Atkins and Plowright are specifically captivating to watch, as they are both the lesser known of the four thespians and also offer up many of the film's most provocative insights. Sure, you have Maggie Smith complaining about Judi Dench "getting all the good roles first," but moments like seeing Eileen Atkins dig into the anxieties of being a stage performer are what become the film's most rewarding beats.
Over the last few weeks, we at The CriterionCast (read: I myself) have become fascinated by what makes a documentary worth seeing in both today's socio-political landscape and also a world of democratized cinema. Is Michell's lack of any real flare behind the camera damning the film to the realm of rainy Tuesday-night Netflix watch? Or are the glimpses into the careers of four of stage and screen's greatest actresses of some grand cultural importance? Tea With The Dames firmly lands somewhere in the middle. Almost experimentally void of any real style, Michell's film isn't really his. It's his subjects'. And thankfully they churn out a yarn that is at once effortlessly charming and, at its very best, empathetic and thought-provoking.