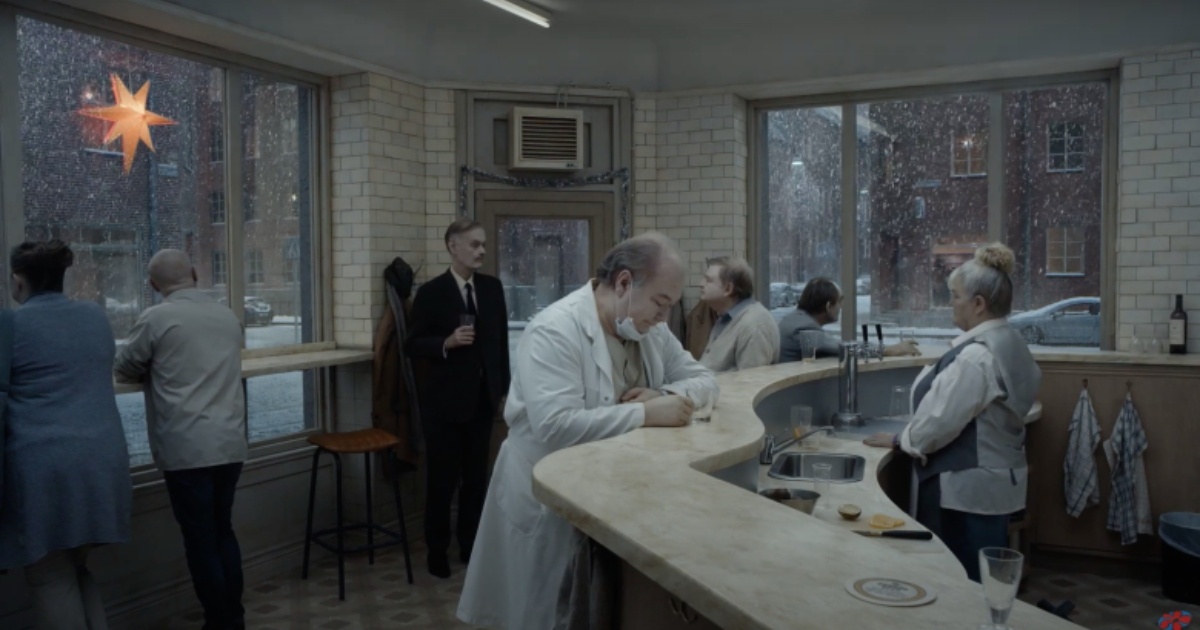 With a title like About Endlessness, images of epic, grandiose filmmaking and even more epic and grandiose run times instantly pop into mind. However, for a filmmaker like Roy Andersson, it means something completely different.
The sixth film for the beloved Swedish auteur, About Endlessness finds the filmmaker at his most sardonic, crafting a bleakly comic series of vignettes all more or less structured around a faceless, nameless female narrator waxing profound about having witnessed events or moments in a person's life that viewers then witness themselves. These are rightly oblique set ups, things like "I saw a woman unable to feel pain," all setting up gorgeously composed tableaus ranging from the properly mundane to the violent to the absurdly surreal.
A fascinating experiment in tonal modulation, Andersson's latest is a thrillingly thoughtful rumination on loneliness and isolation, all in the guise of a film about a cosmic crisis of faith. Vignettes like a trio of women bursting into dance seemingly out of nowhere pair brilliantly opposite genuinely harrowing moments like one of the few the film returns to more than once, that of a ghost-like couple locked in an embrace as they float above a bombed out cityscape. The "crisis of faith" is made manifest in another returned-to vignette, that of a priest who we first see carrying a heavy cross through a city street, being whipped and abused by onlookers as he does so. He culminates his story by asking a psychiatrist "what do I do now that I've lost my faith." It's a bit on the nose, sure, but when handled by a filmmaker like Andersson it becomes at once genuinely heartbreaking and, by the reaction he receives, strangely funny. And another vignette speaks to the aforementioned couple floating through the sky, that being of a high schooler talking with his partner about the First Law of Thermodynamics, stating that even after they have passed from this world their energy will live on. Are they the couple we open the film on? It's a beautifully quiet vignette that, in the film's larger context, becomes absolutely engrossing.
However, none of this would work if it were placed in any other filmmaker's hands. Not all stories here are small-scale, with moments like a ground of soldiers making their way toward Siberia or, in the film's most rightly surreal scene, a strange restaging of Hitler's final moments, About Endlessness may be one of Andersson's smaller works, but also one of his most ambitious. The photography here is absolutely enthralling, pairing Andersson's expertly composed still-life framing with properly frigid cinematography that manifests the film's larger sense of hopelessness and loneliness.
The few bursts of life that do make it through the bleak is brought to life in with a potent bittersweet energy, that Andersson seems completely indifferent to. This is a film entirely built around tone and atmosphere, and few filmmakers have more assured handling of that than Andersson. In just 76 minutes, Andersson's About Endlessness is a haunting and haunted rumination on cosmic loneliness, a film that's less about one's crisis of faith than one's resignation in the fact that it's useless to even bother with it in the first place. So deliriously bleak it almost veers back into the realm of absurdist farce, Loneliness is an absolute triumph from one of the great filmmakers of his generation.