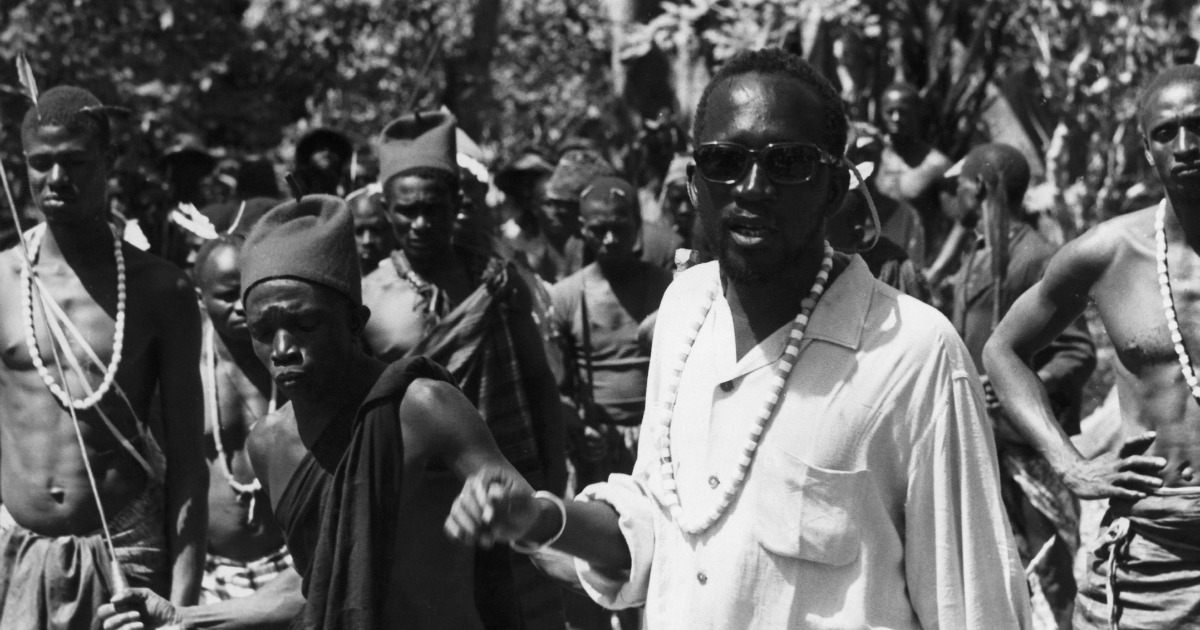 What comes to mind when one mentions African cinema? For many, actually most if we're being perfectly honest here, African film is not only a blind spot, but a daunting collection of films that span an entire continent and decades of political, economic, social and cultural revolution. Where would one even venture to start? The early days of African cinema? The current collection of socially-minded dramas that blend the dream-like anarchism of the French New Wave and the quiet introspection of the Italian Neo-realism movement?
Ask any scholar and one name will continue to pop up. Ousmane Sembene has become widely discussed as not only the father of African film, but as possibly its greatest and most influential auteur. Spanning four decades, Sembene's career helped establish the voice of African cinema, particularly that of Senegal, a nation once controlled by France, and in need of finding its own cinematic language.
The subject of a new documentary entitled Sembene!, the filmmaker will hopefully finally become the household name that he so rightly deserves to be.
---
---
From directors Jason Silverman and Samba Gadjigo comes this fantastic and engaging new film about the life and work of the legendary Senaglese filmmaker, who went from fifth-grade dropout to groundbreaking father of an entire continent's cinematic voice. Also an accomplished novelist, Sembene's life is one of startling stories of a constant battle to bring cinema to the masses in Africa. Born to a family in a small Senegalese village, he was ultimately forced out of school and moved to Marseilles where a job hauling sacks of coffee would lead to a fracture in several of his vertebrae. This moment is where Sembene's career as groundbreaking storyteller finds its beginning, as this injury not only nearly paralyzed the man, but led him to spend his time healing lost in any book he could find. From here he would not only go on to publish numerous critically lauded novels, but with films like Xala and Black Girl, would establish the blend of New Wave and realistic aesthetics that would be African cinema's calling card.
Built partially around clips of Sembene's films, the film also uses a great deal of archival footage, new interviews with various artists impacted by Sembene's work and even a touch of animation, all to make something that plays far more entertaining than this type of scholarly piece usually does. It's because this is a personal one for one half of the directing team. With Gadjigo, we see the direct influence of Sembene's films. Gadjigo himself is a professor here in the US, and he helped convince Sembene into going on a stateside speaking tour that we see sparked not only a relationship between the two, but also a new moment in Sembene's career. There's a strong and vital energy to this picture, a sense of life and heart that most documentaries about filmmakers could only dream of.
That doesn't mean it isn't a startling piece of scholarship. An all encompassing look at Sembene's work, Sembene! is a must-watch for any cinephile with an interest in learning about a major blindspot. A perfect introductory picture for new film fans looking to learn more about African cinema, the film is at its best when it allows viewers to truly see what this nation's art is rooted in. As lively and playful a documentary as the films it looks at, this new documentary both gives import to Sembene's work, and also gives the viewer enough room to dig deeper into the pictures themselves.
But it doesn't shy away from the artist's warts either. Arguably the film's most heartbreaking moment comes when Sembene's son, Alain, discussing how absent the filmmaker was as a father. Not to mention the discussion of how he stole a screenplay from a student, among other black marks on his record, the film goes on to discuss how there was a period in Sembene's career where it all seemed lost for the struggling artist. However, it wasn't, as not only did he make a return, but in a collection of antagostic meditations on African struggle, this dark period in his career would bring out three more films, including his angriest and most disturbing picture, Moolaade.
A filmmaker too few film fans know much about, Sembene! may seem like just another scholarly look at a filmmaker. However, what we actually get is a beautifully made and intellectually stimulating look at one of cinema's most important auteurs.