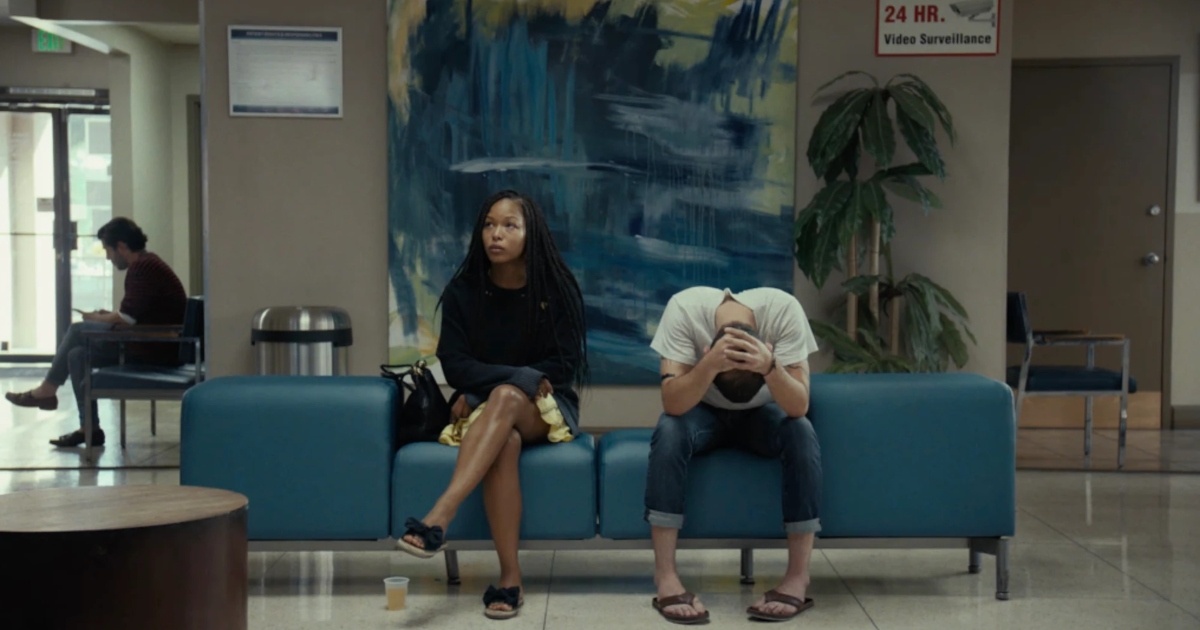 Coming off a lengthy festival run, including awards at BlackStar and New Orleans respectively, the debut feature from director Shatara Michelle Ford is finally heading to theaters (both physical and online), and it's one of the first must-see releases of the still young 2021.
Entitled Test Pattern, this realist drama stars Brittany S. Hall as Renesha, a beautiful young woman who, one night while out with her friends, meets a charming man by the name of Evan, played brilliantly by Will Brill. However, that's not really where the film begins. See, Test Pattern isn't your run of the mill romantic drama. Instead, the film opens on a drunken Renesha, sitting emotionless on a bed in a mysterious bedroom with a nameless man. Viewers instantly know what's happened, what's just occurred out of our collective view. Jumping then to a bustling bar with a charming meet-cute in Renesha's future, this jarring shift of tone and atmosphere is at the very core of what makes Test Pattern so endlessly powerful.
For lack of a better word or phrase, Test Pattern is a rape drama. While the early portion of the film is spent getting to know both Renesha and her seemingly lovely new boyfriend just as their relationship begins, the opening shots are never forgotten, with its haunted red neon hue clouding every second of what follows. Yet, there's real beauty here as well. The chemistry between Hall and Brill is rightly engrossing, with his seemingly effortless charm coming off not as coy or dismissive but simply human and tender. Hall's the true standout though, giving Renesha an incredible backbone, turning in a performance that's lived in, textured and evolves with every new scene. It's a subtle, powerful performance in a film of equal nuance.
As the film ultimately catches up with what the opening scene glanced at, the film shifts into something completely different. It's exactly what viewers likely expect given the tone and mood of that cold open, with Ford intimately and humanely telling the story of a young black woman taken advantage of by a man. The scenes of the attack are not subtle but nor are they manipulative, instead finding Ford giving a haziness to the proceedings, with close-ups and stylized neon red lighting giving the sequence an almost surreal abstraction.
And then the morning after.
Shifting the film's focus once again, Ford uses this assault as a launching pad for not just a deconstruction of gender politics in the modern world, but also a profoundly moving character study of a couple crumbling under the weight of one party's trauma, and also a haunting tale of racial politics in healthcare. The back end of the film consists of a strangely frustrated Evan bringing the rattled Renesha to various hospitals in search of a rape kit. The couple deal with bureaucracies and all the red tape found therein, with little real movement forward. Ford's directorial style never shifts however, with their camera lingering on faces and the expressions that ultimately tell more of a story than anything verbalized. At just 82 minutes, Test Pattern is an incredibly taut narrative despite a non-linear structure, with jumps in time feeling entirely natural because Ford, as writer and director, has complete control over their story. A film about race, gender and the prejudices power structures have regarding both, Test Pattern is one of the first big discoveries of 2021.